The Healthcare Bomb That Threatens Charlotte
We'd be among those hurt worst by passage of Senate bill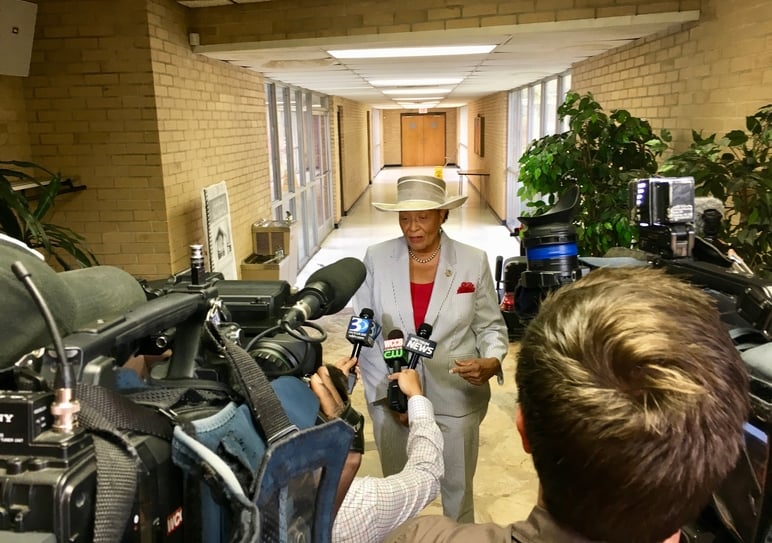 Inside the church sanctuary, a young mother tearfully asked her congresswoman and a panel of health care experts whom she might contact to find out if her 3-year-old autistic son will have a chance to live something close to a normal life.
A middle-aged woman said she still has hope that the American people and their representatives in Congress have enough baseline compassion to value lives over money. Yet another woman drove in from Gaston County to express her worries because none of her representatives would appear in public to discuss healthcare.
A former aide to a longtime Democratic congressman—who for more than a decade has advocated for a law that would establish a universal single-payer health insurance system—asked if the congresswoman would stand on the floor of the U.S. House and read the testimonials of people who depend on Medicaid for their lives and livelihoods.
"That is absolutely something we can do," replied Alma Adams. "We're talking about people here, not numbers."
They were speaking Monday night at Mayfield Memorial Missionary Baptist Church on West Sugar Creek Road in the heart of North Carolina's 12th Congressional District, which Adams, a Democrat, has represented since 2014. Adams and her staff organized the town hall meeting to discuss the pending U.S. Senate health-care bill, which for now appears to lack the votes needed to pass—although Senate Majority Leader Mitch McConnell said Tuesday that voting would begin next week on a revised bill.
If the current bill passes, according to a recent study by the left-wing think tank Center for American Progress, more people in the 12th District would lose their health insurance—117,900—than in any other Congressional district in the country. The same study said 110,000 people in the Ninth District, represented by Republican Robert Pittenger, would lose coverage as well, ranking it fourth on the list. Charlotte is split between the two districts. If CAP is right, in other words, Charlotte might suffer more from the Senate bill than any other big city in America.
That in mind, Adams took reporters' questions in the church vestibule. She had said in her opening remarks that the bill's gutting of Medicaid, premium increases, losses of prescription drug coverage, and reductions of subsidies for the poor would mean "a death sentence for some, and bankruptcy court for those lucky enough to survive." A reporter asked her if that assessment was "too harsh."
"Well, that's reality," responded Adams, 71. "I take medication every day, because I don't have a thyroid anymore. I have to have that … and people have conditions that are much, much worse than mine. But yes, they do need that medication to survive."
A minute later, she answered a question nobody had asked.
"They think it's so great? They don't have the votes. Let me just say that right now. I hope they don't get 'em," she said. "But you know why they don't have the votes? Because healthcare is not a partisan issue. If you need to see a doctor, it doesn't matter if you're a Republican, a Democrat, or you claim no party affiliation at all. And a lot of these citizens and constituents in many Republican districts are telling their representatives the same thing: 'We need our health insurance.'"
Of course we do. We can argue about how many people would die prematurely or plunge into financial ruin because they've lost health insurance, or can no longer afford premiums, or can afford only plans that don't cover their medical needs. But there's no question that under the current Senate bill, and the one that's already passed the House, an indeterminate number of people would. It's staggering to think that it's even a possibility. It's horrendous that Katie Mpelkas, the young mother referenced above, has to attend a town hall to find out who might be the best person to contact so she can beg for her son's quality of life. But that's what she, and we, are facing.
And neither she nor any of the rest of us in North Carolina are getting any answers from the state's two U.S. senators, Richard Burr and Thom Tillis, who are busy hiding from their constituents. (A group of demonstrators took to their boats Friday outside Tillis' Cornelius home on Lake Norman, a poignant touch.) On the House GOP side, Pittenger reassured business leaders at the Charlotte Chamber on Monday that the Senate bill's plan to transfer Medicaid funding to states through block grants would lead to "better management," not service cuts. "We're a generous state," he said.
Adams, asked about this at the church, pointed out that the General Assembly had already refused to expand Medicaid under the Affordable Care Act, ensuring its failure in North Carolina, so why would anyone believe legislators would fund it fully if the government presented them with a blank check?
"We still have over 300,000 people who don't have health insurance right now because we didn't expand Medicaid," she said. "So I don't trust them necessarily to do the right thing."
The town hall's panel of experts included the president of the North Carolina Academy of Family Physicians, Dr. Charles Rhodes, and Dr. Catherine Harvey Sevier, president of the state AARP. Some members of the crowd of about 120 gasped when Sevier ticked off some of the "age tax" premium increases the Senate bill would impose on the elderly—as much as $7,000 more annually for a 64-year-old earning $25,000 per year. "We haven't had the debate in this country over whether health care is a right or a privilege," she said. "Currently, it's basically treated like a privilege." Under the Senate bill, it's treated as something even worse—a luxury good like bullion or speedboats, accessible only to the rich.
Harry Messenger of Charlotte, one of about 25 people who stepped up to the microphones to ask questions, wondered aloud why the Democrats hadn't thrown their support behind U.S. Representative John Conyers' Medicare For All proposal, which the longtime Michigan congressman first sponsored in 2003. "Why are we even having this discussion?," Messenger asked in frustration. "That should've been passed long ago."
Behind him, in one of the pews, a bespectacled man with white hair pumped his fist in agreement. He was Joel Segal, who as a policy adviser for Conyers co-authored the bill Messenger was talking about. It was Segal, who now lives in Charlotte, who asked Adams if she'd read Medicaid testimonies on the House floor. "This bill is insane," he said.
After the town hall, Segal tried to explain to Messenger and me why Medicare For All hadn't found its way to passage. There wasn't enough public outcry, he said. Advocacy organizations lack the budgets and resources to battle the health insurance lobby. Conservative Democrats shied away from what they saw as a gateway to socialized medicine. (Horrors.) "We need to be funded at the level of the Sierra Club," Segal told me. "Unless you have 10 to 20 organizers and a decent-sized budget, you can't educate the grass roots, teach the bill so people can understand it."
It seemed that the people at Mayfield Missionary, while perhaps unable to understand the details, understood fully that a healthcare system that treats medical care as a high-end commodity would hurt or kill them. Do people really need to understand more than that? "This is the only industrialized nation in the world that doesn't have some kind of single-payer system," Segal said. "Plus, Medicare works. Just expand it to everybody."