The Impenetrable Blue Line
The bright side of the ineffectiveness of CMPD's Citizens Review Board? It's not much worse than anyone else's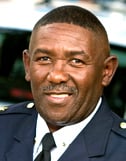 Police departments' citizen review panels are generally exercises in PR, not genuine oversight. To the degree that they exist — and a lot of departments don't have them at all — they tend to operate under the constraints of the agencies they're supposed to oversee and wield no more than advisory power to recommend policy changes police can adopt, or not.
Which is why it's good but ultimately unsurprising that the Observer looked into Charlotte-Mecklenburg's own Citizens Review Board and discovered that, in 78 cases over its 15-year existence, it's ruled in favor of CMPD every time. "The board has no independent power to investigate, and citizens must meet an unusually high standard of evidence for the board to even hold a formal hearing," write Gary Wright and Fred Clasen-Kelly. "The board's limitations and record of never siding with citizens in 78 cases suggest it is among the weakest in the nation."
They have to say "suggest" because damn little evidence exists for anyone to determine how strong or weak these boards are, and the evidence that does exist indicates that "among the weakest in the nation" means next to nothing as a comparative standard; as far as I can tell, the field is full of nothing but weak.
For starters, I can't seem to find any comprehensive study of or report on review board efficacy to determine whether they have any real effect on preventing police misconduct, not even by the national ACLU. The closest thing to a comprehensive study is a Justice Department report from March 2001 — yes, 12 years ago — that reviews nine cities' review procedures and outlines the pros, cons and potential sources of conflict for each. There's no quantitative analysis of case results. But the report does make some relevant observations.
Regarding mediation of complaints rather than administrative hearings: "Many citizens simply want the satisfaction of expressing their concerns face to face with the officer — letting the officer hear their side of the case or dissatisfaction with the officer's behavior." They have a chat; the aggrieved party feels better; that's it.
"To evaluate the effectiveness of an oversight system, it first is necessary to establish the objectives the procedure is designed to achieve — something few oversight planners have done."
"Comprehensive evaluations of citizen review have been rare." But we knew that.
"It would seem logical to evaluate the success of citizen oversight by determining whether complaints increase or decrease after the system becomes operational. The natural assumption is that, over time, complaints will decline as the oversight system begins to play a part in reducing officer misconduct. However, complaints may increase because the intake process has been simplified or made more accessible or because public confidence in the review process has increased. Furthermore, there are rarely complete — or any — baseline data on the actual number of incidents of police misconduct."
So, you know, as through a glass, darkly. One of the very few cities that seems to have taken citizen review seriously is Albuquerque, N.M., which in the mid-1990s hired a pair of consultants to evaluate the city's oversight practices and recommend needed changes after a rash of fatal police shootings and expensive city payments to victims of police violence. The consultants' 159-page report concluded that Albuquerque's system was "not functioning effectively" and concluded with 10 recommendations that the City Council adopted in 1998.
So did it work?
The Justice Department said on Tuesday that it was opening an investigation of the Albuquerque Police Department, after officers were involved in more than two dozen shootings, many of them fatal, over the past two years.
The investigation, which comes after a preliminary federal inquiry into the department, will focus on accusations that officers used excessive force, including unreasonable deadly force, when dealing with civilians.
"We will peel the onion to its core, and we will leave no stone unturned," Thomas E. Perez, the assistant attorney general for the Justice Department's Civil Rights Division, said at a news conference in Albuquerque.
"We will talk to department leadership and rank-and-file officers," Mr. Perez said. "We will also actively engage with the community, a critical part of the process of determining whether systemic violations exist."
Mr. Perez emphasized that the inquiry was civil, not criminal, and it was unclear if any charges would arise from the investigation.
Since 2010, the Albuquerque police have been involved in 25 shootings, 17 of which resulted in deaths. Critics had long been pushing for a federal inquiry into the department.
American citizens give extraordinary authority to police: the power to stop, question and detain us, the power to determine the facts in criminal investigations, the power to use deadly force at their discretion. Most cops are professional and decent enough not to abuse that power, but that level of authority inevitably breeds misconduct, brutality and, at times, the violent deaths of citizens who have done nothing wrong.
No one condones police brutality, but unless we examine the system that enables it — and acknowledge our own complicity in it, in return for "safety" — we shouldn't act too surprised when we discover that the mechanisms we set up "to police the police" function mainly to fulfill the classic wingman's duty: provide cover. The DOJ report lists two main benefits local elected officials realize from citizen oversight of police: "Enables them to demonstrate their concern to eliminate police misconduct" (emphasis mine) and "Reduces in some cases the number of civil lawsuits (or successful suits) against their cities or counties."