The Money Pat McCrory Makes
SEC filings show a piece of the governor's private income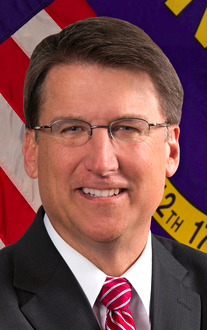 Thanks to John Frank at the N&O and the good practices of the Securities & Exchange Commission, we now know something pretty interesting: how much money Gov. Pat McCrory made, and from whom, before he became governor:
Gov. Pat McCrory's state financial disclosure form offers little insight into his wealth. But newly filed corporate records show the Republican made more than $175,000 in 2012 as a board member for two publicly traded companies. According to federal Securities and Exchange Commission documents filed in May, McCrory made $138,204 in total compensation (salary and stock awards) as a director at Tree.com, an online mortgage lender, through Dec. 31, 2012. SEC records filed in late July show he earned another $38,555 in total compensation as a Kewaunee Scientific director from April 2012 to the end of the year. The company paid his health insurance, which accounts for about $9,000 of the total.
McCrory resigned both boards just before he became governor. What still remains unknown: how much he made as a consultant for his brother's firm* and his previous salary at Moore & Van Allen, a Charlotte law firm that does lobbying work. (Not to mention his clients for each.) And his total wealth.
If you want to check it out yourself, here's the Tree.com report (McCrory's compensation is on p. 29), and here's the Kewaunee Scientific info (p. 8). The latter is a Statesville-based manufacturer of laboratory and technical furniture and accessories.
In case you're wondering, McCrory's salary as governor is $141,265, ranked 22nd among gubernatorial salaries nationwide and more than the average of $133,348. (And hey, if you peek at the Tree.com report, take a look at who else was on the board. He resigned after his victory in the S.C. First District Congressional race in May.)
There's nothing untoward about McCrory's service on the boards, and he quit both positions after his election as governor. Still, McCrory's sources of income have been a mystery since his Charlotte mayor/Duke Power days, and it's good to be able to catch at least a piece of a glimpse of how Gov. Pat makes his money — and gain some context for his frequent lamentations that we all need to make tough choices/"tighten our belts."
Not all of us can serve on corporate boards that foot the bill for our health insurance. Some of us depend on such backstops as, oh, Medicaid.
*McCrory & Company, a Charlotte business consulting company founded by Phil McCrory in 1990.