The Past and the Future in Charlotte Music
The Excelsior Club's days might be over. A new initiative aims to fill the space it and other losses have left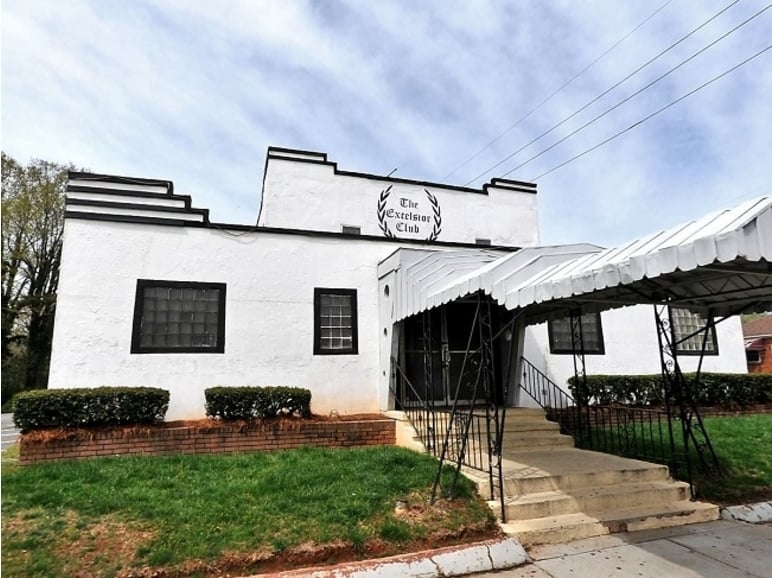 I can't help but think that in another city, one that recognized its cultural history and the notion of value that isn't strictly monetary, the Excelsior Club on Beatties Ford Road would be a showpiece, a hub, a community center, a structure worth far more than the assessed value of building and land.
But this isn't another city. This is Charlotte. And so, when the Charlotte-Mecklenburg Historic Landmarks Commission approached county commissioners two weeks ago about merely hitting the "pause" button—spending $4,000 on an option to buy the 74-year-old building, giving the commission a year to find a potential buyer—commissioners, perhaps predictably, passed. Its owner, Democratic N.C. Rep. Carla Cunningham, has said she'll wait until after Election Day next month to decide what to do. But Cunningham has also said she alone doesn't have enough money to pay for renovations, which means demolition as early as next year is a distinct possibility.
A small group of citizens went to the commissioners' meeting Tuesday, urging them to reconsider. Mattie Marshall, a community leader in Washington Heights, where the Excelsior is, made an eloquent argument for the Excelsior's importance to the neighborhood and west side. "African-American historic sites are precious resources to the Charlotte-Mecklenburg community," she told the board. The club certainly meets that definition. It's as storied a structure as there is for Charlotte's black community, a spot where Louis Armstrong and Nat King Cole performed, a place where black people gathered from its opening in 1944 to 2016.
"Our history matters," read the signs that the crowd took into the meeting chamber. If it does, commissioners demonstrated that it's not worth the $4,000 option to buy, even as Chair Ella Scarborough declared from the dais that she heard the speakers "loud and clear." Commissioners took no action on the Excelsior on Monday. They didn't need to. They already had.
It'd be easy to throw up your hands and utter a defeated, "Oh, well. Such is Charlotte." Yet there might be enough energy and money in this age of Things Mattering to at least make a run at saving the place. Before the meeting was done, Brandi Williams, a community activist, was on Facebook with a suggestion.
"I am not confident that our governmental bodies will take action to save it. I have good info that the taxes are up to date and that it just needs to be rebuilt," Williams wrote. "Who would be willing to raise money for materials and what local black contractors would be willing to do the work? We have to stop waiting for people to do for us what we can do for ourselves." Will anyone step forward?
That's how some of us are trying to preserve a sliver of the past. What about the future? Over the last year or so, officials with Charlotte Center City Partners have been meeting with tourism officials, venue operators, club owners, musicians, and others to try to kickstart a cultural asset Charlotte's always talked about but never really had: a strong, identifiable, distinctive music scene.
We've addressed this before in podcast episodes and stories, paying plenty of attention to the mass closings of locally owned music venues—the Double Door Inn, Tremont Music Hall, the Chop Shop—for assorted reasons two years ago. But any city's music scene is more than a roster of its venues. There's no shortage of places to play in Charlotte and apparently no shortage of local and regional bands and acts to play in them. No one can reasonably expect Charlotte to transform into the next Nashville or Austin or New Orleans. But what's preventing us from having a music scene at least as rich and vibrant as, say, Asheville's?
Center City Partners—along with the aforementioned allies—is trying to answer that question through an initiative called Music Everywhere, which wants to take stock of Charlotte's music assets more thoroughly than anyone ever has. Its organizers aim to tie together the loose strands of Charlotte's music scene into something distinctive and thriving, something that can make a mark not just in the region's (or nation's) culture but serve as an incubator for jobs and economic growth.
When local people go out to see local music, brewers, liquor distributors, and often restaurateurs benefit. When people come into Charlotte from out of town to see a favorite act and make a weekend of it, hotels and Airbnbs and museums benefit, too. Musicians, venues, and sound and light engineers benefit from both.
"In a sense, it's kind of basic community-building. Music matters. It's a piece of the soul of the city," says Richard Thurmond, Center City Partners' senior vice president for community and business development, a leader of the team behind Music Everywhere, and this magazine's former editor and publisher. "I'm not saying we'll become known for music first and foremost. But think about when you visit a city and encounter a live music event you weren't expecting, and you go, 'Man, there's something cool going on here.' People want to move where there's something interesting going on."
Music Everywhere's first order of business, besides assembling interested parties, was the launching of its website a few months ago that provides patrons with an updated list of upcoming shows and venues, along with artists organized by musical style. It's also gathering all-important data from an online survey, available through October 25, to gauge the gig-attending public's habits: Where they go, how often, whether they go more or less than they used to, why, and whether any of it involves dining out. Thurmond and team plan to use the survey results as a guide for a larger strategy they plan to unveil early next year.
It's easier to determine why something does exist than why it doesn't. But one notable impediment to a vibrant Charlotte music scene is, coincidentally, what we'll be talking about at tonight's #discussCLT event at Catawba Brewing Co.—the absence of a strong, centralized university presence. Still, Charlotte remains one of the top cities for recent college graduates just beginning their careers. "So how do we build on that?" Thurmond asks. The survey results may contain some clues, as well as the emerging presence of live performers at many of Charlotte's 776,281 breweries. (That number may have increased by press time.) "That tells me there's a market for music in Charlotte," he says, "and for a music experience in Charlotte."