The Pat Principle
McCrory the Persecuted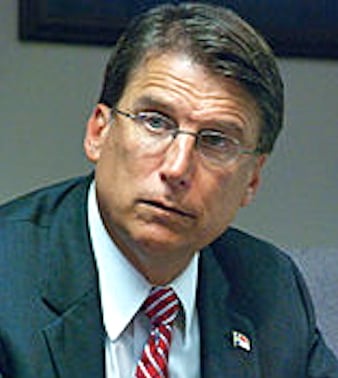 On the evening of Sunday, April 1, 2007, one of the worst days in recent Charlotte history, Pat McCrory asked me what I thought about a speech of his.
Charlotte-Mecklenburg police officers Sean Clark and Jeff Shelton had been shot to death at an east Charlotte apartment complex the previous night. CMPD had arrested Demeatrius Montgomery for the murder, and now they were bringing him over from the jail for processing.
McCrory would say later that the shootings of Clark and Shelton were the worst episode in his 14 years as mayor. He was there at CMPD headquarters on East Trade Street at about 9 p.m. that night to make a brief statement. I was there to help cover the shooting story for The Charlotte Observer. McCrory delivered his remarks, which were pedestrian; what else could he have said?
On his way out, McCrory saw me just outside the door and said, if I remember correctly, "Hey, how'd I do?" I don't think he was kidding.
I didn't know how to respond. It struck me as a strange thing to say under the circumstances. "I'm sorry?" I finally said. He made a "never mind" gesture and walked away.
Politicians are nothing if not self-conscious. But McCrory has always been a special case, displaying a thin skin and capacity for assumed victimhood that surpasses even the standard for most public figures. He seems unwilling or unable to accept that scrutiny comes with the office, and he has to learn to live with it or get out.
It's apparent that this character trait has only grown with his office, as Observer Editorial Page Editor Taylor Batten observed in an insightful Sunday column:
It's not that he has no grounds for complaint — in the mountains of coverage about him, there are bound to be elements that he and his supporters find unfair. What is remarkable is that after 24 years in public life, McCrory fills a role that inevitably will elicit ongoing criticism yet he is as sensitive to it — no, personally hurt by it — as someone entering public life for the first time.
I asked him about a series of hiring and pay controversies surrounding his health secretary, Aldona Wos. McCrory jumped to the cases of Ricky Diaz and Matt McKillip, two then-24-year-olds who worked on his campaign and then were given well-paying positions in Wos' department without the jobs being posted. "They weren't political cronies. Your editorials often use the word cronies. Slash and burn is another word you often use. Slash and burn is repeated often." (I couldn't find a single editorial in our history with the phrase slash and burn.)
"Y'all have been pretty tough" on Wos, he added. "And the editorial cartoons and everything. She's brilliant, and it's kinda sad public servants get … I hate that she's got hit probably harder than I have and she doesn't deserve it."
Now McCrory was on a roll: "That's my only request, is take a deep breath before you write an editorial based on a news story, because some of the editorials were based on inaccurate news stories … Once it starts, it's just, a lot of it is the headline writers. They change the words, put a new word in it, and then when the headline goes out the next thing, it becomes the story. That's probably the biggest issue I have with the media is the headline writers." (My colleagues on the news side at the Observer know of no instance when they ran a story or headline with any factual errors that weren't corrected.)
I asked McCrory about North Carolina's inadequate funding for public education. "I increased pre-K funding and K-12 funding. You wouldn't know it by the headlines," he said. "By the headlines it looks like we cut, you know the headlines, 'McCrory slashes and burns education'." (The Observer has never run that headline, but the state's per-pupil funding is down from previous years.)
"What are the other eight things I said wrong by the way? You had an editorial where 'McCrory's misstatements. Eight misstatements.' I forget how many." I tell him I don't know what he's talking about, and an adviser points out that he's thinking of a news story written by a (Raleigh) News & Observer reporter. "No," McCrory says. "That was their editorial. Or was that a repeat? Maybe, I don't know which ones I'm reading."
Even paranoids have enemies. But what's most troubling about McCrory's insecurity and fixation with his own image is that he can't even bother to cite chapter or verse. He has all the persecution complex of a Captain Queeg but none of the focus; he's an obsessive-compulsive who can't get the details right.
How did this guy manage, and manage well, in 14 years as Charlotte's mayor? Should we just go ahead and start calling it the Pat Principle?