The Professor and the President
Carol Quillen is both. She's also Davidson's first female president and the first non-Davidson alum to hold the office since 1957.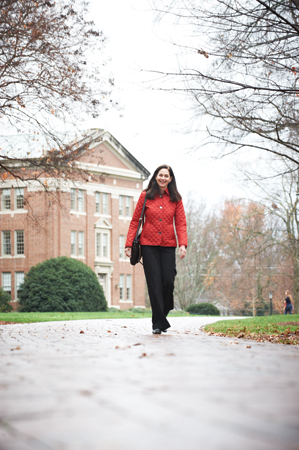 It's time for class. On a Tuesday evening in early November, about a hundred people take their seats in a small performance hall in the Davidson College student union for a lecture by Carol Quillen, the eighteenth president—and first woman to hold the office—in the college's 174-year history.
The college has asked Quillen, who was inaugurated in August, to deliver a Chidsey Leadership Lecture, a once-a-semester talk on leadership meant to educate and inspire potential student leaders. The room is packed. "Once students get to know her and hear her speak, they have the same reaction," Faheem Rathore, a senior political science major who served on the presidential search committee, says a few minutes beforehand. "Stephen Curry"—the basketball star, Davidson's most well-known alumnus—"is back on campus now, but she's a bigger celebrity than he is. Everybody just wants to meet her."
Quillen, fifty, is tall, lean, dark haired and dark eyed, with the stride and posture of the athlete she was in middle and high school. The college has provided a lectern, adorned with the Davidson logo, off to one side. Quillen ignores it. She marches briskly to the front of the hall and begins talking—not lecturing, talking. As she speaks, her hands carve semicircles into the air, as if she's spinning an invisible globe. "Let me tell you what I'm about to do, which might be a little different from what you might expect," she tells the audience, and then: "I'm going to rely on you."
And so class begins. Quillen has been a history professor for more than twenty years, and she is not interested in merely downloading what's in her head. "My goal is to produce understanding, not to demonstrate my own knowledge," she told me a few days earlier. This is old-school interactive. She has questions for you: What is leadership? What does that mean, really? We say people need to trust each other—what is trust? Five minutes in, she sheds her red cardigan and works the hall in a sleeveless black top and gray slacks, calling on students, gesticulating, rephrasing, laughing, challenging. In an hour, she consults her notes, abandoned back at the lectern, once.
She's a teacher, after all. That was part of her appeal. College Board of Trustees Chairman Mackey McDonald, in introducing her to Davidson in May, called her "a collaborative leader who knows what she doesn't know and surrounds herself with people who do." She leads, but she's more shepherd than general, in keeping with Davidson's mission to teach young people how to motivate and manage themselves for life.
In other ways, Quillen—who succeeded Tom Ross, a Davidson alumnus who's now the president of the University of North Carolina system—was an unconventional choice, a woman to oversee a college that granted degrees to males only until 1972 and the first president since 1957 not to have graduated from Davidson. The college tends to think of itself as distinctive, a place apart, an institution few non-Davidson grads can truly understand. Yet Davidson has welcomed her with uncommon enthusiasm. "Her values are Davidson's values," McDonald said in announcing the decision. "She inspired us."
Quillen isn't taking over an institution in crisis. Davidson is highly ranked academically, financially sound, and scandal free. The student body benefits from the Davidson Trust, a remarkable mechanism established in 2007 that offers loan-free packages for all students in need of financial aid. At a time when two-thirds of American college students assume debt to attend college and the average debt load upon graduation is $27,000, it's an extraordinary pledge.
"There are two questions I consistently ask every Davidson group I talk to. One is, 'If you could change one thing about Davidson, what would you change?' And the other is, 'If you could ensure that one thing never changed, what would that be?'"
Davidson isn't cheap. It costs $49,723, including tuition, housing, meals, and fees, to attend the college for the 2011-12 school year. The Davidson Trust is one of many reasons why Davidson inspires an intense loyalty, unusually strong even among small private schools, in its students and alumni. The Davidson Alumni Association's Charlotte Chapter has more members (2,043 at last count if you include Rock Hill) than the college's enrollment, 1,920. Many of those alumni—most notably Mayor Anthony Foxx, class of '93—hold leadership positions in Charlotte. The college's alumni giving rate, a source of great pride, is an eyebrow-raising 60.3 percent. That ranks second in the country among similar-style schools.
Quillen's job is to build on that loyalty and extend it beyond the gorgeous campus and the small town it defines. A growing metropolitan city sits just twenty miles down Interstate 77, but Davidson's singularity can, at times, isolate it; what makes Davidson an oasis also makes it an island. The new president believes Davidson can retain its distinctiveness and still raise its profile in the city where many alumni live, work, and lead.
One of them is Ann Blakeney Clark, the chief academic officer for Charlotte-Mecklenburg Schools and a 1980 Davidson graduate active in both Davidson and Charlotte life; she serves on the college Board of Visitors (which is separate from the Board of Trustees) and numerous nonprofit boards in the city. "Through brief interactions and talking to folks on the executive team, I know she does want to enhance the relationship between Davidson and the city—and there are a lot of things to build on," Clark says. She points to the Charlotte Teachers Institute, a two-year-old initiative among Davidson, CMS, and UNC Charlotte that offers continuing education for CMS teachers.
Of course, Quillen's visibility in Charlotte will be part of that enhancement, Clark adds. "There are opportunities for the president to have a more visible presence in Charlotte and urge faculty and staff to do that as well."
Quillen says she's committed to connecting the college with Charlotte. "I think Charlotte provides a rich urban life, and I'd like for our students to be able to participate more in that," she tells me in her office in late October. "I think we have talent that would make a contribution to Charlotte: research talent, problem-solving talent, contributing to improving the lives of underserved populations. … I think we haven't always been able to do that as well as we could."
That's a general goal, she stresses. The particulars aren't in place yet. She's still trying to take in the institution she's been hired to lead. One of the great things about liberal arts education, she says, is that teachers can learn from students. Quillen revealed a cornerstone of her educational and personal philosophy the moment she stepped on campus when, during an interview posted at the college's website, she said her primary goal was to listen.

Quillen, who had spent her entire career at Rice University, receives the college mace at her inauguration, symbolizing her acceptance of the title.
She's still listening, and doing so in a setting perfect for reflection. Stacey Schmeidel, an associate vice president in the communications office, walks me over to the imposing Chambers Building, the academic center of campus, with its cupola and Doric columns. It's a sunny, oddly warm midautumn afternoon, and a breeze kicks drifts of husk-like leaves among the oaks and diagonal footpaths and stately brick structures; a set designer ordered to construct The American College Campus would emerge with something very much like Davidson.
Carol Quillen emerges from her office wearing a gray suit and bearing a can of Fresca. "I drink a lot of Fresca," she says. It's her main vice. With her hair pulled back, as it usually is, Quillen can come across at first as severe. But then she brightens, laughs heartily, apologizes for the sun that streams into her office in the late afternoon. Any tension evaporates. I ask how the listening is going.
"There are two questions I consistently ask every Davidson group I talk to," she replies. "One is, 'If you could change one thing about Davidson, what would you change?' And the other is, 'If you could ensure that one thing never changed, what would that be?' There's a lot of consistency in the answers to the second question."
The answers to the first are all over the map, she says. To the second, students, alumni, faculty, and staff reiterate four things: The Davidson Trust, the admirably low student-faculty ratio of ten-to-one, the commitment to Division I sports, and the Honor Code.
The Honor Code is another distinctly Davidsonian thing. "I don't think I've ever been at a school that didn't have an honor code. But here, the Honor Code creates a real culture of trust," Quillen says. "And so here's what alumni will say to me: 'I remember the moment at Davidson when I could have lied or cheated and done so with complete impunity, with no risk at all of getting caught, and I chose to be honest, and I remember how good that felt, and from then on I knew I wanted to be the person that Davidson asked me to be.' "
Apart from any specific plans to increase the size of the endowment or decide on how to turn the five general objectives of the college's 2009 Strategic Plan into concrete action, Quillen's focus for now is to sustain and develop the school's culture—and to do that, she has to absorb it herself.
"There's no cookie-cutter Davidson grad … but all Davidson students are committed to living a life that's consistent with their deepest-held values. That's a really special place," she says. "There's no premium placed on pretense, there's not a lot of posturing, people are really respectful of the differing moral choices that they make. … It's a really remarkable place. I want to be the person Davidson wants me to be."
She occupies the president's office in part because the person Davidson wants her to be isn't far from the person she spent fifty years becoming.
Delaware is tiny, tightly knit, and insular, a county with statehood. Carol Quillen grew up in the colonial town of New Castle, on a narrow street called The Strand, a two-block lane from which you could throw a rock into the Delaware River. The neighborhood was almost comically cozy; both sets of grandparents lived on the same block, and members of the extended family lived within easy walking distance.
Her father, William Quillen, was a judge; eventually he would hold a seat on the state Supreme Court and run, unsuccessfully, for governor. Mother Marcia was director of development at Wilmington Friends School—the K-12 Quaker school that generations on both sides of the family have attended—and worked part-time in fundraising at the University of Delaware. "In Delaware, you meet everybody. We met senators, congressmen," says Marcia Quillen. "But that's not because of who we were.
That's because of how Delaware is." William and Marcia had two children, both daughters, Carol in 1961 and Tracey the year after. Carol absorbed her first lessons about community in a town where neighbors welcomed each other into their lives, every day, to a degree that's hard for someone from a modern city or suburb
to appreciate.
"When we grew up, it was more self-contained than it is now. Lots of people never went to Wilmington, the big town," says Tracey Quillen Carney, who works as Wilmington Friends School's communications director. New Castle is seven miles away. (A longtime aide to Joe Biden when he was a senator, Tracey is married to John Carney, the former lieutenant governor and first-term Democratic congressman.) "People really did watch out for each other and each other's kids. You could just walk out the front door and find someone to play with without planning."
Carol Quillen's education on education began with the Quakers. Most of the students at Wilmington Friends School weren't Quakers—the Quillens are, like Davidson, Presbyterian—so the school had to accommodate students from divergent religious and social backgrounds. Whether by design or necessity, inclusion is a cornerstone of Quaker education, and Quillen took the commitment as her own.
"Quakers believe there's a little bit of God in everybody, and it's your job to find it," she says. "So there's this individualistic and open approach to building a community, and I think that had a big impact on the way I think about community and leading. There was very little hierarchy, a lot of consensus building and paying a lot of attention to very strong objections, even from a really tiny minority."
By graduation, Quillen had decided she wanted something other than East Coast and small town. She went Midwest and big city: the University of Chicago, honored and feared for its academic rigor. "It was the first place I'd ever been where the only thing that mattered was thinking. I don't think half the professors I had knew they were embodied creatures. They lived completely in their heads." She laughs. "It was a great, really exciting place filled with intellectual upheaval and foment all the time. I really loved it there."
She majored in U.S. history. In one of her classes—"Ancients and Moderns," fall 1981—the teaching assistant was a graduate student named Peter Ahrensdorf, now a political science professor at Davidson. (The professor was the late Allan Bloom, who would become one of the most controversial figures in American academia a few years later with the publication of his book The Closing of the American Mind.)
"Carol's an extraordinarily successful fundraiser because she can communicate to people why it matters and why they'd want to be part of this project."
"Ancients and Moderns" centered on two texts: Plato's The Republic and Machiavelli's The Prince. Quillen dove into the class discussions. "I've taught a lot of students in the last thirty years, and I certainly don't remember all of them. But she stood out," Ahrensdorf says. "Somehow Carol combined genuine enthusiasm and openness with a certain independent-mindedness. … It's an unusual combination. She must have been what, nineteen or twenty?" (She was twenty.)
Quillen's "History of Western Civilization" professor was a man whose name is still revered on the campus: Karl Weintraub. He was a German immigrant who, in his always-full classes, would fire difficult questions at random students and curtly cut off those whose answers displeased him—the Socratic method in a foul mood. Still, every semester, students would wait in line for twenty-four hours or more to get into his class, which met for an extra, no-credit ninety minutes each week.
"He was very, very demanding," Quillen says. "He had specific answers in mind; your answers had to refer to the text, they had to be based on evidence. … I learned how to think in a really rigorous way, how to formulate a clear argument and how to present it. … I learned a ton from him." You can hear Weintraub's influence on her. Quillen's answers to questions take the form of mini-essays, with introduction, exposition, and conclusion; her speeches, which she delivers with minimal help from notes, are the same way.
Weintraub, who died in 2004, bestowed something on his student besides tough teaching: the beginning of her academic career. Quillen thought she'd be a lawyer like her father. Weintraub suggested graduate school. She found she enjoyed academia too much to leave it. So she enrolled, after her graduation from Chicago in 1983, at Princeton.
She switched her focus to European history mainly because of the quality of the faculty, including Anthony Grafton, a renowned Renaissance scholar who's taught at Princeton since 1975 and who last year was elected president of the American Historical Association. Grafton supervised Quillen's doctoral dissertation, a study of the fourteenth-century Italian scholar Petrarch, the "father of humanism," and how his reading of St. Augustine influenced his philosophy.
"It was a very technical, beautiful piece of work," Grafton recalls. "She had such a grown-up and forceful personality. It was always like talking to someone on the same plane. … It was clear to me very early on that Carol was going to be a spectacularly successful teacher. She knew who she was."
Grafton visited Davidson in October to deliver a few lectures and see his old student and friend. Her presidency doesn't surprise him. "I knew this was a job that just made so much sense for her."

Quillen speaks with Davidson students at a dessert reception she held for the student body.
At Rice University in Houston, where she began teaching in 1989, Quillen found a home, a career, and a husband. She had married Terry Lohrenz, a research scientist, when she was in grad school; the two moved to Houston and had a daughter, Caitlin, in 1993. (Caitlin's now a freshman at UNC Chapel Hill.) But the marriage ended in divorce three years later, and in 1998 Quillen married Ken Kennedy, a longtime Rice computer science professor and a giant in the field. Kennedy founded the university's first-rate computer science program and earned a reputation as one of the world's experts on high-performance computing.
Quillen's academic career blossomed quickly at Rice. Once she finished her doctorate from Princeton in 1991, she settled into her role as an associate professor of history specializing in early modern Europe, European intellectual history, and gender studies, teaching classes such as "Gender and Society in Early Modern Europe" and "Humanist Tradition and Its Critics." Three times, Rice awarded her with the George R. Brown Award for Superior Teaching, an award Kennedy had won as well.
More surprising, Quillen came to enjoy the megalopolis of Houston, a town of oil money and ten-lane freeways as far removed from the tranquility of New Castle as possible. She built a full life there with Kennedy and Caitlin. Quillen threw herself into committee and organization work at Rice, too, and continued to teach while she took positions as director of a campus center for religious tolerance, vice provost concentrating on faculty diversity and development, and vice president in charge of developing and implementing the university's global strategy.
The vice presidency rested on Quillen's intellectual acumen and another quality she didn't always fully exercise as a history professor: her ability to act as the glue bonding adults from every conceivable background. Rice Provost George McLendon, Quillen's colleague in her last job and a close friend, recalls that Quillen started an informal weekly gathering of university vice presidents off-campus for drinks. The administrators got to know each other better as people, and the resulting ease and trust carried over onto campus.
"She has a wonderful convening quality. If Carol wanted you to serve on something, you'd probably end up serving on it," McLendon says. "People like being around Carol, and so she's an extraordinarily successful fundraiser because she can communicate to people why it matters and why they'd want to be part of this project. She was able to bring groups of people together around complex topics, and somehow she was able to communicate to them that it was going to be exciting and fun."
In the midst of all this, something awful happened—and it became the seed of her arrival at Davidson. Her husband fell ill. It turned out to be pancreatic cancer, and on February 7, 2007, Ken Kennedy died at age sixty-one. Quillen still loved Rice, Houston, and her career. But things were different.
"I'm not sure it makes sense to stay at one institution for your entire career," Quillen says. "Rice is a great place, and I had a lot of opportunities there that I wouldn't have had at other places. … But, you know, after my husband died, it was a little bit sad, honestly, to be there. That was something we had done together. We both worked at Rice, Ken loved Rice, he went to Rice, and so …"
Quillen is nothing if not articulate—it's one of the adjectives people use most to describe her—but now, for once, she stumbles before concluding, "It was always going to be just a little bit difficult to be there without him."
A recruiting firm contacted Quillen about the Davidson opening in early 2011. After twenty-plus years, she was ready to go. They miss her in Houston. "It's taking a while to recover from her loss," McLendon says. "On the bright side, Davidson seems pretty happy."
On move-in day for new students, Quillen joined junior Raven Hoskins and sophomore Scott Sellers as members of the Orientation Team of students who help carry luggage from parking lots to residence hall rooms. She spent much of the first semester listening to students and alums.
In November, Quillen and Davidson face another death: Robert Whitton, a longtime math professor, dies November 11 from injuries he sustained the week before, when a car hit him on a campus crosswalk. The next day is Homecoming, and celebrations are muted; a former student of Whitton's, an alumna and administrator, breaks down and sobs during an interview for local television.
It's been a difficult week for other, less intimate reasons. The Penn State child sex abuse scandal, perhaps the worst episode in the history of American higher education, is a week old and still sinking in. Quillen attended a meeting of university administrators in New York during the week, and Penn State was the main topic of conversation. Among many, many other issues, Penn State stands as a warning against top-heavy leadership and a failure of an institution's leaders to listen.
So today it's time for Quillen to listen a little more. It's a perfect fall evening near dusk, and members of the Gay-Straight Alumni Network of Davidson are holding a reception at a campus guesthouse. Quillen comes directly from a gathering to remember Whitton. She's subdued and obviously weary. But she collects a glass of water, sits among four recent alumni—one with hair dyed green—and starts asking about them, where they're from, what they majored in, what's the one thing they'd change about Davidson.
"That's tricky," says Sam Hotchkiss, twenty-five, a 2008 graduate who says he never encountered homophobia on campus but didn't necessarily feel embraced, either. It got better, though, he says. Quillen listens intently and nods.
To the next on-campus event: a gathering to celebrate the twentieth year of Davidson's Bonner Scholars Program, part of a nationwide scholarship program that commits students to intensive community service in exchange for scholarship money. It's just the sort of thing that piques Quillen's interest, and the weariness fades as she meets Jennifer Geyer, a 2009 graduate who's working with limited-English-proficiency students at Vance High School in Charlotte through the nonprofit Communities in Schools.
She starts asking about what Geyer does, how they measure their success, how they might be able to tie the Davidson community more closely to Charlotte through programs like this. Quillen has a new question now, based on her recent conversations: What do we want Davidson to be in ten years? The two talk for a good ten minutes.
"It was my first time meeting her," Geyer says afterward. "It was really significant to me that she was interested in things outside of Davidson, like CMS schools. This program is something that pushed me outside of Davidson, and I think if Davidson pushed more in that direction, it'd have a big effect."
That's one of the main things Quillen aims for, and she means to display the engagement to those who believe Davidson—and liberal arts education in general—are luxuries in an age when we're losing manufacturing jobs to China and our young people need technical training. She's spent a life making the case that we need this, too.
"At times someone will say to me, 'How is this possibly more important than teaching everyone how to read?' or, 'How is it worth supporting this very rarefied form of education at a time when we're in crisis?'" she tells me back in her office. "The argument I would make is that our graduates have a disproportionate impact for good in the world, and our society is better off because these people go out into the world and do amazing things that provide opportunities and education and a better way of life to many, many, many people. And that, to me, is an argument for the societal necessity of this kind of institution."
Now, though it's been great meeting the Bonner Scholars, night has fallen, and Carol Quillen needs to go back out into the world herself. "I gotta run," she says. It's been a long day, and many more await. She throws on her coat, strides out, and sets off for the next thing.