The Risks of Private Funding for Charlotte Transit
CATS turns to the private sector as public transit dollars dry up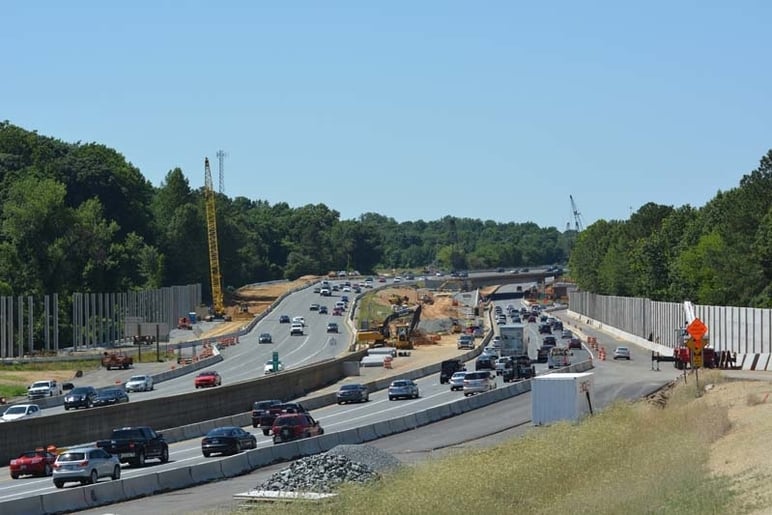 Our #discussCLT event Wednesday evening concerned Charlotte's transit future, specifically the chances of the city's 2030 Corridor System Plan—rail lines connecting uptown Charlotte with suburban areas to the southeast, north, and west, plus a streetcar connecting east and west Charlotte—ever becoming a reality. At the same time, N.C. Transportation Secretary Jim Trogdon was meeting with local officials from throughout the region about the Interstate 77 toll lanes project, which locks the state into a 50-year, $647 million contract with a private company to operate "express lanes" along a 26-mile stretch of interstate in the Lake Norman area.
The project is under construction, and the new lanes are expected to open by year's end. Many residents in the Lake Norman area hate the idea, and have since the project was first proposed in 2009. They contend that the project costs way more than merely adding lanes to I-77 would, and would do far less to relieve congestion. (The N.C. Department of Transportation has estimated that it would take $500 million over 15 to 20 years to merely widen the interstate.) Some also object in principle to the idea of surrendering a critical piece of public infrastructure to the whims of a private developer for a half-century. Ex-Charlotte Mayor Pat McCrory lost his 2016 bid for re-election as governor almost certainly because of his support of the I-77 project.
We didn't talk much about I-77 Wednesday night. (I'll be following up next week with a fuller recap of the discussion.) But the express lanes project does connect to the larger conversation about expanding the transit system, and about who'd benefit most from it. Charlotte Area Transit System, as Deputy Director John Muth said from the stage Wednesday, wants to develop a commuter rail line that would extend from the planned Gateway Station in uptown north into Iredell County, which presumably would deliver some commuters from the forced-march hellscape of I-77 during rush hour.
There's another point of connection, and barring some dramatic changes in leadership and direction at both the state and federal levels, it's shaping up as an inevitability: CATS will have to rely on billions in private dollars to see the 2030 plan to fruition. The public money's just not there. Charlotte managed to build the Blue Line project through a formula that had the federal government pay half of the construction cost and the state and local governments evenly spitting the other half. The legislature two years ago capped state spending on light rail projects at 10 percent of the total project cost. The Trump Administration has not adopted an infrastructure plan. But its initial proposal from early this year places a much larger burden on local and regional governments to raise the money necessary for large-scale transit projects.
That leaves one realistic option: a series of public-private partnerships with developers along the route or other private sources, as CATS CEO John Lewis has already admitted. CATS is still working on the details. "We need some kind of investment," Muth said Wednesday. "If it's not federal and it's not state, we'll have to explore these public-private partnerships."
Yet ceding public services to private operators—a growing trend in the U.S.—carries some unavoidable risk. Companies can fail. Many contracts between governments and private transportation operators severely penalize governments that build new lanes or try to break away. A prime example lies just north of here, and the financial penalties help hamstring an entire state that wants to free itself from a contract its citizens consider a raw deal.
Public-private deals can work. But it's incumbent on public agencies to make sure the contracts they sign benefit the public, not just private entities that see big infrastructure projects as just another way to grow their profit margins. There's another, more general downside to public services and spaces when they're privately owned, as the Harvard Urban Planning and Design professor Jerold Kayden explained last year during an episode of Here & Now:
The privatization of the public realm, I think, at the end of the day, results potentially in a feeling that we're not really all in this together. That there's not a level playing field. There are areas for wealthier people, and then there are areas for poorer people. I mean the signature element of public space is that it is open to all, regardless of income, regardless of status, with a relative lack of interference. A sense of possibility. A sense of freedom. Even disagreements are all right, because that's the nature of society that goes beyond family or company, that everybody is involved. That gets harmed, or reduced, when people no longer feel that public spaces are truly public.
Charlotte's leaders see an expanded transit system as a critical tool for reducing the city's glaring social mobility problem. They need to think, long and hard, about how they can get it funded without surrendering its purpose.