They All Look Alike
A profoundly disturbing report on Michael Slager's history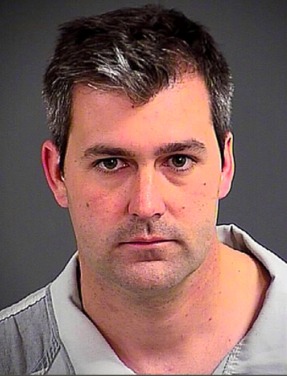 I can't imagine anyone is shocked to learn, as we did today from this Associated Press story, that North Charleston police officer Michael Slager had been accused of excessive force against another unarmed black man in 2013.
The real shock lies in the details. In summary, a woman named Maleah Brown reported to police that her ex-boyfriend had entered her bedroom uninvited. The woman told the AP that she and a friend accompanied police, including Slager, to the man's home and sat outside as Slager knocked.
Mario Givens, the man's brother, cracked open the door. He told the AP that Slager pushed in the door, Tased him, and dragged him outside as Brown screamed that the officer had the wrong man. The two brothers were easily distinguishable. Mario Givens is more than 6 feet tall. His brother, Matthew, Brown's ex-boyfriend, is about 5-foot-5.
From the AP:
The incident report filed by Slager and the other officer, Maurice Huggins, provides a very different version of events. In the report, obtained by The AP through a public-records request, Slager wrote that he could not see one of Givens' hands and feared he might be holding a weapon. He wrote that he observed sweat on Givens' shirt, which he perceived as evidence that he could have run from Brown's home, and then ordered him to exit several times.
When Givens didn't comply, Slager said he entered the home to prevent him from fleeing and was then forced to use his stun gun when Givens struggled with him. The officers' report describes the Givens brothers as looking "just alike."
After Mario Givens filed his complaint, the department opened an internal investigation. A brief report in Slager's personnel file says a senior officer was assigned to investigate. After a couple of weeks, the case was closed with a notation that Slager was "exonerated."
Brown is listed as a witness in the investigative report, but her purported statement included none of the details she said she provided about Slager shocking Givens while he was on the ground. She said she was never contacted as part of the police investigation and had not spoken with anyone about that night until she was contacted by an AP reporter Wednesday.
Unfortunately, no one shot video of the incident, which is apparently the only way we can determine what actually happens in violent interactions between police officers and the public.
But if Brown and Mario Givens are telling the truth—and considering what we know about Slager's capacity for violence, their account seems awfully credible—we're faced with something truly frightening.
We have a cop who doesn't care to distinguish between individuals, even when the source of a criminal complaint is screaming that he has the wrong guy, because he apparently doesn't recognize the difference. One is just as good as any other. That's not just a portrait of a corrupt cop but a caricature of one.