To Stream, and How to Stream
Charlotte City Council wrestles with technology, transparency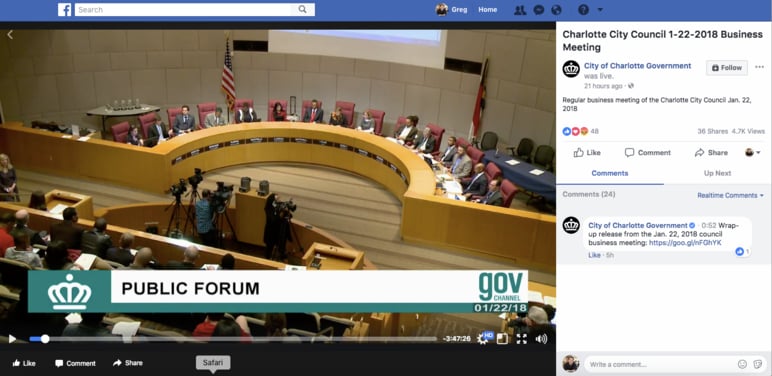 The Charlotte City Council spent roughly an hour Monday discussing whether the city should stream its meetings on live online video via Facebook Live and other social media. Then,  despite reservations from several members, the council voted 8-3 to allow the public to post comments on the meetings in real time. On Tuesday, as if to mock the idea that the reticent council members or anyone else could stuff the social media genie back into its bottle, the debate continued on—where else?—Facebook.
"Government works best when everyone's had an opportunity to speak and be heard. Last night's vote on a very important issue regarding transparency and inclusion was planned in a not very transparent and inclusive way," Mayor Pro Tem Julie Eiselt posted Tuesday morning, even though she had cast a "yes" vote. "It was sprung on council members who had asked to discuss the topic at next week's council retreat. However some council members saw no need to wait. I am intentionally leaving out the topic because that's not the issue."
"I would contend something that has been discussed nearly every week for over a month cannot be 'sprung on' anyone," responded council member Larken Egleston. "#truth," council member Tariq Bokhari subcommented. "We have talked about this on several occasions. We decided on January 8th to push a decision to January 22nd," wrote council member Braxton Winston, who had pushed hardest for live streaming plus comments—and who founded his nascent political career in large part by streaming every public function he could via Facebook Live. "There was nothing sprung just as there was no can kicking."
Egleston, Bokhari, and Winston are brand-new council members, all in their 30s, all elected in November with a general mandate to upend the system and not in any mood to wait for their more deliberative and experienced elders to debate an issue to death. "We want to be more inclusive, connecting the folks who live in our city to the business that occurs here," Winston said during the meeting. Eiselt, 56, is in her second term, a part of the previous council at which furious citizens, including Winston, screamed curses and accusations after the 2016 Keith Scott shooting. (That meeting was what compelled the council to briefly stop broadcasting the twice-a-month public forum to keep people from grandstanding for the cameras.)
So of course the debate over social media and City Council meetings is partly a generational issue, as Eiselt conceded to me when we spoke Tuesday afternoon. "I know we're going to go onto all these platforms. So fine, go ahead. But I want to make sure we're having a healthy conversation about comments," she told me, adding: "I sound like such an old woman, like your mother's telling you that."
But it's also about "transparency," an abstract term that institutions public and private have cited in recent years without seeming to understand exactly what it means, or what its ramifications are. Pre-smartphone, for a public body like the City Council, transparency meant announcing upcoming meetings beforehand, usually in something called a "newspaper"; opening the meeting to the public and press; and publishing its formal actions afterward via meeting minutes.
Now anyone can stream them live, and anyone, anywhere, can offer commentary that enhances, distorts, or derails what's happening in the meeting chamber/on the screen. Eiselt said Tuesday that she wanted to have a fuller discussion about how other local governments around the country are handling the streaming of their meetings. But no one seems to have adopted a full set of best practices for local governments. The National League of Cities advises: "Social media evolves quickly, so it is a good practice for the social media policy to remain platform neutral, and to review and revise it frequently to meet the changing environment." That isn't much help.
Nothing prevents council members from talking more about the issue and refining their policies. The council will hold its annual retreat in Durham next week, and Eiselt says she plans to revisit the subject then—with the understanding that technological changes will almost always outstrip public bodies' ability to react to them. "The reality is, the world is changing," she said, "and you either change or get lost in the shuffle."