Transit Lessons From the PNW
Portland, Seattle, Vancouver have run ahead of the pack since '80s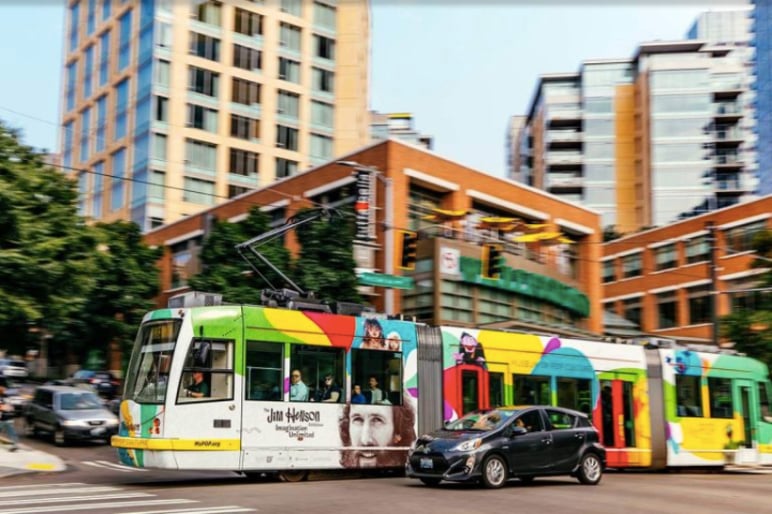 The major cities of the Pacific Northwest—Portland, Seattle, and Vancouver—have vaulted ahead of the mass transit curve for more than three decades. Vancouver opened its elevated SkyTrain in late 1985, in preparation for a transportation and communication-themed World's Fair. Portland began operating its own MAX Light Rail System the next year.
Seattle waited until 2003 to open its first light rail line. But the Emerald City has built a reputation as one of North America's leaders in developing a comprehensive transit system that encompasses buses, light rail, water taxis, even system-run carpooling and ride-share programs. The leading transit advocacy organization in the U.S. recently named Seattle's transit system the best not just in the country but the continent. The American Public Transportation Association noted that Seattle's system, King County Metro, had significantly grown ridership—it added nearly 5 million trips in 2017 alone—launched the first reduced-fare program for the poor in a major American city; improved safety; and progressed toward its goal of a zero-emissions bus fleet.
Charlotte, like most of the Southern cities that have boomed in the era of the highway and car, hasn't achieved anything like that with its mass transit. As we all know, it's trying. We'll be talking about those efforts during the next #discussCLT event this evening at Catawba Brewing Co. with a panel of smart, informed people who'll be able to assess Charlotte's transit present and future. One of the critical pieces of the discussion: What can Charlotte learn from the successes and shortcomings of the Seattles and Vancouvers of the world, places that foresaw the need for extensive mass transit before the rest of us?
A few things jump out at me (and this is not meant as a comprehensive list):
Transit means economic opportunity for people who need it most. Seattle has eased the burden for poor people priced out of the city by exploding housing costs—sound familiar?—by creating a regional system of reduced fares for bus, train, or ferry based on income. Specifically, anyone who earns less than 200 percent of the federal poverty level, $4,183 per month for a family of four, can ride for $1.50 instead of $2.75. It doesn't sound like much, but the savings add up for people who depend on public transit to commute between home and work in the city—and, more important, reflects leaders' acceptance of the clear link between affordable public transit and access to employment.
Transit and land use work hand in hand. Perhaps more than any city in North America, Vancouver understood decades ago that encouraging people to live near public transit stations meant a better, more efficient, more economically just, and less congested city. That does not mean running transit lines out to suburban subdivisions. It means land use regulations that lead to more people living near transit.
"Pre-World War II cities work well because they were built around transit," Jarrett Walker, a Portland-based transit consultant, said recently. "Vancouver is the only North American city built around transit in the second half of the 20th century." Charlotte planners have been discussing transit-oriented development (TOD) for years, and we've been seeing examples rising before our eyes along the light rail line in South End and NoDa. It's a priority for Charlotte's planning department, too, in the land use regulation rewrite it hopes to complete by mid-2020.
When transit systems lose riders, it's not because people prefer traffic. In 2017, transit ridership fell in 31 of 35 major U.S. metropolitan areas, including Charlotte. The researchers who assembled the data concluded that the problem wasn't expanding transit systems or the public's abandonment of the idea of mass transit. It was a combination of low gasoline prices; the peaking of private ride-sharing companies such as Uber and Lyft; and outdated and underfunded transit systems in large Eastern and Midwestern cities, especially bus systems.
Cities that adopted smarter and more efficient bus routes and schedules, as CATS CEO John Lewis instituted this spring, saw their ridership numbers pick back up. Lewis followed the lead of cities such as Houston, which in 2015 rerouted buses away from the traditional, downtown-centered hub-and-spoke design to a grid pattern that allowed riders to get from one part of the city to another without having to go downtown. The system gained riders after the adjustments.
Big things can come from the sum of small changes. CityLab spoke last year with Scott Kubly, director of Seattle's Department of Transportation, about the importance of not missing the trees for the forest:
SDOT and King County Metro have worked together for a spot improvement program, where they identified bottlenecks and slow spots on bus routes. Kubly notes an example at a challenging intersection along Rainier Avenue and Dearborn Street. "That's a super busy street carrying tens of thousands of cars a day and there was a signal where the bus was experiencing a lot of delay," Kubly says. They identified a center turn lane that was low enough volume that it could be turned into a transit-only lane for just a block, which allowed buses to pull up to the front of the line at the traffic signal.
With buses moving about a minute and half faster along that road's one-mile stretch, Kubly says the service improvement speaks for itself.
In other trouble spots, they inject more traditional solutions. They added bus bulbs on the side of the road to pick up passengers without blocking traffic. They introduced queue jumps, where buses get to take a designated lane to the front of the traffic and get a few extra seconds at the light to get a head start on traffic. They put transit islands in busy corridors for easier boarding. All this accumulates into more frequent and faster bus service.
"There's not a big communications campaign around 'hey, we just put in this queue jump and your bus just saved 10 seconds every trip'," Kubly says. "Making small tweaks helps the bus maintain its level of reliability and people are going to choose it because it is producing the results that they want."
Note to CATS: Surely a few bus bulbs along Central Avenue in Plaza Midwood would be both cost-efficient and flow-conducive.
Transit systems can have some fun. Vancouver's transit system, TransLink, was trying to work out a deal with Morgan Freeman to voice etiquette announcements for its trains and buses—but it fell through. The system turned to another celebrity actor with a lower gravitas quotient but more laughs and a pedigree as a Vancouver native.
Rogen's sonorous voice and endearingly goofy Pineapple Express laugh would surely make for less tedious rides than those synthetic "Next stop: Parkwood Station" announcements on Charlotte's light rail. Who's willing out there? Cam? Mike Collins? Wilson? John Boy and/or Billy?