Travel: A Mountain Escape in Burnsville
A desire for isolation brings people here. A close-knit community keeps them. If you're headed to the hills this fall, this town northeast of Asheville might surprise you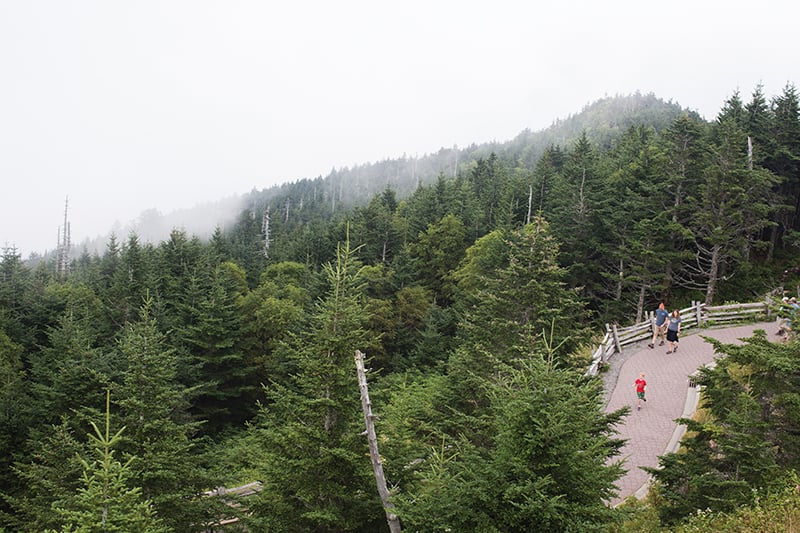 FISHING NETS, harpoons, and model sailboats in bottles line the walls of the Snap Dragon bar in Burnsville. A ship's wheel hangs between shelves of liquor in the middle of a brick wall behind the bar. This is not the type of place you'd expect to find on a mountain town square across the street from a 184-year-old inn, a 109-year-old courthouse, and a Baptist church.
The nautical theme at Snap Dragon is a nod to Otway Burns, the town's namesake, who never set foot in these mountains. He was a privateer during the War of 1812, when he and his 80-man crew harassed British ships from Bermuda to Nova Scotia. Later a state assemblyman, he voted to give the newly settled western areas of North Carolina, then a loose collection of rocky farms and small mica mines, more political representation in Raleigh. That lost him his seat in the state senate, but earned him the town's name and a bronze statue in the town square, with his naval hat and sword by his side.
Burns also owned a taproom in Beaufort, a coastal town 400 miles east of Burnsville, but that little detail doesn't make the official histories. In fact, in the town that bears his name, places such as Snap Dragon couldn't have existed until 2010, when Yancey County became the second-to-last county in the state to allow alcohol sales. (Graham County, farther west, remains the last dry county in the state.) And while some members of the Baptist church three doors down still might not be too happy about that change, Burnsville has wasted no time embracing the newfound freedom.
Garden Deli, next door to Snap Dragon, serves beer with your barbecue. On the other end of Main Street, an old house is now a wine shop. Homeplace Beer Co. started brewing beer in June, and the Blind Squirrel Brewery taproom is open seven days a week, even for a few hours on Sundays.
About a two-and-a-half hour drive from Charlotte, up steep switchbacks and past kitschy gem mines that nod to the area's history, Burnsville, a town of 1,653 people at 2,800 feet elevation, is full of surprises and contradictions. There is still some quartz and mica mining activity here. You can see it in the handful of bald hilltops in the distance. But Burnsville's future lies less within the hills and more in its ability to attract tourists. An inward focus and the isolation of rough terrain have preserved some traditions here, even as the area's natural peace and beauty have attracted people from around the world.
Judging by the cocktails on the Snap Dragon menu—sweet tea and moonshine, gin and elderflower—the decision to allow alcohol sales has merely unleashed a new burst of creativity in a town that already had plenty. You can see it there in the purple-and-yellow neon of the rehabbed art deco sign at the one-screen Yancey Theatre, and the murals painted on the sides of old brick buildings downtown—from an old Coca-Cola advertisement to Burnsville's take on The Wizard of Oz, in which the yellow brick road leads to Burnsville's town square. Even the old dry cleaner, with its rusted yellow aluminum shell, has a bright pinwheel quilt hanging in front.
A few dozen painted quilt squares decorate the buildings of Burnsville, and more than 200 hang throughout western North Carolina, each representing something particular about the history or land. The best known is the elaborate sundial on the side of the Yancey Times-Journal, designed by one of many stargazers who come here for some of the darkest skies in the world. On most summer weekend nights, amateur and professional astronomers line the town square green and point their telescopes' sights above the Nu-Wray Inn and the courthouse clock tower to the constellations above.
Just outside of town, the Earth to Sky Park and Bare Dark Skies Observatory opened this spring on the site of a former landfill. The observatory's 34-inch telescope lens is the largest in the state open for public access—one more in a long list of accolades for Burnsville, a town at the northern foot of Mount Mitchell, the highest peak east of the Rockies.
Nearly 400,000 visitors from throughout the country hike or drive or cycle up the Mount Mitchell summit every year. Some make the 30-mile, one-hour drive descent on the narrow switchbacks into Burnsville. The guest book at a local antique store records visitors from Arizona and New Jersey, but many more from nearby. Unlike some of the pricier mountain towns in western North Carolina, a night at the Terrell House Bed and Breakfast or the Nu-Wray Inn will still run you less than $120, and you can still find yourself the only lunch customer at the Ye Olde Country Store on a random Saturday.
How is all of this in a town a North Carolina native can go a lifetime without hearing about?
"We're proud of what we have, but we're not out there blaring at you," Cook says. "That's not our style."
***
WE FIND ONE DOT and follow the map a few short miles out of town and up a steep driveway. Wild turkeys saunter across the gravel. Around a switchback, a yard sign with yellow ducks points to the studios of Claudia Dunaway and husband John Richards' "Yummy Mud Puddle," a property that includes a rental house for visitors and a working area for the two artists. Inside, Richards is organizing bottle caps into plastic drawers. He looks a bit like a mad scientist, and he's eager to play the part. His art—paper lamps in the shape of frogs, hanging fish sculptures made from old cat food lids, bugs made from old pipettes and sparkplugs—stands out in the local galleries, typically filled with glass and folk art. It also makes an unlikely pairing with Dunaway's glazed pottery steins and pots and patterned candlelight holders, which she makes using a covered kiln outdoors.
The couple bought the property in 2003 after several years in Florida. They found in Burnsville a rare combination: a community of like-minded artists and locals for support and inspiration,  along with enough space to do their own thing.
"I was worried when (the building inspector) stared at our kiln for awhile," Dunaway says. "But then he just asked, 'How'd you set that up? I've been meaning to do some foundry work.'
"That's when I knew this was a place you could really live as an artist."
And that's the common characteristic among people who have come to love Burnsville—this balance of isolation and community. For the astronomers, it means no streetlights competing with their views. For the bikers and hikers, winding roads with little traffic and tough climbs and waterfall trails you can find only with a local's help. For the artists and sculptors, lots of land for spacious studios and no neighbors to complain about funky sculptures on the lawn or working ceramics kilns.
Can it last?
Last year, a widened Highway 19E cut travel times from Burnsville to Asheville, about 35 miles southeast of here, from an hour to a little less than 40 minutes. Now it's commuting distance. The widening project continues east of town. Boosters are optimistic that the quicker route will bring more tourism and industry to this isolated town between the Cherokee and Pisgah national forests.
On the road back to Charlotte, a film of dust covers the road. Beyond the orange traffic barrels, pavers roll fresh asphalt on a newly flattened roadbed. Big, yellow bulldozers rip down spruce trees and overturn big rocks. In the stone, little specks of mica glisten in the sun.
---
EAT & DRINK
Garden Deli and Snap Dragon Bar and Grill 
A Burnsville mainstay, the Garden Deli has been serving up deli sandwiches and meat-and-three meals in its rustic dining room and outdoor patio for decades. More recently, Snap Dragon Bar and Grill opened in 2015, offering craft beer and cocktails, including its signature hurricanes, until 11 p.m. on weekends. 107 Town Square, 828-682-3946.
Appalachian Java 
Start your morning with an espresso and a doughnut at Appalachian Java. Come back for the bluegrass jam sessions on Tuesday nights. 8 W. Main St., 828-682-0120
Pig and Grits 
Opened in 2014, Pig and Grits offers a mix of traditional Southern breakfasts and classic barbecue-joint lunches and dinners. Try the Molten Mac and Cheese. 620 W. Main St., 828-536-0010.
---
STAY
The Nu-Wray Inn
Built in 1833, this inn on the town square has quaint rooms and common areas full of mountain crafts. Individual rooms are available, and the entire inn can be rented out for weddings or other events. On warm afternoons, the rocking chairs out front with a view of the town green are popular. 102 Town Square, 828-682-2329.
Terrell House Bed and Breakfast
In a quiet neighborhood just off West Main Street, the Terrell House Bed and Breakfast has six rooms and a classic experience. The walls are decorated with photos and artifacts from the world travels of owners Mike and Laura Hoskins, who purchased and renovated the home after two decades living in London. 109 Robertson St., 828-682-4505.
---
DO
Mount Mitchell State Park
The tallest peak east of the Rockies at 6,683 feet, Mount Mitchell is a popular attraction. Take the drive up the mountain for a number of hiking, biking, and camping options. 2388 North Carolina 128, 828-675-4611.
Toe River Arts Council Studio Tour 
Stop by the downtown gallery of the Toe River Arts Council to pick up a self-guided tour map of the artist studios in the area. Artists' availability will vary. Coordinated studio tour is scheduled for December 1-3. 102 W. Main St., 828-682-7215.
Solstice Cycles and Roaring Fork Falls
Cycling is big in this part of western North Carolina, and most weekends you'll find some sort of organized ride, such as the Burnsville Metric in April or the Assault of Mount Mitchell in May. Solstice Cycles offers bike rental, repair, and lodge room rentals. A short walk along a nearby path takes hikers directly to the scenic Roaring Fork Falls. 76 South Toe River Rd., 828-765-1295.
Parkway Playhouse
Opened in 1947 by UNC Greensboro theater professor William Taylor, the Parkway Playhouse has long attracted talented and aspiring actors from throughout the South. The theater has also extended its traditional summer season. Here's a look at their current virtual production here. 202 Green Mountain Dr., 828-682-4285.
One of A Kind (OOAK) Gallery 
This gallery, in an old general store on the road to Mount Mitchell, has antiques and works by local artists, along with coffee, pastries, and gelato from Maples, the coffee shop that shares the building. 573 Micaville Loop, 828-674-0690.
Ye OldeCountry Store 
Antiques and Amish goods fill this store in the middle of town. 7 S. Main St., 828-687-9900.