Triple C Partners with Catawba Riverkeeper for IPA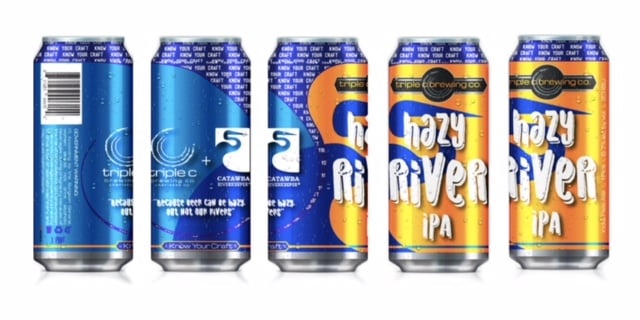 Haze is all the craze in the craft beer world these days. When it comes to water though, it's important to be clear.
From that idea and knowledge came Triple C's latest canned beer, Hazy River, which was brewed in collaboration with the Catawba Riverkeeper Foundation and will be released Saturday in the taproom. While the brewery has released several small batches of hazy, NE-style IPAs, this is the first one to be canned.
The Catawba Riverkeeper Foundation was started a little more than 20 years ago, with its primary mission being to protect the Catawba-Wateree River Basin, including all of the lakes, rivers and streams within. The foundation has been in the news over the last several years regarding leftover coal ash from Duke Energy basins seeping into bodies of water.
Sam Perkins is the current Riverkeeper at the foundation and advocates for the group while also monitoring the rivers, whether it's on a boat or spotting pollution via flyovers. He also is very active in the local craft beer community, including a longstanding friendship with Triple C head brewer Scott Kimball.
"We've always looked for ways to help (the Riverkeeper Foundation) out, including hosting events and fundraisers for them," Kimball says. "Sam and I have thought about a collaboration on a beer for a while now. He was one of the first to introduce out-of-town hazy IPAs to me before they really became popular here. So it was almost natural for us to pick that style."
Kimball adds Hazy River "has a somewhat standard grain bill, we used lots of oats and wheat to help with the body and flavor, then we threw a ridiculous amount of hops at it."
Four-packs of cans will be $15 (which is well priced given NE IPAs can be costly to make) and Hazy River will also be on draft for $6 a pint. With each pint and four-pack sold, $1 will be donated to the Catawba Riverkeeper Foundation.
"Everybody needs water, and it's such a huge fundamental part of our business," Kimball says. "We see the work Sam is doing and hope we can help him get the word out there."
Adds Triple C owner Chris Harker, "Clean water is something many take for granted. Sam and the Riverkeeper Foundation have had the deck stacked against them battling issues such as coal ash, so we want to get these cans in peoples' hands where it has their logo, and hopefully that will spark a conversation."
Hazy River will be released Saturday in the taproom beginning at noon, and Triple C will also release its seasonal saison that day as well. This year's batch of Sal's Paradise Saison was brewed with Sorachi Ace hops, malt from Riverbend Malthouse in Asheville and lemon peel.
Triple C head brewer Scott Kimball (left) and Catawba Riverkeeper Sam Perkins, on the brew day for Hazy River IPA