Unknown's expansion offers new experiences inside and out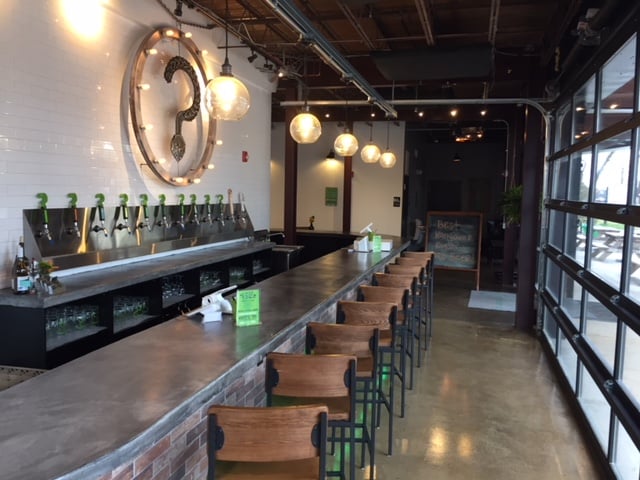 While The Unknown Brewing Co. isn't one of the oldest breweries in Charlotte, it suddenly found itself as the oldest taproom among all of the new facilities, expansions and additions from the likes of Birdsong, NoDa, Olde Mecklenburg and Triple C.
So that got owner Brad Shell thinking, "What's our attraction?"
"We put a lot of money in a beautiful brewhouse in the beginning," he says. "Our thought was, 'Make great beer and they will come.' And that's true to an extent, but you also realize some things can be added and freshened up."
The result of that is Unknown's revitalized open-space taproom featuring a 360-degree bar and a brand-new rooftop patio that offers breathtaking views of Uptown Charlotte's skyline. The total cost on the additions and renovations took about six months to complete and came just under $600,000, and the brewery is officially unveiling the new digs Saturday as part of its 4.5ish Funk Fest anniversary party.
"It was definitely about listening to our patrons and people who are here on a regular basis and see what they wanted and what needed to be done, and then of course if we can do it," says Scotty Kent, marketing director at Unknown. "We want to give Charlotte the best craft beer experience that we can."
Almost everything inside the taproom is new, including the removal of the lime-green floor (representative of Unknown's brand color), replaced by a cleaner and modern floor. White subway tile lends another fresh look behind Unknown's taps, which now total 24 with the wraparound bar that seats 30 versus just six before.
Whereas the front of Unknown once looked a bit dark and dreary and you had to walk around to get to the beer, you'll now see taps streetside on South Mint, along with roll-up glass doors. Warmer weather will allow for essentially a walk-in bar at the front.
"We definitely felt like it was time for a bit of a refresh and revitalization downstairs in the taproom," Kent says. "One of the consistent things we heard was to make it brighter and trying to get more light in. And now when we do small batch Sundays or one-offs, we now have that tap space to showcase things that we wouldn't necessarily be able to before."
Adds Shell, "The problem with our building is that we're kind of landlocked with our exterior space. We can't have a big beer garden, so what we did was create the outdoor space inside. Previously, when people walked by it was just tinted glass. I think what we've done is make things way more accessible now, from people walking by, riding by on their bikes or even tailgating for Panthers games."
Upstairs on the new 800 square-foot rooftop patio, the first thing you notice is Bank of America Stadium on your left and Charlotte's ever-growing city skyline, cranes and all. It is the piece de resistance among everything new, more than even Shell could have envisioned.
"You just can't deny the feeling of this rooftop bar, seeing the skyline – especially when the lights start coming on at sunset," he says. "It's worth its weight in gold."
The patio employs numerous two- and four-top tables, along with an adjacent three-quarters wraparound bench. Cans will be sold upstairs, and there is also an eight-tap system – four on the patio side and four on the private event area inside. That space will be open to the public during certain times (think big sporting events, etc.) and available to be rented out as well.
While the renovations and rooftop bar have quietly opened and been available to the public over the last week, the grand unveiling is part of the brewery's anniversary event. In true Unknown fashion, it celebrates on a "half-annual" basis, hence the 4.5ish.
This year's Funk Fest, which will run from 1 p.m. to 10 p.m., features live music throughout the day from Bubonik Funk, Empire Strikes Back, Georgia Soul Council and The Up and Up. And for the first time, the anniversary event will be free of charge.
As part of the celebration, Unknown has its 4.5ish Anniversary Ale set for release. This year's beer is a sour ale featuring two blends, one that was aged in french oak barrels for two years and the other spent in open fermentation. For the final product, the two batches were blended together and fermented with green figs.
Two last pieces of Unknown's additions are its microdistillery and a new onsite kitchen. Shell says he just received federal permits and is now awaiting state permits for the distillery. Once that happens, the still (currently ordered and on hold) will be brought in to the microdistillery's site, where the arcade was formerly at Unknown. Expect the first batches to be available early fall.
Shell is also excited about Passport Dough & Co., Unknown's upcoming food truck/external kitchen. This is being created in partnership with Seoul Food Meat Company and Let's Meat owner Tim Kamura, and will primarily focus on artisanal international pizzas (those in the works include a bulgogi pizza and chimichurri pizza, to give you an idea) from chef Mark Sung. Passport Dough & Co.'s anticipated opening is April, and you'll be able to order straight from the taproom or patio at Unknown and have it brought to your seat/table.
Shell says once everything is finished, it's back to the basics – "we're ready to have a great time in 2018."
"We've got a lot going on early on this year, but really want to close out by spending our time on focusing on the city of Charlotte," he adds. "I think we've always been seen as a little wacky or goofy, but hopefully people also see we're trying to create culture in Charlotte and we do take beer seriously.
"We're putting money back into our town and helping our community, and my hope is that Unknown is something Charlotte can be proud of when they see that question mark."
The view of Uptown Charlotte's skyline from Unknown Brewing's new rooftop patio (photo by Matt McKenzie)