Welcome to the Neighborhood
A few intrepid souls are seeking to reestablish what it means to be a Christian—by taking their ministry directly to one of Charlotte's toughest neighborhood and attempting to change it from within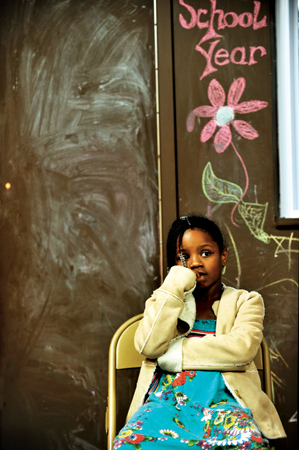 J
ason Williams is striding up Tuckaseegee Road and calling the neighborhood in for dinner. The well-traveled boulevard cuts through the heart of the Enderly Park neighborhood on Charlotte's west side, and Williams's route on this hot September afternoon takes him past modest brick-and-wood frame homes, most boarded up from the inside, black painted plywood attempting to obscure their emptiness. Williams, tugging a child's wagon with two young children riding behind him, passes makeshift chapels in other homes; a gambling shop where a clerk was murdered a month before; a bail bondsman's office advertising "The Joy of Freedom"; a vacant lot; and the Quick 'n' E-Z on State Street where the neighborhood men gather and sometimes shoot each other.
"I can think of four murders here in the last five years," Williams remarks as he passes the convenience store, his tone of voice even, as if he's talking about a neighbor who'd just added a back patio.
It's just another fact of life in Enderly Park, with its violent crime rate five times the city's average, where nearly half the population receives food stamps. "Hey, y'all coming to eat?" Williams shouts at a handful of people trying to catch a breeze on their front porch. They all know this trim young guy in shorts, T-shirt, and sandals, with his close-cropped dark hair and tidy goatee. They say yes. "Good deal."
A crowd of thirty or so, kids included, will eventually show up. Some friends from Park Road Baptist Church have provided lasagna, salad, and bread; people take their meals to the rickety picnic tables out front. "They're making a big difference," Derrick Clark, twenty-seven, who lives with his mother in an apartment around the corner on Clay Avenue, says as he pecks at his dinner. "There are a lot of neighborhoods where they don't have nothing like this."
Williams and his wife, Joanie, live here on Tuckaseegee with their daughters, two-year-old Joy Kate and Nora, born in July, plus a pair of neighborhood teenagers who live upstairs. Around the corner on Parkway Avenue, in a 1,900-square-foot home once used as a boarding house, live Greg Jarrell and his wife, Helms, their two young sons, John Tyson and Zebulon, and another neighborhood teenager. Jason, Joanie, Greg, and Helms are all seminary graduates in their early thirties, and together they comprise Hyaets, a ministry that's trying to reestablish what it means to be a Christian.
Tall order, of course, and it's not like the Williamses and Jarrells are running around Charlotte, nailing theses to megachurch doors. But over five years, in their own quiet way, the members of Hyaets have developed something unique in this city of churches: a Christian ministry that seeks to abolish any distinction between the servers and the served, between ministry and community, between practice of faith and life. And without even realizing it initially, they joined in spirit a growing network of similar communities across the nation, all trying to reclaim a certain essential Christianity by uprooting themselves and replanting in inner-city neighborhoods—which a foundational text of the movement, called New Monasticism, calls "the abandoned places of Empire."
Charlotte teems with churches and nonprofits. Many do wonderful things for the poor and needy. But their members and volunteers tend to go home at the end of the day. The members of Hyaets do not. It's been a struggle for them. Their jobs barely bring in enough money. They allow themselves only the occasional luxury, a low-cost vacation every now and then, the occasional night when the guys drink a few beers. They've had to justify living in a crime-ridden neighborhood to their parents, then to themselves, as they made the difficult choice to raise children there. But the ministry is home, and they intend to stay. "We're not here to run a nonprofit," Jason says. "We're here to be good neighbors and learn more about the kingdom of God through these neighbors."
It's Wednesday afternoon. Time for "devos," devotionals, a cornerstone of the youth ministry. Every Wednesday, neighborhood kids come around to the house on Parkway and beeline for the clubhouse, a renovated cinderblock shed out back.
About a dozen kids, ranging in age from six to fourteen, are here today. They're laughing, chatting; some do their homework. Greg Jarrell is inside the house, preparing breakfast-for-dinner: pancakes, sausage, grits. "Some nights it's one or two kids, some nights it's fifteen—and that's not an exaggeration, it really is fifteen," Greg says. "So we just prepare stuff that's easy to stretch."
After dinner, Greg jackknifes his lanky frame into a child's plastic chair and gets down to the devos. Tonight's topic for discussion and prayer: conflict resolution. "Say on the school bus," Greg begins, "somebody says something about your mama …"
"That's a physical conflict right there," says Felix, ten, pounding fist into palm. "Boom."
"Here's what I want you to think about: how do you resolve that conflict?" Greg continues, undeterred. "Everybody gets into conflicts. There's nothing wrong with being in one. But what matters is how you resolve it."
Jesus has an answer. Matthew 18: 15-17. Have a problem with someone? Go talk to him first. He won't listen? Get somebody to accompany you, and talk to him again. Still won't listen? Take it to the church. Let the church talk to him. No dice? "Let him be unto thee as a heathen man and a publican." Write it off; let it go.
The kids fidget. They're trying to graft Jesus's teaching onto their lives in west Charlotte. It's an awkward fit.
"Can you skip steps?" asks Sanyika, a sassy twelve-year-old.
"No, you can't skip steps."
"What if nothing works?"
"Well, sometimes nothing's going
to work."
"Well, then, what you gonna do?"
"So, if nothing else works," chimes in Felix, "then you can fight?"
"See, that's what I'm saying. 'Cause sometimes, nothing works," Sanyika says. "See, people are stubborn like that these days, especially in Charlotte. 'Cause I ain't going through all those steps. I only have one step."
Greg is half amused, half flustered. It's time for the kids to go home. He explains that he'll get into more detail in future devos. Right now, he says, he just wants the kids to think about how to handle a disagreement without fighting.
"In this environment, where poverty is the norm, you don't have a lot of means to defend yourself except with your fists," Greg explains later. "The kids in this neighborhood especially don't learn to resolve conflicts without fighting, and it's almost of life-and-death importance to be able to do that. It's a basic life skill they wouldn't learn anywhere else, I don't think."
The devos close with the Lord's Prayer. It's ragged at first, but the kids close strong once they hit the "lead us not into temptation" part.
The Williamses and Jarrells decided to live this way in 2003 or so, when all four were students at Baptist Theological Seminary at Richmond. Greg and Jason were best friends from middle school near Raleigh; Greg had met and begun dating Helms during their undergraduate days at Appalachian State, and Jason had started dating Joanie at seminary. The four spent plenty of time together, and they talked about another kind of marriage. All four wanted to start a ministry. Greg and Jason wanted to work in an urban, inner-city neighborhood. Joanie and Helms wanted to work with children. Maybe there was a way to do both.
By 2005, all four had graduated and began looking around for cities. They were tired of Richmond. There was always Raleigh, where Greg, Jason, and Helms are from, but they didn't want to be too close to their parents, who at first were less than thrilled with their decision to live and work in an inner-city neighborhood. So: Charlotte. "It was kind of a no-brainer," Joanie says.
Next, they had to pick a neighborhood. They consulted the city's Quality of Life study, which compiles data every two years on crime, household income, school dropout rates, and other socioeconomic indicators in 173 Charlotte neighborhoods.
Enderly Park was bad. Still is. The city released its latest Quality of Life study in September. About 3,400 people live in Enderly Park, bounded by Interstate 85, Freedom Drive, Berryhill Road, and a creek that cuts through an industrial area. The median household income is slightly more than half the city median of $52,148. The average home value is less than a third of the city average. The school dropout rate is 12 percent. One child in five is born to an adolescent mother. The study also tracks neighborhoods' indicators over eight years and determines whether they're getting better, worse, or staying the same. Enderly Park shows a horizontal arrow. Nothing's changing here.
At first blush, Enderly Park doesn't look like anyone's idea of an urban hellhole. Tuckaseegee Road gleams with a recent repaving. Directly across the street from Hyaets, the five-year-old Bette Rae Thomas Recreation Center—named after a longtime resident and neighborhood activist—is a clean, modern facility any neighborhood would welcome. A visitor from Philadelphia or Baltimore, home to block after block of decrepit row houses and housing projects, would eye Enderly Park's sturdy mill housing stock from the 1930s and 1940s and think: this is what they call a bad neighborhood in Charlotte?
But the houses mask the neighborhood's decline over the past quarter century. "I moved here in '76," says Herbert Weathers, seventy-seven, the longtime president of the Enderly Park Neighborhood Association, who lives on Effingham Road about a mile from Hyaets. "When I bought this home here, it was nice. Then I'd say after about ten years, the older people started passing away, and their children and grandchildren sold their homes or rented them out. Then the wrong people came into the neighborhood, and it hasn't been the same since."
In 2005, the Williamses and Jarrells scouted a few Charlotte neighborhoods, took a look around Enderly Park, and thought: perfect. They started by renting a small blue house in the 3100 block of Tuckaseegee, where all four of them lived, along with, at various times, families and individuals who needed a place to stay. (Jamar Robinson, who still stays with the Williamses in the house they now own up the street, is a remnant of those days. For a while, he, his mother, and two sisters stayed at the first Tuckaseegee house, too, after they'd been evicted from their apartment. "It was pretty intense," Greg says.)
Taking a cue from their seminary backgrounds, they named their new ministry Hyaets, rough Hebrew for "tree of life." Each branch represents a different facet: its partnerships with churches and volunteers; its urban ministry, with activities and study for young people and transportation, job, clothing, and food assistance for adults; and the "intentional community" of Hyaets itself. What the ministry does isn't that unusual; it's the sort of thing you're accustomed to seeing from an urban ministry. If you need clothes, Hyaets will see what it has. Someone need a ride to a job interview? Hyaets will provide a bus pass, or a ride if possible. It's all pretty loose. Nobody has to fill out any forms.
At first, the members fully embraced the no-boundaries ethos of Hyaets as they'd first imagined it. Money from their part-time jobs went into a common purse. The door was always open, at times literally. A neighborhood guy named Shannon used to come by for crackers and water at 1 a.m. Most likely, he was more lonely than hungry. Still: 1 a.m. "I was like, 'Shan, I'm happy to get you crackers and water, but let's not make this a regular thing,' " Jason says.
" 'I can get you crackers and water at 10.' " For the sake of their young children, not to mention their sanity, Hyaets eventually started setting some limits. They tell people not to knock after 10 p.m. unless it's an emergency.
"It was a huge adjustment for me," says Joanie, a tiny, soft-spoken brunette, as she nibbles a sandwich at a nearby coffee shop on Freedom Drive. "The idea of sharing money with other people? A family, a house? It was really scary, and it didn't feel right to me at first."
So how'd she get past her fear?
"Actually living it."
She tells a story, the one that's come to represent for all of them the moment Hyaets made the leap from experiment to way of life: Jamar and his friend Chris burst into the first Tuckaseegee house one cold Friday night in early 2006, panting and frightened. A few minutes later came the police cars, about six of them, bluetops revolving, a helicopter overhead. There'd been a holdup down the street. The cops demanded to see Jamar and Chris.
Out they came, but with everyone else: Helms, Joanie, Greg, Jason, a quartet of white faces with two black ones, four master of divinity degree holders from affluent families and two teenagers from one of the worst neighborhoods in Charlotte. The holdup victim, who was in one of the police cars, looked carefully as the searchlight swept over all of them and they shivered on the porch.
Nope, came the answer. It's not them.
"But in that moment, we were with Jamar and Chris no matter what happened, and we were part of a community," Joanie says. "It doesn't matter whether we're black or white. We're all living in this community."
Jason loads up the wagon again, this time with excess loaves of bread from grocery stores around town. About once a week, Jason or one of the others will pull the wagon around the neighborhood, knock on doors, and ask if anybody needs some. Frequently, someone does. It's a good way to keep in touch with the neighbors, too, especially since so many stay for only a week or three weeks or two months.
"To be honest with you, I feel more creeped out now when I drive through Myers Park than when I drive down Tuckaseegee Road," Jason says, Joanie and Joy Kate alongside him, as he turns the corner onto Parkway. "There are a whole lot of people living next to each other who don't even know each other. There's something disconcerting to me about that."
No such worries here. On a warm weekday morning, the caravan rolls up to a house on Parkway where Denise Harris reads her Bible on the front porch. She's an anomaly in Enderly Park—a homeowner. She bought this house in 1999. "When I first moved here, I didn't do my homework," she says. "At first, I thought, 'Oh, wow, I made a mistake.' But I have seen progress since I've been here. I don't see as much crime."
The low point, she says, came when the boy got shot and killed at the bus stop near where Greg and Helms live. "I wanted to run," Harris says. "I started giving things away." But, she says, neighbors began giving her their things as they moved out, and she decided this was the good Lord's way of telling her to stay put.
The boy was Travis Davis, who was eighteen and a star football player and wrestler at Harding University High when he was shot and killed near the bus stop on the night of October 8, 2006. Davis ran to the back of the boarding house and died in the backyard. Investigators believe Davis was a random target; A. J. McMullen, seventeen at the time, was eventually arrested and convicted of second-degree murder. Hyaets had moved by then from their rental to a new house in the 2900 block of Tuckaseegee that the two couples had bought in May. The Jarrells lived there, too, and everybody heard the shots.
A little more than a year later, when the boarding house went on the market, the owners understandably had trouble selling it until Greg and Helms spoke up. It was awfully crowded at Tuckaseegee, "the Tuck House." Hyaets could use an expansion. An alleyway behind the church on the corner practically connects the two houses. There was plenty of room and a nice backyard for a garden, plus the shed.
Greg and Helms bought it for $59,000 in January 2008 and moved there in April of that year. The murder of Travis Davis, Greg explains, "actually made it more attractive to us. We knew that something terrible had happened here and thought we could make something good out of it. It seemed like an opportunity for reconciliation."
On the porch of her house up Parkway, Denise Harris accepts a couple of loaves, praising Hyaets and the reclamation of the house where Travis Davis was shot. "I see them in the neighborhood," she says. "I do know it's a good thing."
Then she comes clean about why she decided not to move out of Enderly Park after the murder. It wasn't the Lord telling her to stay put, not really. "Actually," she says, "I can't afford to go anywhere else."
There's nothing cloistered or sheltered about this life, which is why the term "New Monasticism" throws you off at first. It's a relatively new movement, one that sprang up in various cities, mainly in the East, early in the last decade. New Monasticism has a few high-profile leaders, whose dog-eared books sit next to Bibles in New Monastic communities, but you won't find a headquarters or membership cards.
The closest thing to one is a directory from the Simple Way, a Philadelphia community cofounded by thirty-five-year-old Shane Claiborne, perhaps the movement's most visible leader and author of The Irresistible Revolution: Living as an Ordinary Radical. The directory lists about sixty-nine American and Canadian New Monastic communities, including Hyaets. (Esquire published a column by Claiborne in November 2009 featuring a photo of the bespectacled, scraggly bearded Claiborne and the headline, "What If Jesus Meant All That Stuff?")
"This kind of thing has been stirring for a long time," says Jonathan Wilson-Hartgrove, a thirty-year-old Duke Divinity School graduate and another of New Monasticism's unofficial leaders. "A lot of different things coalesced around the turn of the century. … It's answering a kind of deep-felt need for a lot of young people who grew up in the church and yearn for faith with some hands and feet on it.
"The one thing our communities are trying to focus on is of course Jesus, but Jesus fleshed out in the forgotten places of our society, and that means engagement with the homeless, with our neighbors, with the community."
Wilson-Hartgrove cofounded the Rutba House, a New Monastic community in Walltown, a poor section of Durham, in 2003. It was North Carolina's first New Monastic community. Hyaets was its second, and Wilson-Hartgrove says he knows of another that recently sprouted in Winston-Salem.
In June 2004, New Monastics from all over the country gathered at Rutba House for what amounted to a defining conference, one that tried to codify just what this new movement was and what it stood for. They emerged with a manifesto, School(s) for Conversion: 12 Marks of a New Monasticism, which stresses communal life in poor neighborhoods—the "abandoned places of Empire"—with resources shared within the communities.
This was generally what the Williamses and Jarrells had in mind from the outset. Around the time they established Hyaets in August 2005, a writer from The Christian Century magazine called to ask them about New Monasticism. They didn't know what it was. They read the article when it was published, Helms said, "and were like, 'Oh, this sounds really familiar.' " They began reading Claiborne's and Wilson-Hartgrove's books and paying visits to Rutba House.
"There are lots of nonprofits that do the work we're doing," Wilson-Hartgrove says. "What's important to us is that … we don't just feed the hungry or make sure kids make it through school. We invite people into our lives and try to figure out how we can learn from one another."
The whole thing nearly collapsed in 2007. Jason was working full time as a band director at North Mecklenburg High, and the others were trying to balance part-time jobs with their no-boundaries approach to the ministry, including putting up Jamar's family at the Tuck House. Just taking a shower was an adventure. Everyone was exhausted.
Finally, the Williamses and Jarrells decided they had to start taking better care of themselves. Among other things, they set aside Thursday nights for private time and fellowship. On a Thursday night in September, they welcome Michael and Christine Kellett, two friends from seminary, and their two young children. The Kelletts live off Carmel Road in Charlotte, and Michael works as a youth and childrens minister at Park Road Baptist. They support Hyaets, serving as "nonresident partners," but they took a look at the New Monastic life and said no thanks. "Michael and I," Christine Kellett says, "did not feel that was how we were wired."
The group gathers for prayer and meditation before dinner at the Parkway House. Each takes turns talking about what's on his or her mind. The theme is the same for all: man, I'm stretched thin. The ministry, the kids, the lack of money …
"I've had a hard time taking care of myself lately," says Jason. "If someone's at the door, I find it hard to say no."
"My plate is full with having to care for children—my own and others," Greg says wearily. "There's a part of me that craves finding some other work to do."
Helms stands at the edge of the living room, rocking and cradling Zeb. She looks beat. She says she realizes she's chosen this life of austerity but can't help wondering what she's missing.
"I'm thinking, 'Am I ever going to see the Pacific Northwest?' " she says, half smiling. "I'm so sick of having to think, 'Am I being faithful in my decision?' … I just want to be able to run the water when I brush my teeth …"
"Amen, sister," Christine says.
"… I want to throw away a banana peel rather than put it in the compost heap."
Here's something else the group decided to do after 2007, on the suggestion of some counselors they saw: set aside time to air grievances, just to let them out, with no suggestion that anyone fix the problem. Classic therapy fare, but it's worked. Hyaets remains intact—if still strained.
Lately, it's landed hard on Helms, a busy woman. All four adults have jobs—Greg's a saxophonist for an assortment of local bands, Joanie's a part-time music minister at a Methodist church, Jason earns a miniscule salary from Hyaets for fundraising and programming, and Helms is an interim pastor at a church in south Charlotte. But the work raises barely enough money for everyone to survive, and now that each couple has two young children, the strain's even worse. The smallest sacrifices begin to grate.
Helms is as committed to Hyaets as any of them. A tall woman whose short, sandy hair frames a round face, she's described by the others as the practical one, the organizer, the one who corralled everyone's inchoate ideas back in Richmond and, over lunch one day at the Olive Garden, said, "OK, guys, how's this going to work?" But lately, the job, the ministry, caring for John Tyson and Zeb—it's wearing on her. "I see people who're my age, who look like me, have the same faith as me, but they don't have the same lifestyle," she says the next day. "I'm committed to being here, I want to be here—but, man, wouldn't it be nice if that wasn't the case all the time?"
There's more to it than that. John Tyson is playing with a Brainy Baby toy that plays "You Are My Sunshine," and it makes Helms think of an afternoon in June when he was outside playing and someone drove past the apartments on Avalon Avenue, a few hundred yards away, and fired shots into one. (No one was hit.) Helms heard the shots and quickly collected her son. John Tyson didn't seem scared, just curious. "Mom," he said, "that man went knock-knock real loud out of his car."
The adults in Hyaets hear this a lot: how can you live in that neighborhood? How on Earth can you raise kids there? Jason, for one, says the members prayed and thought hard before deciding to have children, and it wasn't a decision they took lightly. They were under no illusion they'd be raising their kids in a risk-free environment. "What we've learned is that every neighborhood has rules," Jason says, "and if you follow those rules, you'll be safe." Don't approach strangers; learn what a drug deal looks like and avoid it; don't go out alone after dark. The experiences and lessons the kids are learning in Enderly Park, he says, balance what risk there is.
Still, when John Tyson made his "knock-knock" observation, Helms stopped herself. This was her two-year-old son, a precocious tyke with a thicket of blond hair, and he was describing a drive-by shooting he had just witnessed as he played in the front yard.
"When that happens … I don't know," Helms says, turning pensive. "It makes you rethink a couple of things."
But then, she says, she thinks of the other kids, the ones in the neighborhood who gravitate to her maternal manner and run up and tell her they love her. "That's when it's most satisfying," she says. For moments like that, at least, she can afford to put aside everything else.
On a late Thursday afternoon before the Kelletts arrive, a twelve-year-old named William plods up Parkway, trying to dribble a partially deflated basketball. He needs a pump. He stops at the Parkway house to ask if they have one.
Jason is off somewhere, and Joanie's back at the Tuck House, caring for Nora. Greg's out back, watching some kids in the clubhouse, but he walks up front to talk to William. Greg doesn't know him. William hasn't been here before. "You in a league?" Greg asks, then engages William in a brief game of one-on-one, Greg dribbling between his legs, then playfully harassing William on defense. "Man, I can't do all that!" William exclaims, grinning.
Greg invites him to the back, where William is astonished to see the clubhouse and, next to it, the Hyaets garden. Hyaets grows all kinds of vegetables back here, along with basil, rosemary, and mint, and keeps three hens in a coop for eggs. Greg starts showing the assembled kids around, letting them hold the chickens and plucking sprigs of rosemary and mint for them to taste.
Felix is back here again. "We're out here eating mint!" he announces to no one in particular, a huge grin on his face. "This mint is actually pretty good." William is impressed.
"This is cool," William says. "I might come over here every day."
It's getting late, near the time when they have to shoo everyone home for the night. Helms calls to Greg from the back door, asking him to come inside and watch Zeb while she helps the kids in the clubhouse with their homework. Greg replies that he'll be there in just a minute, as soon as he's finished tending to the children in the garden.
Greg Lacour is a freelance writer in Charlotte and a frequent contributor to this magazine.
To start the slideshow, click on any photograph below: