What Tuesday's Results Tell Us About Who Charlotte Wants in the Drivers' Seats
Democrats will continue to dominate Board of Commissioners, legislative delegation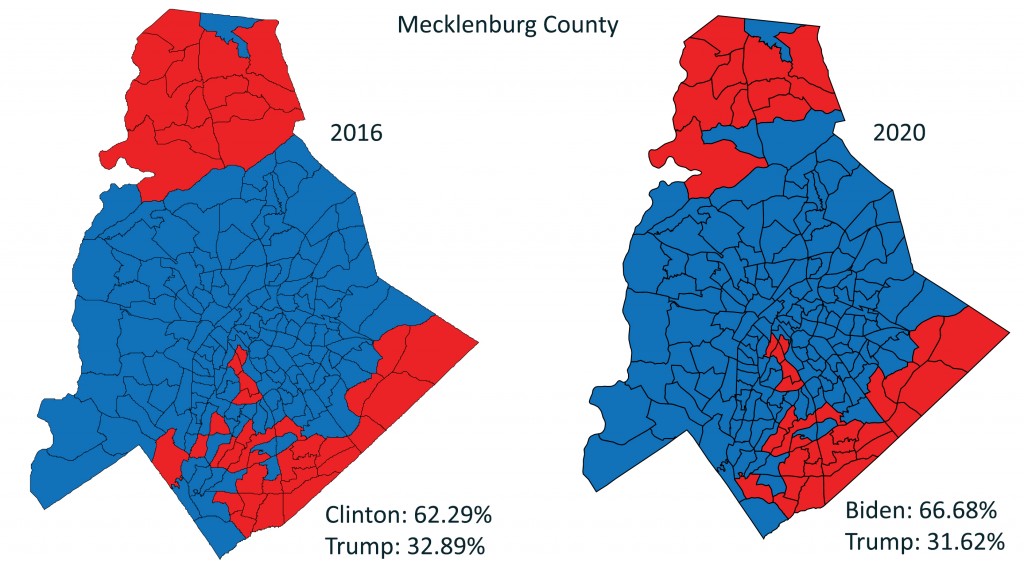 With Charlotteans' eyes on the Presidential race, and the still-unanswered question of whether Donald Trump or Joe Biden could claim North Carolina's 15 electoral votes, state and local races on their ballots proceeded with few major surprises.
The Mecklenburg County Board of Commissioners remained an all-Democrat body. The local bond packages—for affordable housing and neighborhood and street improvements—passed with ease. Most local legislators retained their seats, and the balance of power in Raleigh remained unchanged: Democratic Governor Roy Cooper won re-election, but both houses of the General Assembly stayed in Republican hands. (And, although it's not a state or local race, it's worth mentioning that U.S. Senator Thom Tillis of Cornelius appeared to have defeated Democrat Cal Cunningham in a tight finish.)
In general, the results confirmed much of what most of us already knew: that Mecklenburg County is one of a handful of urban Democratic oases in a sea of deep red in the rest of North Carolina. Here's a quick run through individual races and their implications for Charlotteans.
General Assembly
Of the 17 members of Mecklenburg County's legislative delegation, 16 are Democrats. The numbers will stay the same, although a few names will change.
Senate: In Senate District 37, incumbent Democrat Jeff Jackson of Charlotte easily defeated Republican Sonja Nichols with 55% of the vote. Jackson, 38, turned the final weeks of his campaign to his wife, Marisa, as the Army National Guard captain fulfilled a mandatory out-of-state training commitment. "We ran on honesty and decency AND WE WON," she wrote Tuesday night on his official Twitter account. No real surprise there—Jackson is one of Charlotte's most visible and popular public officials.
Other incumbent Democrats won re-election: Mujtaba Mohammed in District 38, Joyce Waddell in District 40, and Natasha Marcus in District 41. The one mild surprise: DeAndrea Salvador flipped the District 39 seat, defeating Republican Joshua Niday with 62% of the vote. This district, which hugs the southeastern county line, is Dan Bishop's old seat before his election to Congress, and his replacement, Rob Bryan—the delegation's lone Republican—did not run. Salvador, a fifth-generation Charlotte native, founded the nonprofit Renewable Energy Transition Initiative, which focused on education in energy conservation. Her platform included affordable healthcare and educational reform.
House: Ten of 12 incumbent Democrats will return to Raleigh. The only exceptions: Democrat Terry Brown is a newcomer who ran for the District 92 seat that Chaz Beasley—who ran unsuccessfully for lieutenant governor—held for two terms. Brown easily defeated Republican Jerry Munden. The only mild upset—and the only Mecklenburg County legislative race that a Republican won—came in Lake Norman-area District 98, where John Bradford defeated incumbent one-term Democrat Christy Clark, who had won the seat from Bradford in 2018.
In general, though, despite Democratic dominance in Mecklenburg, the next few years will likely resemble the last few: A Republican-majority legislature generally opposed to the wishes of North Carolina's urban centers, Charlotte especially. That will hamper the Mecklenburg delegation's efforts in areas like economic development and criminal justice reform.
Board of Commissioners
Local Republicans like Edwin Peacock III were hopeful for this cycle. Peacock, whose father is a former Republican commissioner and City Council member, is the last Republican to win a citywide election—in 2009. The county board went all-Democrat, 9-0, in 2018, and it will stay that way after Tuesday, even with two Republican ex-commissioners in the mix.
At-large incumbents Leigh Altman, Pat Cotham, and Ella Scarborough ran unopposed, as did two district representatives: Vilma Leake in District 2 (West Charlotte) and Mark Jerrell in District 4 (East Charlotte). In District 1 (Cornelius, Davidson, Huntersville), Vice Chair Elaine Powell beat out longtime commissioner Jim Puckett, who was the incumbent two years ago when Powell defeated him. Susan Rodriguez-McDowell won a by-less-than-2% victory over Republican Joel Levy in District 6, a southern swath that includes Matthews and Mint Hill. Rodriguez-McDowell upset longtime incumbent Bill James two years ago in a district known as one of the county's most conservative.
Chairman George Dunlap easily won re-election with 84% of the vote, and the board will have a new member: Laura Meier in District 5 (southeast Charlotte), who bested former commissioner Matthew Ridenhour by only 2%. Incumbent Susan Harden didn't run for a second term.
Bonds
Voters approved all three local bond packages, as they historically do. A rundown:
$50 million for the city's 19-year-old Housing Trust Fund, Charlotte's primary source of money for affordable housing efforts like a development in the rapidly gentrifying Cherry neighborhood and the reopening of The Men's Shelter of Charlotte. The City Council increased the amount two years ago from $15 million.
$102,732,000 for improvements to roads, bridges, sidewalks, traffic signals, and pedestrian and bikeway enhancements.
$44.5 million in Neighborhood Improvement Bonds for the Comprehensive Neighborhood Improvement Program, which enhances occupational and retail access; and for infrastructure improvements to the following thoroughfares: Beatties Ford and Rozzelles Ferry roads, Central Avenue and Albemarle Road, Freedom Drive and Wilkinson Boulevard, I-85 and West Sugar Creek Road, North Tryon and Graham streets, and West Boulevard.