What We Mean When We Talk About 'Transparency'
It's a more complicated issue than it at first appears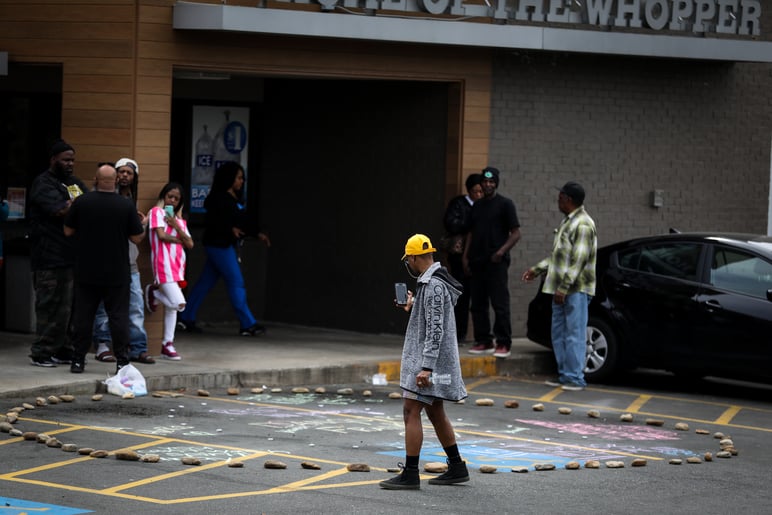 In the context of law enforcement agencies' increasingly uneasy relationship to the public, "transparency" can be as loaded and slippery a term as "justice." What does it mean, exactly? "With another police video controversy, city's transparency takes a hit," read an Observer headline last week after a Superior Court judge ordered Charlotte-Mecklenburg police to make public the full, 11-minute body-worn camera video from the March 25 police shooting of Danquirs Franklin. The department had previously released only two minutes, 20 seconds of the video, cutting it off just after Officer Wende Kerl shot Franklin to death. "We are supposed to believe," City Council member Braxton Winston said during a council meeting, "that this is transparency?"
It's a more complicated issue than it at first appears. For decades, law enforcement agencies have claimed—sometimes legitimately, sometimes not—that certain evidence, especially in cases when officers use lethal force on civilians, ought to be withheld from the public to preserve the integrity of the criminal investigation of the officer's conduct and to avoid tainting a potential jury pool. In the Franklin case, city officials also mentioned sensitivity to the Franklin family as a reason why they didn't want the full video released. To police accustomed to managing the disbursement of information on their terms and schedule, "transparency" can be a minefield.
"I'm going to show you all I can show you that is definitely connected to the public interest as best I can, but I'm not going to try the case in public view," Police Chief Kerr Putney told me recently. "I'm not going to speak to specific evidence that is connected to the investigative process because in doing so, I'm violating the tenets of justice. I'm now tainting everybody's mind. When I say something, people snap to it and react one way or the other, and that's locked in your mind.
"Now, when I pull you for a jury, you've already said, 'Hey, I'm one of the few people who believe what the chief said, so I've already made up my mind,' or, 'I never believe what the chief says, so I've already made up my mind.' I'm never going to do that. The system is methodical and takes a while for a reason. Sometimes, when you just have people who are throwing out their perceptions, it's hard to find facts." He shook his head. "I don't like that word."
Police everywhere are caught in a tug-of-war with the public and its level of trust in law enforcement—a factor without which, police often say, cops have a much harder time doing their jobs. In the last five years, since the police shooting death of Michael Brown in Ferguson, Missouri, and the riots and #BlackLivesMatter movement that arose from it, confidence in police has fallen among young people and people of color (although it's risen among white people).
Technology has evolved to the point at which nearly everyone carries a video camera in his or her pocket, and the ability to post video in real time to public platforms has created a kind of video-on-demand world, with expectations to match. If video footage exists, the public wants it—wants it now—and withholding any of it, even for worthy reasons, creates the unavoidable impression among people who already distrust cops that police are hiding something, which undermines public trust even more.
Among experts, many of them longtime law enforcement officials, a consensus is emerging that the risk of keeping video evidence under wraps—even if law enforcement agencies have legitimate reasons to withhold it, and even if the law allows it—outweighs the hazards of releasing it. "A lot of prosecutors and police officers think there's a danger of compromising the investigation," says Chris Burbank, a vice president for the New York-based nonprofit Center for Policing Equity and chief of the Salt Lake City Police Department for a decade. "Well, they don't worry about that with anyone else who's committed a crime. You see footage of people robbing banks. A tainted jury pool is what your concern is? Well, that's always a concern in this day and age.
"I advise police chiefs, always: Release. It's just a different environment, and you have to adjust to it. We have been evolving into this for 30-plus years, and if you're not there now, boy, you are really out of touch."
Burbank told me he'd viewed the abbreviated version of the Franklin shooting video, which he referred to as "the Burger King video." Neill Franklin, the executive director of Law Enforcement Action Partnership, had viewed all 11 minutes by the time we spoke last week. Franklin (no relation to Danquirs) said he doesn't believe it shows Kerl committing a crime.
It does, he said, unveil concerning breaches of generally accepted law enforcement practices—such as Kerl's failure to seek adequate cover; clearly communicate with either Danquirs Franklin or Harry Deal, the other officer at the scene; and, especially, render even minimal medical assistance to the dying man after she shot him. About four minutes elapsed from the shooting to assistance from paramedics. "She was not following training protocol," said Neill Franklin, a 34-year Maryland State and Baltimore police veteran; LEAP is a Massachusetts-based criminal justice reform nonprofit made up of police, prosecutors, judges, and other law enforcement officials. "I see these types of mistakes over and over and over all across this country."
In police shooting cases like this one, he said, the public often focuses as much on what happens after the shots as on the shots themselves—such as the Michael Brown case in Ferguson, when his body lay in the street for four hours after his death. But he emphasized that releasing even incriminating video soon after the incident is far better than releasing a fraction of it or, even worse, withholding it until a judge orders its release. That's what happened in the 2014 shooting death of Laquan McDonald in Chicago, when police released dashcam video of an officer shooting the teenager 16 times only after a judge's order and more than a year after the incident.
To Neill Franklin, transparency has a straightforward definition. "I think it's as simple as this: whatever your community demands of you as a law enforcement agency that's within the law," he told me. "If that's what your community wants or demands—I'm a firm believer in community-controlled policing." In Toronto, for example, a seven-member citizen board oversees police policy and overall vision, while the police chief handles the day-to-day operation of the department. "In my opinion, that's where we need to get to in this country," Neill Franklin said. "The community needs to vocalize what that full transparency means to them."
The details may differ among groups and individuals, but the community in Charlotte has. The police accountability organization SAFE Coalition NC, which has advocated for greater power for the city's Citizens Review Board, responded to the Franklin video battle by calling for CMPD to install holster monitors that automatically activate body-worn cameras and make plain that officers who don't activate the cameras could be fired. (Putney has said Kerl's is the only body-cam footage available from the Franklin shooting.)
On issues of transparency, said SAFE Coalition's leader, Robert Dawkins, "I do understand it's a delicate balancing act" between the public's right to know and police wanting to protect the investigation, not to mention the privacy of uninvolved citizens whose identities the camera may capture. But he said in the Franklin case, in which the video release was touched off by a reporter's petition, CMPD should have known better than to withhold most of the video footage. "The police attorney knew what (the reporter who filed the petition) meant," Dawkins said. "I want them to be 100 percent transparent and move past the thin blue line." He referred to recent CMPD calls for more cooperation from potential witnesses in the midst of a soaring homicide rate: "You can't tell people in the community that they should snitch and then turn around and refuse to snitch."
The video release was subject to a judge's approval because of a 2016 state law—commonly referred to by its bill designation, HB 972—that says explicitly that police dash- and body-cam footage does not fall under state public records law, and that it may be released only after a petition and Superior Court judge's order. Judge Lisa Bell criticized CMPD during the hearing last week on the release of the complete video, saying the department's failure to present the full video to the court from the beginning amount to a "tying (of) the hands of the courts." CMPD announced soon after that it would from now on allow judges to decide what should be made public in such cases.
"I'm glad that's our policy going forward, just for the sake of attempting to build trust," City Council member Larken Egleston, a member of a council committee that oversees policing, told me this week. "There's always people who are going to question whether the Police Department acted the way it should have … Given the context of what's been going on, we shouldn't be the ones deciding what's released, because that calls into question whether we're biased."
No one, law enforcement or activist, can predict whether such changes can help engender more and broader trust, or it's whether a lost cause—that in a country awash in easily obtainable guns and a legal framework that allows police officers to use lethal force on mere suspicion, police will inevitably shoot people, and citizens who reflexively distrust or detest police always will. About the only certitude is that law enforcement agencies' concealment of video footage of shootings, even for ironclad reasons, will never again satisfy the public right, and hunger, to know. "It's going to continue to improve," said Neill Franklin of LEAP. "It's not going to go back in the other direction, I can guarantee you that."