When Charlotte Floods, Creeks Carry the Load
Mecklenburg's vast creek network tends to hide flooding in low places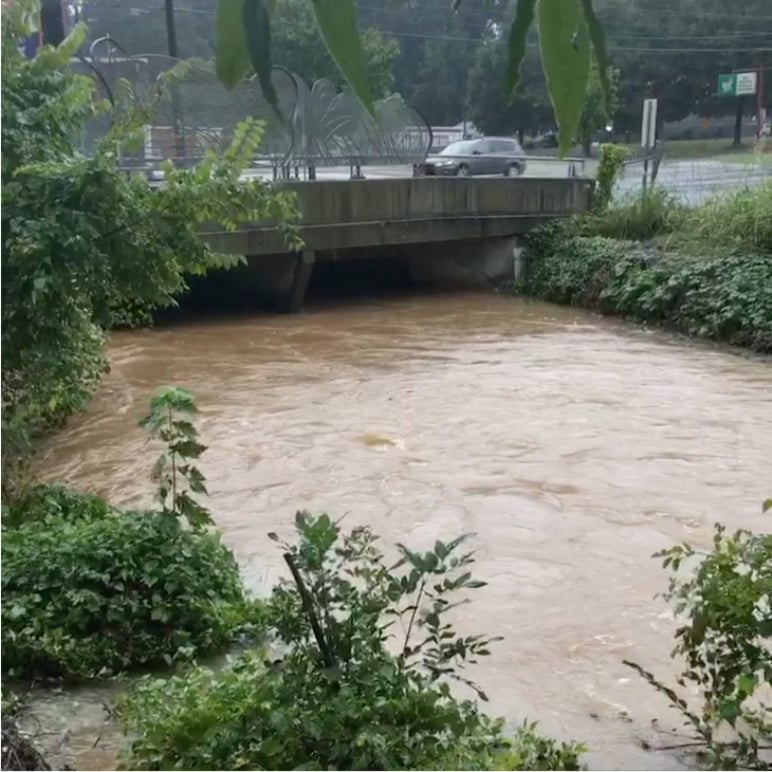 When Charlotte floods, as it did over the weekend, residents can have a hard time explaining to their friends and loved ones in other places exactly what that means. "People are emailing, saying, 'Are you OK, are you OK?'" Mary Newsom told me Monday. "'Yeah, we're fine. Our house is on a hill.'" Most houses in Charlotte are, which helps explain why the city can "flood" without a majority of its residents noticing.
A small, unnamed creek runs below Newsom's home in the Pharr Acres neighborhood, just southeast of Myers Park. Newsom half-jokingly refers to it as "my creek." It ran high Sunday, as most waterways in Mecklenburg County did. But it didn't overrun its banks. What remained of Hurricane Florence spared the city the devastating floods that swamped cities and towns in the eastern part of the state, and, although as much as 10 inches of rain fell in parts of southeast Charlotte, Matthews, Mint Hill, and western Union County, damage in Charlotte was minimal.
Newsom will retire at the end of the month from her job as director of urban policy initiatives at UNC Charlotte's Urban Institute. Three years ago, as part of a multi-year university environmental awareness project called "Keeping Watch," Newsom looked into the complexities of Mecklenburg County's webwork of creeks and streams. The vast majority are unnamed and little more than trickles seeping from the ground. But when you combine those with the 126 that do have names—including the largest, such as Little Sugar, Briar, and McAlpine creeks—the county has roughly 3,000 miles' worth of creeks and streams.
All but two begin in Mecklenburg County, which makes metropolitan Charlotte a kind of staging area for headwaters: Creeks in far eastern Mecklenburg flow into the Rocky River, which empties into the Pee Dee, which flows south into South Carolina. Creeks in the rest of the county flow into the Catawba, which becomes the Wateree when it reaches South Carolina. The Wateree merges with the offspring of two other rivers (Broad, Saluda), becomes the Santee, and turns southeast. Both the Pee Dee and Santee flow into the Atlantic between Charleston and Myrtle Beach. If you live in Charlotte, Newsom said during a Keeping Watch-related TEDxCharlotte talk in 2014, chances are good that "you have a tiny little piece of the Atlantic Ocean right in your yard."
Those tiny little pieces make Charlotte's flood profile hard to grasp. In coastal cities, such as Wilmington, and in those at the confluence of large rivers, such as New Bern, the flood risk is far worse but easy enough to understand: Tropical storms bring storm surge, which inundates the coastline, backs up the rivers, and floods the low, flat land.
In Piedmont Charlotte—where, as Newsom wrote for the Keeping Watch project, "(o)ur stream network is the aquatic equivalent of the human body's tiny capillaries, not its major arteries"—places susceptible to flood dot the landscape. The terrain rolls, and troughs usually correspond to creek beds.
On Sunday afternoon, I drove out to Matthews, which the National Weather Service had included in a rare flash flood emergency alert. Every road was clear except for Sam Newell Road, which dips down to meet normally placid McAlpine Creek perhaps 1,000 feet from Independence Boulevard. At 2:30 p.m., the creek was roaring across the road, forcing Matthews police to block it. Maybe 200 yards away from the torrent, up the slope on the other side, Jessica Solomon and some friends were relaxing in her apartment and watching the Pittsburgh Steelers-Kansas City Chiefs game. I asked Solomon whether she was worried about flooding. She momentarily diverted her attention to the countertop. "Sorry," she said. "I'm making a sausage dip." The waters never got closer to her.
The Catawba and its man-made lakes are the biggest flood risks for Mecklenburg County, but the storm's path helped keep those under control, too. As it weakened to a tropical depression, Florence veered back to the northeast, sparing the Catawba's upper basin from potentially catastrophic rainfall. When heavy rains pound the western mountains, the runoff finds its way to the Catawba's headwaters in McDowell County, and floodwaters rush through the Catawba basin—as they did in 1916, causing what remains one of the worst natural disasters in the state's history.
"We really dodged the worst of it," Catawba Riverkeeper Sam Perkins told me Monday. An NWS gauge at Mountain Island Dam northwest of Charlotte registered the river's peak Monday evening at 98.34 feet, still nearly four feet below flood stage. The Duke Energy lakes upriver from Charlotte—James, Rhodhiss, Hickory, Lookout Shoals, and Norman—had risen by Tuesday. But only one, Rhodhiss, had reached full pond.
"I was really concerned that throughout the basin, we would see lot more of what we saw Sunday in places like Matthews and Indian Trail," Perkins said. "If that had been the case basin-wide, it'd be a much different story. It kind of skirted around us."
A long-range county project likely soaked up some water that otherwise might have covered roads and neighborhoods. Since 1999, the county's Storm Water Services division has used $67 million in federal and local money to buy more than 400 residential and commercial lots in flood-prone areas. The county left the properties vacant or incorporated them into its greenway system. Newsom said a friend and neighbor who lives near Park Road Shopping Center noticed significantly less flooding near her home this weekend; she lives not far from the extended Little Sugar Creek Greenway, which includes retention ponds and green space designed to absorb floodwater. "Some of the work they've done over the years is making a difference," Newsom said.
And it shows, even when Charlotte endures two straight days of tropical rain. After I left Jessica Solomon and her football party in Matthews, I drove to where Briar Creek passes beneath Central Avenue in the Merry Oaks neighborhood just east of Plaza Midwood. I expected to encounter at least some submerged streets in this notorious flood plain.
I saw nothing out of the ordinary, except for a police car and a small crowd of people in rain gear aiming their smartphones toward the creek bed. Sure enough, Briar Creek was raging as intensely as I'd ever seen it, its café au lait-hued waters rushing beneath the concrete Central Avenue bridge. "It's kind of scary," said Tim Habershaw, one of the onlookers. But the torrent was still a couple of feet beneath the crest of the banks, and even the swollen creek hadn't risen to the base of the bridge. It appeared Charlotte had again endured little more than some aggravating lapses in electricity and downed trees from its latest brush with a hurricane.