Where to Get Burgers in Charlotte: 2023
Life happens. Burgers help.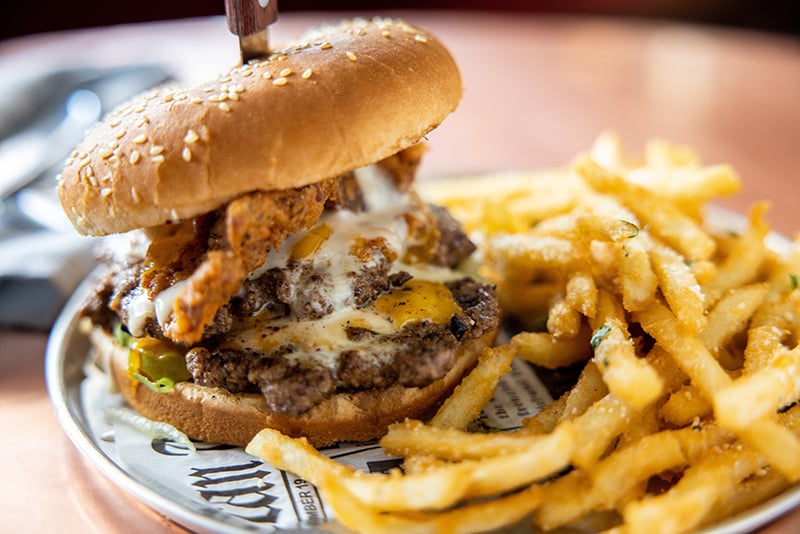 They can be fancy. They can be messy. They're often the thing you crave most. "Those are good burgers, Walter." "This is a tasty burger!" Some years back, someone decided that a cooked ground beef patty sandwich was a really good idea, and they've been the cornerstones (that's what they can feel like in your gut, anyway) of a good cheat day ever since.
FEATURED RESTAURANT: HARRIET'S HAMBURGERS
1115 N. Brevard St., Ste. 6
704-582-4411
This burger joint with a walk-up window at Optimist Hall has a simple menu of hamburgers, cheeseburgers, and fries, but they get everything right. The Hamburger + Cheese is an exquisite blend of Black Angus short rib, brisket, and chuck, charred and double-stacked with white American cheese, house-made pickles, ribboned red onions, and Harriet's signature sauce on a buttery brioche bun.
DILWORTH GRILLE
911 E. Morehead St.
704-377-3808
This wood-paneled, two-level sports bar is the place to take your family for no-frills burgers, wings, and beer on game day.
FAT CAT BURGERS + BAKESHOP
2410 Park Road
704-372-2009
Order maple-bacon doughnuts and confetti cookies at the walk-up window, or come inside for loaded burgers, sandwiches, and salads.
JACKBEAGLE'S
Multiple locations
A mainstay for locals, this place serves unconventional bar bites like mac-and-blue-cheese with bacon and nine signature burgers.
ACE NO. 3
Multiple locations
This counter-service joint from the team behind Sea Level and The Waterman offers a straightforward menu of burgers and fries. Pair it with a Juicy Jay or OMB Copper—or treat yourself to a boozy milkshake.
PIEDMONT SOCIAL HOUSE
2135 Ayrsley Town Blvd., Ste. C
704-912-5160
Order a craft beer, cocktail, or boozy slushie and play a few rounds of pool, foosball, or yard Yahtzee. Celebrate your win with some Pretzel Dippers, Social Nachos, or a Port Charlotte Burger.
DIAMOND RESTAURANT
1901 Commonwealth Ave.
704-375-8959
This 1950s-style diner has retro teal booths, a jukebox, and classic dishes like burgers, fried pork chops, and fried chicken.
MOO & BREW
1300 Central Ave.
980-585-4148
Burgers have playful names like Peter Piper, Farmer's Daughter, and Moo Melt, and friendly servers make this spot an easy choice for a casual dinner out.
HARRY'S GRILLE & TAVERN
2127 Ayrsley Town Blvd., Ste. 103
704-499-9494
This Steele Creek favorite is modeled after a New York gastropub, with burgers, steaks, and sandwiches. Pair it with a craft beer—or a Manhattan, if you're feeling fancy.
PINKY'S WESTSIDE GRILL
1600 W. Morehead St.
704-332-0402
Housed in an old auto shop, this funky spot serves massive burgers, hot dogs, and sandwiches alongside waffle fries and fried pickles.
COWBELL BURGER & WHISKEY BAR
201 N. Tryon St., Ste. 1010
980-224-8674
The sister restaurant to Leroy Fox has a roster of fancy burgers, including a foie gras-topped masterpiece for $28.
THE CRUNKLETON
1957 E. Seventh St.
704-919-0104
The Crunkleton may be famous for its cocktails, but the spot also serves A Really Good Burger. Add an egg or grilled bacon (among other options) for an even heartier meal.
BROOKS' SANDWICH HOUSE
2710 N. Brevard St.
704-375-7808
Head to Brooks' humble red hut for rough-hewn burgers with homemade chili. Grab 'em to go or eat 'em atop the unvarnished wood tables in the gravel parking lot.
THE PENGUIN DRIVE-IN
1531 East Blvd.
704-444-0603
These aren't gourmet steakhouse burgers with three types of premium meat—they're messy, condiment-heavy gut bombs you eat with pints of beer after you've run the Booty Loop.