Why It Might Be Time For Bojangles' Coliseum To Leave the Building
Sad to say, but old arenas outlive their usefulness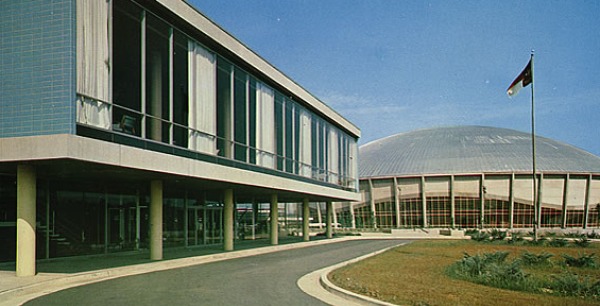 The next three events scheduled for Bojangles' Coliseum:
A stand-up show by comedian Katt Williams on April 12.
Sesame Street Live from May 9-11.
A stand-up show by comedian Mike Epps on Sept. 20.
That's it. Not exactly a packed slate, is it? Charlotte has a dilemma on its hands, not an uncommon one for up-and-coming cities with outdated entertainment complexes to tend to: What do we do with this? Can we find some use for it that'll pay off? Or would it be better to just raze the thing and use the land for something else?
There's a new plan afoot, though (from the Observer):
The city of Charlotte and a Sarasota, Fla.-based developer are considering spending a combined $72 million on a new hotel and indoor-sports facility, which is designed to cater to amateur sports teams on the weekends and fitness-conscious travelers during the week.
The developer, GoodSports, is bullish on the concept and is moving forward with similar projects in suburbs of Columbus, Ohio, and St. Louis, as well as Wichita, Kan. They believe they can make money hosting indoor youth sports tournaments that could attract indoor sports teams from the state and region.
The plan for Charlotte is to build a 125-room hotel with an 85,000 square-foot "field house" for sports in the next two years …
The city is considering leasing GoodSports land for $1 a year near Ovens Auditorium and Bojangles' Coliseum that is currently a parking lot. In addition, the city has proposed subsidizing the concept with $18 million in upfront money, which was part of last year's $816 million capital spending program.
This sounds pretty dubious. Brad Richardson, the city's economic development director, admits the proposal is "higher-risk" than most of what crosses his desk. On the other hand, it's all that exists—just as the city considered Bert Hesse's movie studio idea for the Eastland Mall site, which turned out to be so much cotton candy on concrete. The coliseum's last major tenant, the Charlotte Checkers, left in 2005 for Time Warner Cable Arena, and since then, few have knocked on the door of the venerable dome on Independence.
Which, from a sentimental and historic standpoint, is a pity. Bojangles' Coliseum is fascinating to me. (Or, as it once was, Cricket Arena, and Independence Arena before that, and Charlotte Coliseum before that, not to be confused with the now-demolished Charlotte Coliseum on Tyvola Road, which once was the home arena of the Charlotte Hornets, which became the New Orleans Hornets, which are now the New Orleans Pelicans, not to be confused with the new Charlotte Hornets, currently called the Charlotte Bobcats. Things change, is my point. It's the Events Venue Uncertainty Principle.)
A tarnished gem
The old, old coliseum is a kind of tarnished gem, with its blue ceramic tiles, tinted glass, maple folding seats, and glaring absence of a Jumbotron. Elvis and the Stones played here, and the Billy Graham Crusade, and Ringling Brothers and Barnum & Bailey Circus. When it opened in 1955, it was the largest free-span dome on Earth, an architectural marvel. For years, it was the Queen City's most prominent landmark.
More than that: It's the kind of space you just don't see anymore, a relic of the days before luxury boxes, hi-def video screens and pyrotechnics accompanying your team's entrance onto the floor or ice to that silly Alan Parsons Project composition. In a city that's mastered the practice of razing its history, the coliseum is a welcome monument to it.
Yet none of that justifies a massive public investment if the numbers don't work. The city sees the GoodSports proposal as at least a step toward reclaiming the Independence corridor as a business and tax generator. But to do that, it'd have to undo decades of misguided urban renewal—planning geared to the suburb and car—that cut one part of Charlotte from another and left an entire stretch of Independence vacant and forlorn.
The fading away
Expecting a recast coliseum to catalyze a new Independence strikes me as a nice idea but, ultimately, a pipe dream. It might be time for the city to cut its losses, honor the place's heritage, and move on, as other cities reluctantly have. Poking around the web, I found a remarkable parallel between Bojangles' and another historic arena, the old Civic Arena in Pittsburgh.
Like Charlotte's coliseum, it was a futuristic wonder when it opened in 1961—the first retractable-roof major sports venue in the world. (A retractable roof in 1961!) It was constructed, literally, from the city's identity, with nearly 3,000 tons of native Pittsburgh steel. It hosted concerts, political rallies, the opera, and, most notably, the NHL's Pittsburgh Penguins, which won four Stanley Cups while playing there—the last in 2009.
The city and local sports authority wanted to save Civic Arena if they could. They held out for a redevelopment plan for four years. Nothing workable emerged.
So over six months in 2011 and 2012, Civic Arena finally came down. The spot where it stood is reserved for parking for its replacement.
Update (8 p.m.): A few things to add, based on a Twitter conversation with the Charlotte Business Journal's Susan Stabley: Apparently Bojangles' Coliseum is one of the city's most energy-efficient buildings, another argument for finding a way to keep it around.
Also, the GoodSports plan is a response to the city's desire to turn the coliseum-Ovens Auditorium site into an amateur sports complex, something I neglected to mention before. There's market demand, for sure. A 2012 UNCC study estimated the off-site economic impact of amateur and youth sports in Charlotte at $232.5 million.
The question is whether the benefit from renovating the old coliseum justifies whatever cost the city incurs. This month, as part of a large-scale community investment plan, the city proposed a $51 million renovation package for Bojangles'—on top of the $25 million in infrastructure investments associated with the amateur sports complex idea.
Lot of money, that. Just to be clear, I don't want the city to tear down the coliseum. I think it'd be great if they could find a good use for it. I just think the difficulty in finding a tenant or tenants and the cost of renovation might make its demise inevitable. You can find examples of that reality in virtually every big city in the country.