You Can Scuba Dive, Camp, and Kayak at These S.C. Lakes
When Lakes Wylie and Norman won't do it, the Old 96 District in South Carolina offers five different types of water adventures for summer fun.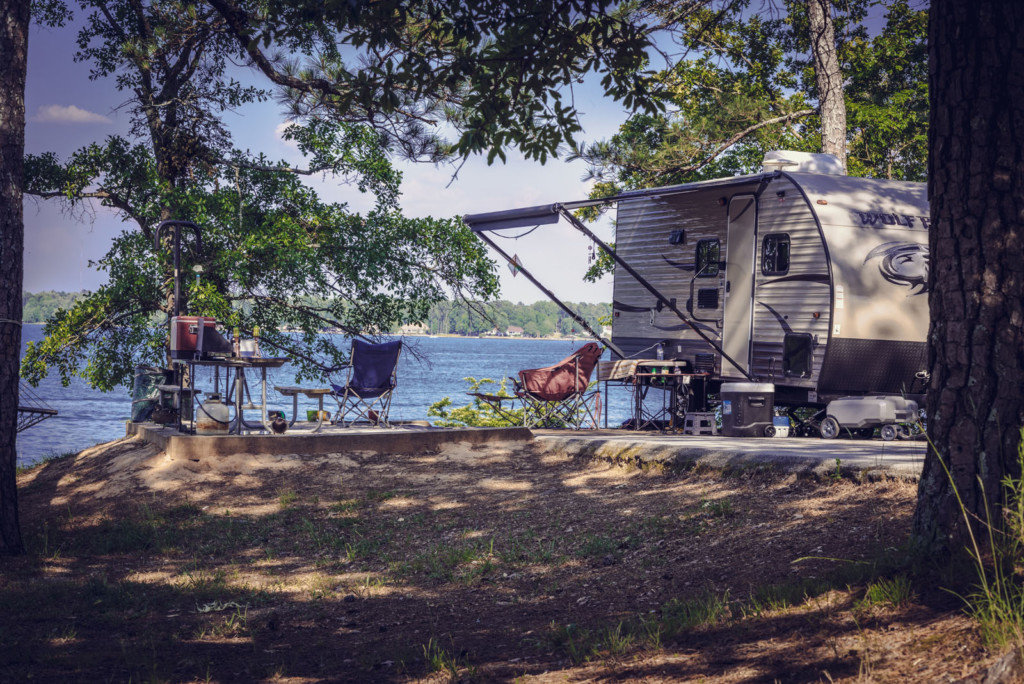 Venture outside of Charlotte to explore new-to-you lakes and summer fun away from the crowds. Sprawling across 200 miles of untouched nature and freshwater shoreline, the Old 96 District in South Carolina is only a short, two-hour drive from the Queen City.
The abundance of water-based and outdoor activities in the Old 96 District makes it a refreshing place to explore—especially during hot Carolina summers. From camping on a lake to scuba diving its depths, this region is sure to give you unexpected thrill after thrill.
5 Lake Activities in the Old 96 District
1. Lakeside Camping
Whether you're in for a social scene around the fire eager to meet your fellow campers or if you'd rather keep it simple and pitch a solo tent admiring the stars, the Old 96 District has you covered. There are also many RV sites available for those hauling their homes-away-from-home.
Sumter National Forest: The pristine nature surrounding each campground is not to go unnoticed. Wake up overlooking Parsons Mountain Lake at one of Sumter National Forest's peaceful, terraced sites.
Plum Branch Yacht Club: Be uptown or earthy at Plum Branch Yacht Club—the choice is yours at this lake paradise. With 27 campsites and a store, this special spot also comes equipped with a boat ramp and pontoon boat, jet ski, and travel trailer rentals.
Hickory Knob State Resort Park: If you're already in vacation mode, Hickory Knob State Resort Park celebrates the outdoor lifestyle without the hassle. At this popular family site, campers are welcome to boating, fishing, swimming, archery, tennis, and even golfing—plus, the on-site restaurant serves up three meals a day.
2. Hiking & Biking the Coastline
Explore South Carolina's freshwater shoreline as you walk or hike one of 50 nature trails stretching across the district's abundant nature scene. Opt for the Lakeview Trail for an exhilarating bike ride full of meandering paths and challenging hills. This trail offers a panoramic view of Lake J. Strom Thurmond as you soak in its nature and celebrate nearly seven miles of energized biking.
For those who prefer to get up-close-and-personal with nature, wander down Cedar Bluff Trail, which is about a mile-and-a-half long, for a relaxing stroll amid dreamy moss-covered tree trunks and yellow buckeye blooms.
3. Kayaking with the Kids
If you're wondering how to entertain young ones, set them out on an exhilarating kayak ride on one of Old 96 District's many waterways—Lakes Greenwood, Russell, and Thurmond are perfect for coaching your kids, not to mention the Little River Blueway, offering over 50 miles of scenic water trails.
Either way, you can't go wrong with glassy waters, scenic views, and quality family fun. Your kids will love this hands-on experience, especially if you pack their favorite sandwich and snack for a relaxing picnic on the water.
4. Freshwater Scuba Diving
Dive into South Carolina's crystal-clear freshwater landscape and explore the unknown… including a sunken two-seater Cessna plane! Rather you're a seasoned diver or looking to challenge yourself to new depths, diving at Lake J. Strom Thurmond is an experience you will not forget. Unlike saltwater diving, freshwater diving offers a pristine view of its diverse landscape and unique inhabitants, leaving you curious and eager to explore more.
5. Fishing for All
As one of the best fishing hubs in the country, the Old 96 District region is the ideal place for outdoor and fishing enthusiasts alike. Cast your line at one of the three freshwater lakes in this gorgeous region for a chance to reel in striped bass, perch, or even largemouth bass. Experience the local culture at the Old 96 District's lakes while peacefully sitting on the open, glassy water. You likely won't want to come home.
---
Nestled in the Upper Western section of South Carolina, the Old 96 District is home to amazing outdoor adventures, a haven for history buffs, and the location of numerous remarkable attractions and places of interest. Experience the charm and wonder of the Old 96 District, and click here to learn more.