Your Guide to 2018 Charlotte Craft Beer Week
Begins March 30 and runs through April 8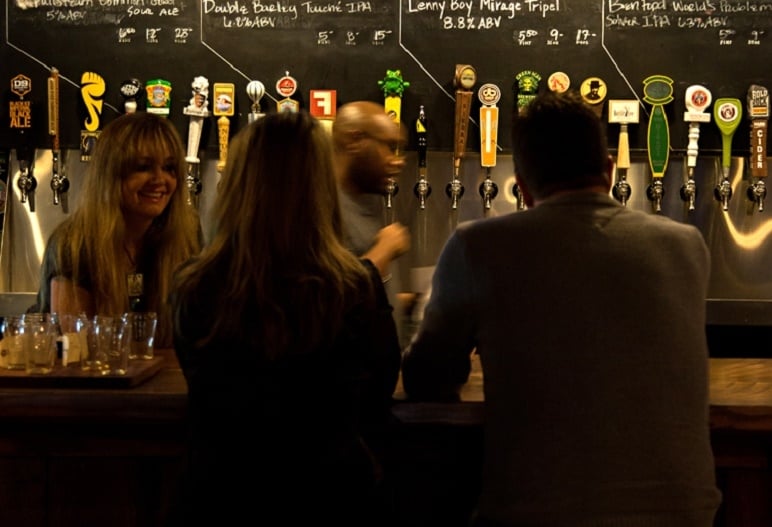 Charlotte's craft beer scene has evolved; there's no doubt about that. And with that progression brings a new iteration of Charlotte Craft Beer Week. CCBW had become a shell of itself in the past (All Ale to the Queen was … a thing), but some key players in Charlotte's local craft world have been working hard behind the scenes over the last couple years to revive
And while some classics will be missed (where art thou, Common Market Rumble in the Alley?) there are a few returning events (note here that one of my longtime favorites, Duckworth's Cask Event, has been postponed until May due to the restaurant's recent renovations) and a host of new ones to showcase the wide variety of Charlotte's craft beers and venues – and even those outside of the city, where craft growth continues to dominate.
It all starts this Friday and runs through April 8. You can find the entire list of events here, and below are five ones not to miss.
FRIDAY, MARCH 30
Official CCBW Launch at Hoppin'
Arguably the hottest craft bar newcomer on the block has been "tapped" to kick off the 2018 festivities. Hoppin', the self-serve bar in SouthEnd, will have plenty of Charlotte craft selections for you to pour your own beer. Food trucks will be onsite, or if you'd like to bring your own items to grill, Hoppin' will have a Big Green Egg available in keeping with the self-sufficient theme. The party begins at 5:30 p.m. and officially ends at 7:30, though the bar stays open until midnight.
SATURDAY, MARCH 31
Beer Rep Hangout at Brawley's Beverage
On the surface, there's nothing too special about this event. No special release or new beer, etc. But two things make this a standout to me: It's a chance for any local craft beer fan to talk one-on-one with a representative from their favorite brewery, or one they haven't tried yet, perhaps. Local, regional and national breweries will be represented here, and you can bet on Brawley's having a well-curated taplist featuring a number of different styles. The rep hangout runs from 2 p.m. to 7 p.m., and is definitely worth stopping by.
THURSDAY, APRIL 5
Local Barrel-Aged Tap Takeover at Broken Spoke
This one, I'm really excited about more than anything at CCBW. Nine different breweries were given a Rua whiskey barrel from The Great Wagon Road Distillery a while back. The rest was up to them as far as style, other ingredients, etc. Each brewery will debut its barrel-aged beer next door to the distillery at The Broken Spoke beginning at 6 p.m. Participating breweries are Blue Blaze, Bold Missy, Legion, Lenny Boy, NoDa, Olde Mecklenburg, Southern Range (Monroe), Sugar Creek and Triple C.
SATURDAY, APRIL 7
Field Day in Charlotte at VBGB
Remember the field days in elementary school? Egg toss, water balloon fights, wheelbarrow races and more? So think that, then add beer – and you have a day full of hijinks. This will take place at The Sandbox outside of VBGB. Interested teams must register before this Saturday (March 31). There is a minimum of six players and maximum of 10 per team (at least three players must be girls). Total team cost is $100, and there will be eight events in this competition, which runs from noon (check-in for teams is 11 a.m.) until 3 p.m. You can get all the registration information here.
South End Craft Crawl
Although Charlotte Craft Beer Week ends the next day, this annual event is being labeled as the official closer. This crawl brings together South End's breweries, bars and bottle shops, all connected by the local trolley, which will run loops around the district all day with stops at every venue. In the past, this event has seen each place either tap or brew a special beer in honor of the occasion. There is no crawl order; simply arrive at any of the spots and then you can ride the trolley (for free) to any of the other places at your convenience. The trolley will run from 1 to 7 p.m., and crawl participants are Craft Tasting Room and Growler Shop, Hyde Brewing, Lenny Boy Brewing, Pop the Top Craft Beer Shop, Red Clay Ciderworks, Sycamore Brewing, The Brass Tap, Triple C Brewing, Unknown Brewing and Wooden Robot Brewery.