Charlotte's Comprehensive Plan: A Backgrounder
Perplexed about what's in the suddenly fractious plan and why? This may help.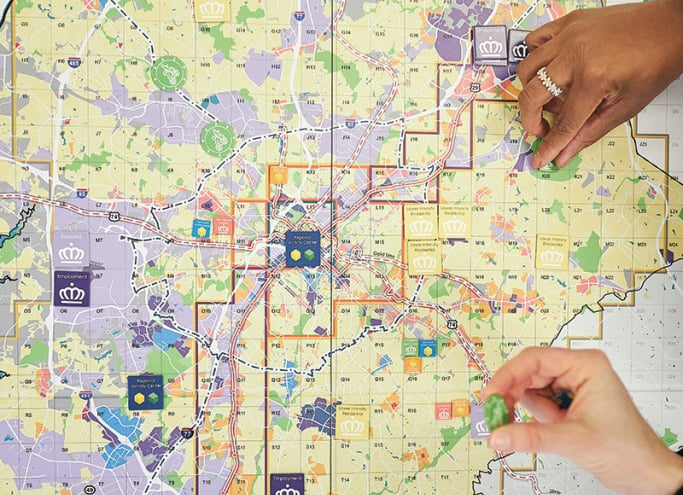 Charlotte's Planning Department, led by Planning Director and Assistant City Manager Taiwo Jaiyeoba, has been working on a pair of critical projects since Jaiyeoba was hired in January 2018: A citywide comprehensive plan, Charlotte's first since 1975; and a corresponding rewrite of land-use regulations that hadn't been updated since 1992.
The city had lacked an official planning director since 2014, and Jaiyeoba and his team knew the projects were running far behind in a city with growth exploding around them. Still, planners were deliberate, and they made sure the public had a say in the process, holding a series of public meetings to gather feedback and even hosting a COVID-restrictions-friendly "drive-in" unveiling of the plan's draft—accompanied by a screening of Back to the Future—at the Park Expo on Halloween. The department expected to submit the comprehensive plan for City Council approval in April and the update land-use regulations in September.
This week, during a discussion of the drafts of both, several council members balked at approving either—and focused their objections on a potential restriction or ban of single-family-only zoning, which historically has separated affluent (and mostly white) residents from poorer, largely non-white ones. Other cities, notably Minneapolis, have enacted such bans. But council members of both parties said constituents had voiced concerns about everything from changing the character of established neighborhoods to potentially restricting homeownership opportunities for Black Charlotteans.
Land-use discussions can get confusing, which can lead to misinformation and mistaken assumptions about what's actually on the table and what it's trying to achieve. Here are a few stories and columns I've written about the process and its implications over the past few years, with links to external sites for more information.
Interview: Taiwo Jaiyeoba, February 2018: A month into his new job, Jaiyeoba explains his background, planning philosophy, and goals, including the comprehensive plan and land-use rewrite, formally the Unified Development Ordinance.
Can Charlotte Go From Dealmaker To Planmaker?, March 2018: Mitchell Silver, the New York CIty parks commissioner and former Raleigh city planner, on how he successfully sold a new comprehensive plan in North Carolina's capital city in 2009. 
With One Bold Step, a City (Not Charlotte) Goes Big on Affordable Housing, December 2018: An analysis of Minneapolis' ban of single-family-only zoning and its implications for Charlotte.
Relax. No One Wants to Ban Houses., July 2019: How easy it is for discussions about land-use planning to go off the rails into outright falsehood.
'We Don't Want to Lose Our Waiters': Inside the Creation of Charlotte's Comprehensive Plan, March 2020: Do we really want to turn into Atlanta?
2020 Charlottean of the Year: Taiwo Jaiyeoba, November 2020: "History is fond of repeating itself … unless we alter its course! That's what I'm committed to as our city's Planning Director. Take steps to change the historical inequities in the growth and development of our city. #2040Plan"