#DiscussCLT on the Arts: How Can We Make Charlotte a Capital for Culture?
Who'll tend the garden of the arts in Banktown?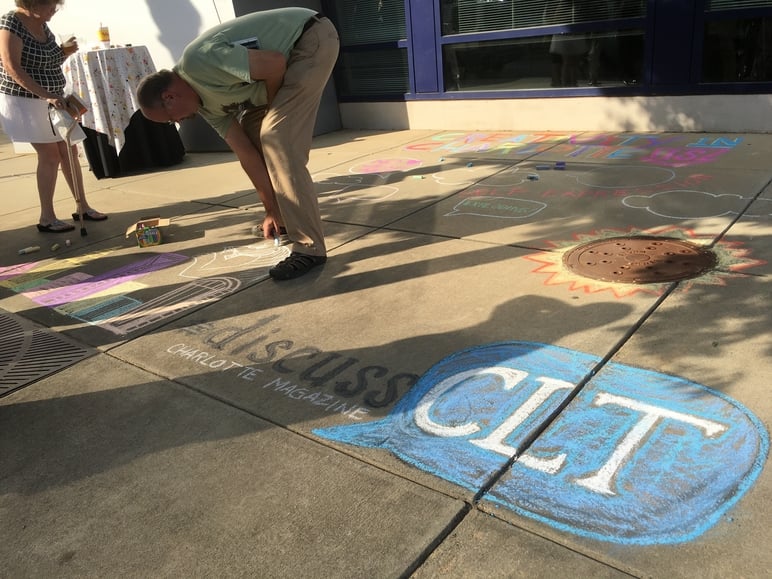 For a city presumed to be a cultural dry well, Charlotte doesn't lack for people willing to discuss, bankroll, care about, and create art.
A clue came Tuesday night, when the latest in this magazine's #DiscussCLT series on civic issues (powered by OrthoCarolina) drew a large and vocal audience to Charlotte Ballet. The topic was "The Creative City: How Should Charlotte Cultivate a Creative and Artistic Community?" What emerged over the hour-long conversation might surprise people accustomed to viewing the Queen City as an antiseptic commercial town, a big bank lobby with professional sports. There is a creative and artistic community in Charlotte, and in many ways it thrives. But it's scattered, disjointed, and—the perennial issue for the arts anywhere—underfunded.
"There's a huge imbalance in the city" between the upper class that patronizes arts institutions and the local artists trying to make it, said Manoj Kesavan, founder of the arts and cultural nonprofit Que-OS, which organizes Pecha Kucha nights in Charlotte. Kesavan was on the event panel with poet and actor Quentin Talley, visual artists Amy Bagwell and April Marten, and Andy Smith, who covers arts for Charlotte. "We talk about supporting the arts, but that's not happening, not from where we stand."
Kesavan was referring to the gap between longstanding cultural institutions—such as the Arts and Science Council, Charlotte's largest, which has faced its own financial difficulties since the recession—and local artists and their start-up endeavors that operate outside them. He said Actor's Theatre of Charlotte, recently forced out of the Stonewall Street building it had occupied for 12 years, could have been saved with a tiny fraction of the $35 million, mostly from private donors, that Foundation For the Carolinas is using to renovate the old Carolina Theatre on Sixth Street.
Marten, who moved to Charlotte from Atlanta three years ago, said she heard the same thing over and over again from local artists after she moved: All the money and resources in town go to exclusive institutions. "And to be frank about it," Talley added, "if you're not one of the larger institutions, you're shit out of luck."
How to fill in the gap, then? Hands shot up; ideas filled the air. Convince donors to see arts donations as investments, not merely tax write-offs. Artists embracing their work as an exercise in entrepreneurship as well as creativity. More local government investment. The creation of a city-county arts commission. (There already is one, but for public art only.)
Then again, potential solutions run into more hurdles. The tension between art and commerce, and the difficulty artists have in earning enough to live solely through their art, is as old as art itself. Charlotte lacks a university presence to match the Triangle, Austin, even Richmond, which makes it more difficult to sustain a strong arts and cultural scene. Most artists I know acutely understand the need to combine business sense with their creativity, and they struggle just the same.
And the more corporate and government interests invest in the arts, the more artists risk having to work within their constraints, which erodes the freedom art requires. Skyline Artists in Residence, an artists' program at the old Goodyear building on Stonewall Street, began as an artist-driven enterprise. (The program, renamed Goodyear Arts, now occupies a former nightclub on North College Street.) So did OnQ Performing Arts, Talley's nonprofit theatre group that's somehow lasted for a decade.
There's still another river to cross, said David Walters, a British-born architect, urban planner, and professor emeritus at UNC Charlotte. The one essential thing cities need for artistic communities to thrive is, he said with emphasis, "cheapo buildings and affordable housing—and we do. Not. Have. That. Anymore … I'm not worried about creativity. I'm worried about the physical elements of our city." Big applause.
And he's right—plants grow only in the right kind of soil. But as was observed in an earlier #DiscussCLT session, cities can't depend on the market to develop affordable housing. They need mandatory inclusionary zoning, which in North Carolina requires legislative approval, which will never happen under the current legislature. It was a timely and troublesome reminder of how tangled all these large-scale civic issues are with each other, and how hard that makes the problems to solve.