ESSAY: KFC's Vegan Fried Chicken Lands in Charlotte
The city is one of two test markets. A vegan writer reflects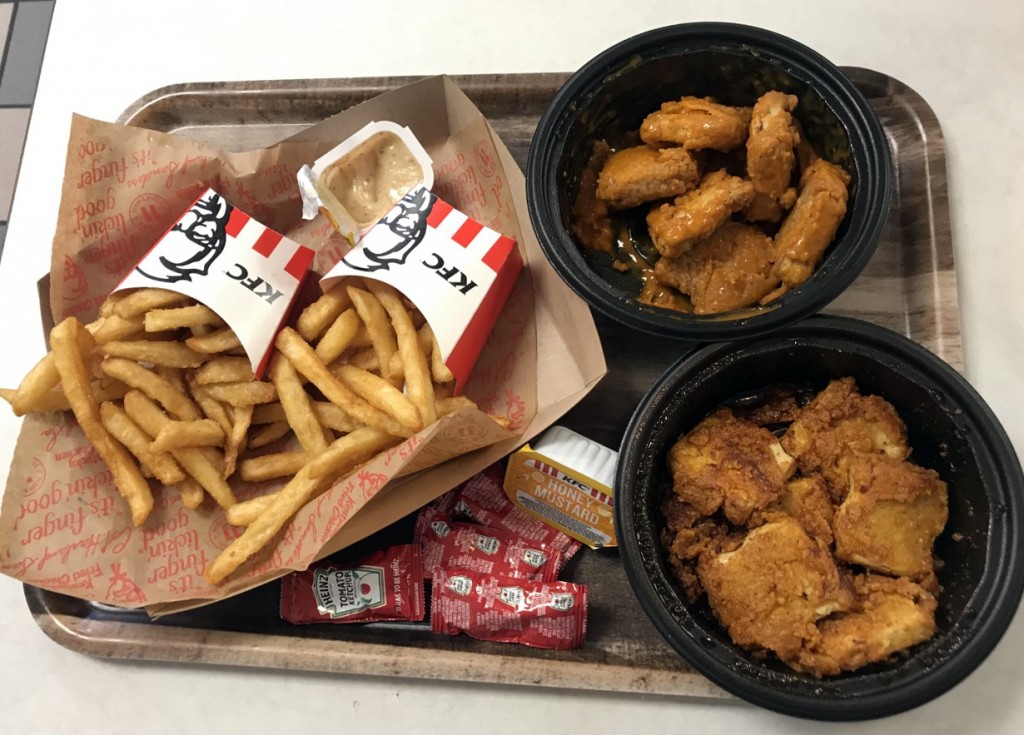 IF YOU, dear reader, are to know nothing more about me, 'tis but this one important, unassailable fact: I am trash.
I have, on my own volition, consumed a 166-ounce Moscow Mule, doing so with a partner only because my mother made me. I have driven 45 minutes (one way) for cinnamon rolls. I have told you stories about how I fell in love at a bar and then returned to that bar to take my engagement photos where I feigned a drunken blackout for the purpose of said professional photos.
I have done all of these in public view (for you!) because to become self-aware of one's rubbish taste is to reclaim the word, to reach a certain Trash Nirvana where one is at peace in one's own heaping pile of filth.
So imagine my glee when, on Monday, Kentucky Fried Chicken introduced its new vegan fried chicken to Charlotte (alongside Nashville) as its two test markets. Previously, KFC had debuted the vegan chicken – a partnership with Beyond Meat – at a single Atlanta store in August. The spot sold out in five hours.
This is the part where I should tell you I'm also a vegan.
How, you might ask, can he claim to be trash and a vegan? Aren't those two diametrically opposed? A spectrum of opposites, one end shrouded by kohlrabi and chard, the other with bacon grease?
That, you see, is the thinking of yesteryear.
A decade ago, "vegan" was decidedly not mainstream. It was a funny word which usually preceded the question, "But you still eat fish, right?"
But it was also posh. It was artisan-assembled smashed avocado toast with beetroot and fennel on locally made, organic spelt bread. It had clout, a je ne sais quoi, an elitist aura of Goop-like body preservation. This person cared about more than the immediate, satisfactory, and carnal need for a bacon cheeseburger, surely.
That's all true. But to be a vegan in 2008 was hard. It was a lot of hoping the barbecue joint had a vegetable plate. It was a lot of explaining to everyone that, indeed, I was eating enough protein. It was, most noticeably, very few trips to fast-food restaurants.
Vegan food is slow, natural, farm-to-table. Roasted asparagus spears have no place in the drive-through line.
A lot of that is still true, of course. Many people are still weirdly interested in where I obtain my protein. But that era is dead, composted with the banana peels of history. Vegans have finally obtained full citizenship in the Fast Food Nation.
Last year, Burger King had its best quarter in four years after debuting the Impossible Whopper. You've long been able to fill your burritos at Moe's and Chipotle with tofu and vegan sofritas, respectively. Taco Bell now has an entire vegetarian menu. And Beyond Meat, the company that makes the game-changing Beyond Burger, is on the menu in one form or another, at Del Taco, Hardee's, Carl Jr.'s, Subway, Dunkin', TGI Friday's.
And I've devoured it all with the gluttony of someone who, for so long, has been deprived of such tempting potential to sin. Road trips became something I could do without packing a lunch. The nearest Burger King was only a few exits away, after all. I was becoming mainstream! I was becoming just as disgusting as everyone else, filling my car with the grease-laden wrappers of commercialism.
Aside from McDonald's, which is now also testing a plant-based burger in certain markets, KFC was the last holdout, the vestigial tail in a quickly evolving world looking for small ways to green itself, to put a Band-Aid on the cannonball-sized hole in the Ozone layer.
In fact, the last time I visited a KFC was a decade ago as an intern with People for the Ethical Treatment of Animals. A few interns and I traveled to Baltimore, along with Bruce Freidrich, whose job title at one point was PETA's director of vegan operations, to protest the chain's inhumane slaughter methods. We held signs on a busy roadway, saying "KFC Kills!"
If that ignoble reign comes to an end, it will be Charlotte's doing. On Monday, KFC began a market test of a vegan version of its finger-lickin' good "chicken" in Charlotte and Nashville, and because I am trash, I tried it on its first day in town. Presumably, if enough people in these two cities order the "chicken," which—stay with me—I will describe, KFC will then roll it out nationwide.
So, how was it? Well, dear readers, we have created a safe space together, so let's be relative here. Does anyone ever finish his or her hot yoga class and then jog to KFC for a nice, effervescently light lunch? Do good choices ever come in bucket size? Does anyone ever leave KFC and think, "I made a great choice for my body today"?
With those expectations lowered, the squares of fried "chicken" I ordered drenched in both buffalo sauce and a hot Nashville sauce did not look like chicken. They were, as I have said, squares. They did not smell like chicken. They were not light.
But they were vegan. And the salty, sauce-soaked majesty of that sentence is a triumph.
Finally, my husband could tell me I had buffalo sauce dripping down my chin just like everyone else. I could sit in those awful fast-food booths and dig into my plastic tub of chicken squares! Later on, I could regret my decisions!
No longer the quinoa-eating, juice-cleansing elitist yuppy vegan, I, too can now dip my French fries in the leftover sauce that had not clung to my chicken and had, instead, pooled in my plastic tub.
As I left, I told myself the same lie we all tell ourselves after a bad decision. "Tomorrow, maybe I'll just have a salad."
Jared Misner is a writer for this magazine. His work has also appeared in Our State, The Chronicle of Higher Education, Logo and The Knot.