How To: Become Your Best Self This Fall
Five can't-miss tips from the Specialty Shops SouthPark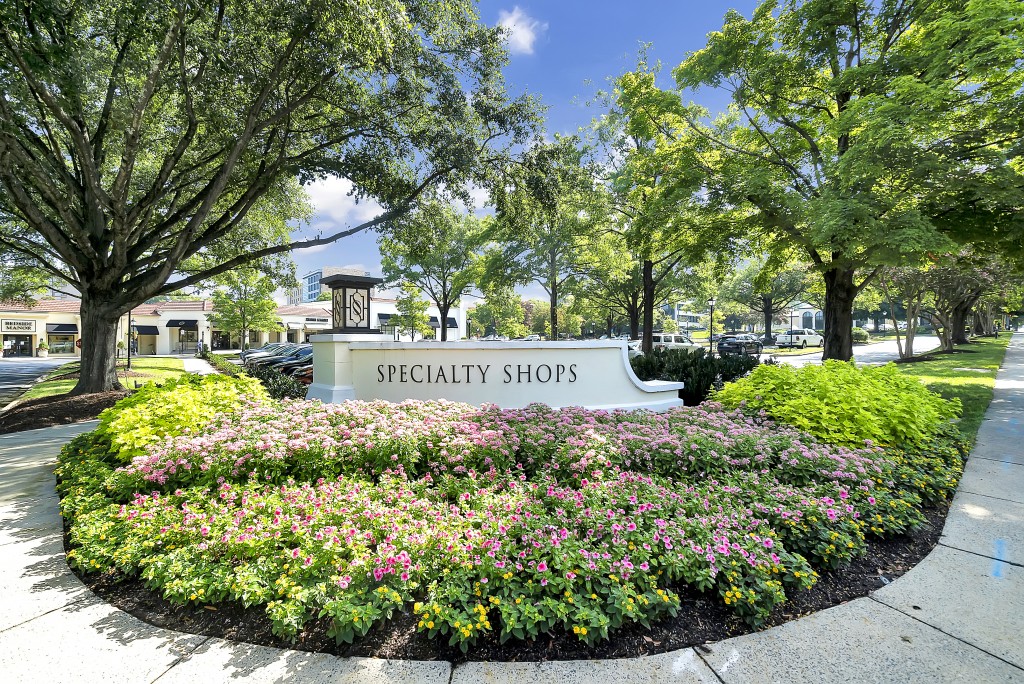 The leaves are changing, and so can you. Discover new wardrobe staples and design a look that lets your inner warmth radiate on chilly fall mornings. Turn your home into a modern sanctuary, and prioritize mental and physical well-being with one of the fastest and most effective fitness routines in town. It's the life you've longed for. Let it start now at Specialty Shops SouthPark.
1. Be bold—inside and out.
Come out of your cocoon in bright and beautiful styles that reflect your inner go-getter. On warm days, turn heads in this sage blue gathered-neck dress (above, left) from Scout & Molly's Boutique. Shop the Specialty Shops store for the latest comfy arrivals, like this French Connection half-zip jumper, along with on-trend accessories and jewelry. For a total fashion revamp, make a personal styling appointment at Scout & Molly's, where a knowledgeable team member will help you develop the perfect wardrobe for your best self.
2. Stay strong.
Regular exercise is key to busting stress and feeling your best—benefits we all need by the bucketful as summer vacation gives way to crammed calendars. Fit exercise into a full life at Pure Barre, where a focus on strength and flexibility makes for a fast and effective full-body workout. Sign up for a free Foundations class to learn the basics of the ballet-inspired exercises and expect the personalized attention of one-on-one training in the comfort of a group setting. You'll leave the kick-your-butt class ready to conquer anything.
3. Recharge and relax.
Studies have shown that home decor can have an impact on health and happiness. No surprise there. But if your home is more chaos than oasis, take time to give your space—and state of mind—a refresh. Seek out colors and textures that evoke tranquility and comfort, like cashmere throws and sheets to help you keep your cool, physically and mentally. Find patterns that soothe and prints that inspire. If you need help stocking up for your sanctuary, stop by Bedside Manor for expert advice. Every staff member is trained on textiles and materials, from color to chemistry. While you're there, browse carefully curated gifts and share your newfound sense of peace with a loved one.
4. Find comfort.
Autumn calls for cozy cardigans and sweaters as comfy as a favorite blanket. Fashion-forward layers transition effortlessly from the couch to al fresco dinners with friends. In the Fantasma Cardigan (above, left) from Amina Rubinacci, cashmere, wool, and silk join forces for a look that's stylish enough to go anywhere and soft enough to wear everywhere. Made in Naples, this poppy-colored down jacket, also from Amina Rubinacci, will keep you warm—without sacrificing the timeless elegance this Italian designer is known for.
5. Get outside.
Enjoy the year's last warm days in a setting that will give you the mental tranquility you need to tackle the back-to-school and holiday seasons. Enjoy al fresco dining at any of Specialty Shops SouthPark's four restaurants, and outdoor seating areas surrounded by lush foliage and calm-inducing fountains.
Learn more and plan your visit to this classic Charlotte destination, where a sophisticated blend of upscale boutiques and acclaimed restaurants has kept shoppers coming back for almost 40 years.