Politics as Unusual
The political gulf between Charlotte and Raleigh is growing wider, even as local leaders ascend to the capital. And, as the city goes bluer and state government turns a deeper shade of red,it won't get better anytime soon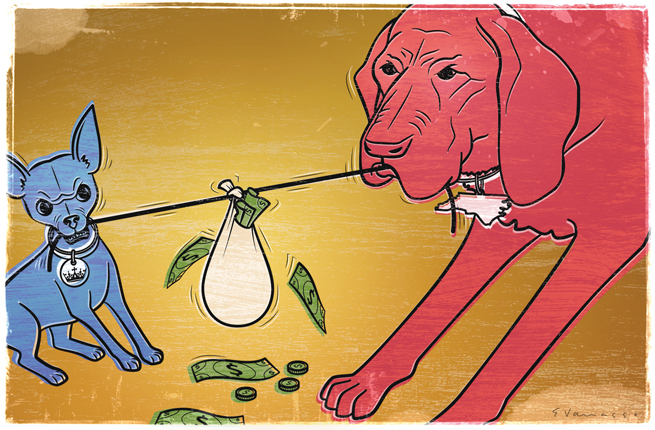 On January 9, fresh off a comfortable victory in the North Carolina governor's race, Pat McCrory returned to the prism-shaped Charlotte-Mecklenburg Government Center on East Fourth Street. For 14 years, he had served there as Charlotte's mayor, and today the governor-elect was making his scheduled Charlotte stop on a statewide "listen and learn tour." (He'd be inaugurated in Raleigh two days later.) It was less a town hall meeting than a proud send-off, celebrated by Republicans and Democrats alike. For the first time in North Carolina history, and after a history of animus between "the Great State of Mecklenburg" and the actual state of North Carolina, Tar Heel State voters had elected a resident of the state's largest city as their chief executive.
That day, McCrory—while he hinted at North Carolina's continued financial difficulties and its effects on the state budget—was all smiles and fond remembrances, assuring the crowd at the Government Center that "if you want to continue to call me 'Mayor Pat,' that's all right with me." Even the generally chilly relationship between the Republican McCrory and his Democratic successor as mayor, Anthony Foxx, seemed to have abated; the two men exchanged a respectful and seemingly genuine embrace afterward. Foxx, a Charlotte native, said publicly that he was "personally very proud" of McCrory's victory. Pride and hope suffused the gathering and animated the people who attended. "If he brings an awareness of Charlotte to Raleigh, we will have been served," said McCrory supporter Mary Springsteed, who added that the Queen City "has felt like the stepchild" to the rest of North Carolina.
It became apparent, and quickly, that whatever hope there was for a stronger partnership between the state and city was built on quicksand. A little more than two months into McCrory's term, and not quite two months into the legislative session, the relationship between the two was in many ways worse than ever. A volatile mix of demographic trends, political expediency, and a far-right-leaning General Assembly threatens to widen the breach even more in the coming years—and it's making Charlotte-area public officials and business leaders very nervous.
Foxx, a Charlotte native, said publicly that he was "personally very proud" of McCrory's victory.
Since the first of the year, the governor and legislators have warned city officials that continued support of the proposed streetcar project might jeopardize state funding of a critical extension of Charlotte's light rail system. The N.C. House's proposed voter ID law would affect mainly poor and minority voters, many of whom live in Charlotte. McCrory has said the state won't contribute $62.5 million to a planned $250 million renovation of Bank of America Stadium, raising fears that the Carolina Panthers, now or later, might relocate, robbing Charlotte (and the state) of its NFL franchise.
Mohammad Jenatian, president of the Greater Charlotte Hospitality and Tourism Alliance, says that the denial of stadium improvement money has sent a shiver through Charlotte's business community. The HTA is a business organization that represents more than 800 companies in Charlotte's lodging and tourism industries.
"The city, county, state, and federal governments all need to work together and communicate with each other, and they have to be part of the same team," Jenatian says. "For a lot of us who love this community, it definitely makes our jobs harder. We don't have any agenda other than to see our community grow."
In February, Charlotte Chamber President Bob Morgan and Charlotte Regional Partnership President and CEO Ronnie Bryant told a group of about 400 business leaders in Charlotte that public fighting between the state and city could hurt economic development. Bryant relayed a story about a meal he shared with a pair of New England business leaders who asked him, "What is going on between your mayor and governor?"
"This is serious," Bryant told the group, gathered at Central Piedmont Community College for a conference on, appropriately enough, global competitiveness. "We need to minimize that type of public display of dissension." (Bryant says through a spokesperson that he doesn't want to comment further; Morgan did not respond to requests for an interview.)
The dissension between Charlotte and Raleigh, of course, is not new. But its public nature is, and most people involved agree that the politics have become more divisive than ever. And there's no sign they'll improve in the near future. Redistricting by a Republican-controlled General Assembly, based on 2010 Census data, means likely GOP control of the legislature until 2020 or later. Meanwhile, Charlotte continues to attract younger and more diverse newcomers who ensure Mecklenburg County will continue to lean solidly Democratic. Barring a drastic change in next year's legislative elections, Charlotte appears to be on its own.
One of the oddities of the recent examples of Charlotte-state tension is that much of it is coming from Mecklenburg County legislators. House Speaker Thom Tillis of Cornelius, who until 2005 was a town commissioner, is the General Assembly's most powerful member and one of its most conservative. (Tillis also did not respond to interview requests.) Republican Senator Bob Rucho of Matthews has led the push to abolish the state income tax and raise sales taxes, drawing from studies by right-wing think tanks that argue such a move leads to economic growth. It also would, without question, disproportionately harm poor and minority populations in places like Charlotte and Durham by taxing staples such as groceries at higher rates. (House members have slowed down the measure after it quickly passed the Senate.)
When McCrory indicated that Charlotte's streetcar project might endanger state funding for the LYNX Blue Line extension to University City, Mayor Anthony Foxx and Senator Malcolm Graham of Charlotte accused the former mayor of "meddling" in city affairs. In response, a group of lawmakers led by GOP Representative Bill Brawley of Matthews accused Foxx and Graham of "indulging in inflammatory political rhetoric."
Brawley, a second-term legislator who chairs the House Transportation Committee, tells me he's always supported state funding for light rail but merely wanted to warn city officials about the potential political cost of pushing too hard for the streetcar, a 10-mile, $457 million project that would link minority areas in east and west Charlotte through uptown.
"Our message was, 'It's not that we want to kill the streetcar. Just understand that if you act like you're flush with streetcar money, it makes it harder to get votes in the General Assembly for anything,'" Brawley says. "I get dinged every time I vote for the Blue Line money, but I keep voting for it. I'm willing to take the heat. I just need for the City Council to understand who their friends are."
The sentiment strikes Graham as patronizing and emblematic of what he calls a state Republican "power grab." It includes an effort to place city-managed Charlotte Douglas International Airport under control of a state-appointed authority and Senate Bill 10, which would give the governor and General Assembly free rein to clear out members of state boards and commissions, who are appointed, and replace them with more administration-friendly members. (In March, the House sent a more measured version of the bill back to a Senate committee.) "They're not creating jobs, they're simply creating havoc," Graham says. "North Carolina, which was known as a progressive state, is taking several steps backward, and we're going to have to deal with that."
One of the oddities of the recent examples of Charlotte-state tension is that much of it is coming from Mecklenburg County legislators.
Behind some of the more right-wing measures floated in the current legislative session—including the income tax idea—is an organization asserting itself with growing force in state legislatures around the country: the American Legislative Exchange Council, or ALEC.
Founded in 1973, the nonprofit "works to advance the fundamental principles of free-market enterprise [and] limited government," according to its website. In reality, it's an unofficial lobbying firm that drafts pro-big business legislation that often passes state legislatures verbatim. It operated in the shadows for much of its existence until the Trayvon Martin shooting case in Florida last year helped expose the organization's drafting of that and other states' so-called "stand your ground" gun laws.
ALEC has advocated nationally, and specifically in North Carolina, for such measures as voter ID laws, elimination of the state income tax, cutting funding to higher education, and pro-fracking bills. Several prominent Republican legislators have ALEC ties, have attended at least one ALEC annual meeting, or belong to one or more ALEC task forces, arrayed around issues such as education and international relations. According to the liberal Center for Media and Democracy, those legislators include Tillis; Brawley; Senator Tom Apodaca, the primary sponsor of Senate Bill 10; and Rep. Ruth Samuelson of Charlotte, a veteran legislator who chairs the House Banking Committee. ALEC held its last Spring Task Force Summit, an annual gathering of organization leaders, last May at the Westin Hotel in Charlotte.
ALEC's involvement in North Carolina and other Southern states has helped erase some of the insularity that once characterized the states' politics; now, it's common for similar measures to pop up simultaneously in several states. (Louisiana, for example, is considering abolition of the state income tax.) So far, the overall effect in North Carolina has been to drag the state into line with the conservative philosophy of its Deep South neighbors, says Susan Roberts, a Davidson College political science professor and North Carolina native.
Under the leadership of Democratic governors such as Terry Sanford and Jim Hunt, and even Republicans Jim Holshouser and Jim Martin, the state set itself apart from its counterparts in the South by stressing robust funding of education and public infrastructure. "I don't think North Carolina is going to continue to have the reputation as a progressive Southern state," Roberts says, adding that the passage last year of Amendment One, which bans gay marriage, struck her as a "bellwether." "North Carolina is starting to resemble other Southern states as far as being conservative. Charlotte now is the outlier as far as where the state's going, with the Research Triangle being the other exception."
North Carolina is often referred to as a "purple state," roughly equal parts Republican and Democratic. The state's 15 Electoral College votes went to Barack Obama in 2008 by a little more than 14,000 votes and to Mitt Romney in 2012 by 92,000, slim margins given the more than 4 million votes cast in each election. Despite the Republican supermajorities in both legislative houses—a product mainly of gerrymandering by Republican lawmakers, who assumed control of the General Assembly in 2010—Democratic voters actually outnumber Republicans, 2.77 million to 1.98 million.
It's closer to reality, though, to view North Carolina not as purple but as two distinct regions within a single border, almost mimicking the nation as a whole: densely populated, minority-rich, socially progressive urban islands that vote blue in a sea of sparsely populated, white, socially conservative rural country that votes red. To some degree, it's been like this for years, at least since the seismic party realignment that sprang from civil rights legislation in the 1960s. But the divide is widening.
"The tension in the Republican Party is that the base has left the Charlottes and the Raleighs for the rural areas that don't want to be Charlotte or Raleigh," says Ferrel Guillory, a UNC Chapel Hill journalism professor and keen observer of North Carolina and Southern politics. "That combination has removed that ruralness from the Democratic Party and made the GOP much more the party of rural North Carolina."
While the state government has swung sharply right, the state's overall demographic trends strongly indicate gains for population segments that generally vote Democratic, such as minorities and young people. In general, the cities—the blue islands in the sea of red—are getting larger, younger, and more diverse; the percentage of North Carolinians who live in urban areas rose from 58 percent in 1990 to 66 in 2010.
The 2012 presidential election results in North Carolina followed the trend predictably. Romney won the state, but Obama easily carried North Carolina's four largest counties (Mecklenburg, Wake, Guilford, and Forsyth).
There's another layer of complexity: suburban and exurban voters, who may work in the cities they live near but tend to vote in line with their rural counterparts. This describes the districts represented by Rucho, Tillis, and Brawley. Again, this isn't a new phenomenon for the nation, but it's a relatively new phenomenon in Charlotte, says Eric Heberlig, an associate professor of political science at UNC Charlotte whose specialty is legislative elections.
"The suburbs are really where the modern Republican Party got started in the South, so beating up on the city is not necessarily a bad political strategy for them," Heberlig says. "You used to have significant white support for public investment in the city, where the open question now is whether the public battles over the streetcar and the airport and the Panthers contribute to the perception that city spending is being targeted to benefit somebody else and not the voters with income who pay a lot of the taxes."
Shorn of euphemism: Are affluent white county residents in Ballantyne and Huntersville willing to pay for public infrastructure that benefits minorities who live near Tuckaseegee Road on the west side or off Central Avenue to the east?
---
It's tough to predict just how much of the General Assembly's aggressiveness this session will translate into hard policy. McCrory suggested in a radio interview this year that state-funded universities needed to adjust their curricula to meet business needs, but he backed off after an outcry from higher education leaders. Still, in late March, lawmakers floated the idea of closing one or two UNC system campuses as a result of McCrory's tight proposed budget.
It was uncertain at press time whether Charlotte would retain control of the airport, or how many members of state boards and commissions would be replaced. State funding of Charlotte's light rail expansion appeared to be safe, although the streetcar-related dustup rattled nerves around the city.
But Charlotte and Raleigh are growing, and the demographic shift in North Carolina, as in the nation, is undeniable. The question remains whether the current batch of conservatives in the General Assembly are simply making one last ferocious push against the tide—overplaying their hand on purpose to try to counteract in advance the shift to center and left they know is coming.
"I've heard some people suggest that this is a very Tea Party-driven agenda, so they want to get these decisions out of the way as quickly as possible, so when election season starts a year from now, who's going to remember it?" says Bob Phillips, executive director of the progressive lobbying organization Common Cause's North Carolina chapter. "Will it come back to haunt them? I don't know. It all depends on how much people remember, and what kind of effect these actions have on people's lives, and those are things we'll just have to find out."
Of course, the problem is that the actions or inactions and their consequences will play out over years and resonate most deeply in places like Charlotte, where public investment naturally means more than in rural areas in the far east and west of the state. It's a city where change is a given, and harmony between state and city can mean the difference between change that settles smoothly into a city or change that overwhelms it.
Greg Lacour is a contributing editor for this magazine. He also blogs on politics at Poking the Hornet's Nest.