Speak Up, the People's Publication
A local couple launches a magazine by and about the homeless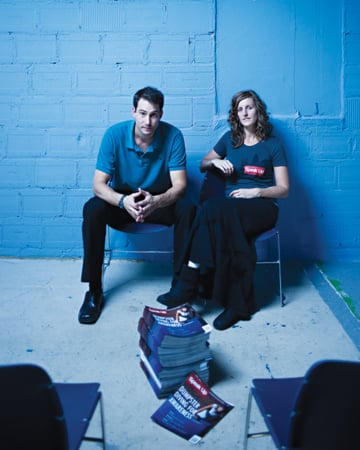 Thomas Aikens, a thirty-six-year-old New York native and former crack addict, has lived on the streets of Charlotte for roughly four years. Aikens worked as a data technician back in New York before he got hooked, and here he's worked as a cook, a carpenter, a roofer. But he always backslid into his addiction and never managed to hold on to a home. It's a familiar tale. He's been clean for a while now, he says on a soupy late morning just after Labor Day at the Men's Shelter of Charlotte, where he's secured a bed for the night.
But Aikens has a few things going for him. He's enrolled in substance-abuse and job-readiness programs at the Men's Shelter and lined up a new job of sorts: vendor for Speak Up magazine, the incarnation of a concept established in cities around the world but new to Charlotte.
Speak Up—founded by a former high school English teacher named Matt Shaw and his wife, Lana—is a "street paper," or, in this case, magazine—a publication that covers and employs the poor and homeless. Street papers run on a model established in 1989, when a musician founded Street News in New York City: vendors buy a few hundred copies of the paper at half price or less, then sell the copies at full price, keeping the proceeds. (Volunteers, some homeless themselves, write the copy and shoot the photos.) The model has worked with some success all over the globe; 114 street papers operate in forty countries, according to the Glasgow, Scotland-based International Network of Street Papers.
By the end of August, the Shaws had raised $8,000, enough to print 10,000 copies of their first thirty-two-page issue in September, and they planned to assemble their vendor team by mid-October. The teams will work street corners and sidewalks. Each vendor will wear a vest and carry an ID and peddler's license, and vendors have to sign forms promising they'll act professionally on the job. Shaw hopes he can use the first issue to attract more private donations and publish monthly. "If this really works, at a certain point we won't need donations, because we'll be self-funded through sales," he says. "We'll see."
Aikens has walked the newspaper vendor's beat before, selling copies of the Post and Daily News on New York street corners. "I look at it as another avenue to make honest money. I don't walk on water or turn doo-doo into sugar, but I believe in honest work," he says. "I tell my kids that fast money is what got me into trouble. Honest work is what's going to get me out."