Staying Stephen
Last March, Davidson's Stephen Curry became an instant national celebrity. Now he returns for his junior season, and the hype is building. How will this story end?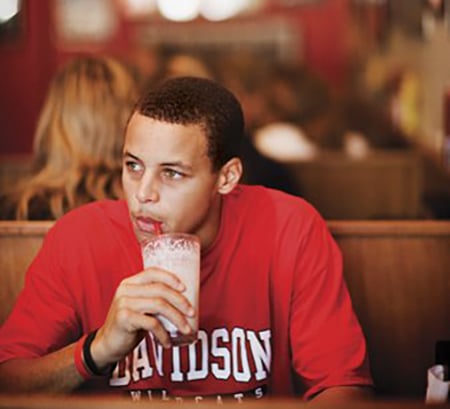 NOT QUITE 1,700 students are enrolled at Davidson College, and one of them, Wardell Stephen Curry II, is one of the best, most hyped, most visible college basketball players in the country. This is not supposed to happen.
But last March, in the NCAA tournament, Davidson's basketball team won a game, and then another, and then another after that, and fell just two points short of beating eventual national champion Kansas for a spot in the Final Four. CBS took Stephen Curry, son of Charlotte, and made him America's golden boy.
In the spring, he was on Charlie Rose on PBS, The Early Show on CBS, and Late Night with Conan O'Brien on NBC, and he was a finalist for the Wooden Award for the national player of the year. In the summer, he went to the ESPYs as a candidate for breakout athlete of the year, was written about on ESPN.com, on CBSSports.com, on SI.com, and in the Observer, and was invited to the elite camps of NBA superstars like Chris Paul and LeBron James.
LeBron's cell?
Kid's got it.
Stephen, pronounced STEFF-in, who won't turn twenty-one until the middle of March, is not the first basketball star at Davidson, and he's not the first basketball All-American there, either. What he is, though, and he is very much this, is Davidson's first basketball star in the televised, talked-about, blogged-about, YouTubed, sports-crazy, Internet-fueled infotainment culture in which we now live. He is a national player of the year candidate, arguably the face of the college game, certainly one of its boldest boldface names. He is a main character in ESPN's spot-lit, big-bucks college sports reality-show narrative that never ends. He is also, still, a student at little Davidson College in northern Mecklenburg County.
The Stephen Curry story for two years has been whole heaps of fun. But the truly interesting stuff is just about to begin.
People talk around town. They talk about the team, they talk about coach Bob McKillop, and they talk a lot about Stephen. The talk never really stopped after March, and just kept going through the hot, slow, studentless months, and straight into the new academic year and the approaching start of the new season.
People wonder if Stephen can shift from playing mainly shooting guard to playing more point guard. They wonder if he can play in the NBA. Is he good enough, tall enough, strong enough? "He will play in the NBA," an NBA scout told me last summer. "I see him as a first-round pick in '09." That's if he chooses to leave school early and go pro. Which is another question.
And these are fine questions, all of them, and plenty worthy of fan discussion over coffee at Summit on Main Street, or over beers at the Brick House Tavern in Davidson.
But none of them is the most compelling question.
Can Stephen stay Stephen?
We all have a stake in that.
***
BEFORE WE GO THERE, though, let's talk about how we got here.
It wasn't that long ago, after all, that Stephen Curry was only quasi-known just around Charlotte, and then mostly as the short, scrawny son of former Hornet and overall good guy and community man Dell Curry. At Charlotte Christian, Stephen was 5-foot-6 as a freshman, 5-foot-8 as a sophomore, 5-foot-11 as a junior. His jersey hung on his slender shoulders as if on a wire hanger in the corner of a closet. It wasn't that long ago, either, that he showed up at Davidson for freshman orientation with a microwave, his laptop, four duffel bags, and a red, white, and blue quilt he got from his grandmother as a graduation gift.
Then he went and scored thirty-two points in his second college game.
Against Michigan.
In Ann Arbor.
And it took off from there: Southern Conference freshman of the year, league tournament most valuable player, a college record for three-pointers in a season by a rookie, thirty points against Maryland in the NCAA tournament. Then, last year, his sophomore year, more, more, more: thirty-eight points against Appalachian State, thirty-seven against Chattanooga, forty-one against UNC-Greensboro, league player of the year, league tournament MVP again, second-team Associated Press All-American, and a college record for three-pointers in a season. Not by a rookie, but by anybody, ever. And somewhere in there, somewhere along the way, middle-aged men, Davidson men, serious men with serious jobs, started showing up to games in Belk Arena wearing red No. 30 jerseys.
That took two years.
The whole celebrity thing?
That took ten days.
March 21 to March 30, Gonzaga, Georgetown, Wisconsin, Kansas, and in Davidson's four games in the tournament Stephen scored forty, thirty, thirty-three, and twenty-five points, and none other than LeBron, global basketball royalty, showed up with his posse behind the Davidson bench "to see the kid," and the rest of the country went bonkers for the guard with the peach-fuzz face.
The AP called him the star of the tournament. So did USA Today. So did The Washington Post. The Observer called him a "national sensation."
The suddenness of such stardom made it intrinsically captivating: Here was one of the best players in all of college basketball, seriously, and before that week and a half most folks didn't even know his name. Davidson people were gleeful, which was to be expected; what was interesting, though, was that everybody else was, too.
Why?
***
THINK ABOUT WHAT we cheer for these days. We cheer for home run hitters who turn out to be doped-up frauds. We cheer for star quarterbacks who turn out to be dog killers. Last year, we cheered for the Patriots' pursuit of a perfect 19-0 record, or many of us did, but that pursuit came with an embedded, uncomfortable question: were these guys cheaters? And we cheer for the biggest stars in college basketball every year, even though it's quite clear that most of the highest-tier talents are something other than "real" student-athletes, on campus doing their single, obligatory year before they can play in the NBA, largely unpaid (or at least not legally paid) props who are made to participate in this sham for the purposes of our entertainment and frankly because too many people (who aren't them) make too much money off even their just-passing-through presence.
Maybe that's too cynical. Doesn't make it untrue.
But Stephen?
Sociology major. Lives on campus. Has every year. Lives with Bryant Barr, Steve Rossiter, and Dan Nelms, his teammates and friends. Goes to soccer games. Goes to field hockey games. Goes to frat parties. Celebrity? Superstar? College kid.
What Stephen became in March was the face of an increasingly elusive guilt-free fan experience.
CBS put the Davidson-Kansas game in pre-60 Minutes primetime for a number of reasons, but Stephen was a major factor, the network's senior vice president of programming told me. The decision worked: the ratings for the game were the second-best in that slot in this decade, higher even than the North Carolina-Georgetown game the year before.
Wendell Barnhouse from the paper in Fort Worth, Texas, called Stephen "hypnotic."
"Unlike so much of college basketball," wrote Michael Rosenberg of the Detroit Free Press, "Curry is more appealing the closer you get."
"It's impossible," The Columbus Dispatch's Michael Arace wrote, "to take your eyes off him."
Last summer, when I was in Davidson, I went to a handful of late-night pickup games at Belk Arena—current Davidson players, graduated Davidson players who now play pro overseas—and the number of people in the stands, at 10 p.m., even 11, was larger on the nights when word had gotten out that the kid was in town.
Plug Stephen Curry into YouTube. Earlier this fall, there were almost 400 videos, some of them homemade highlight reels set to songs with titles like "Superstar" and "Dangerously in Love."
128 points.
160 minutes.
That's how many points Stephen scored in the tournament last year. That's four games on CBS.
That did this.
It's a testament to TV's enormous power. TV takes what it touches and turns it into a commodity. A human commodity is a celebrity. That word makes Stephen hem and haw, but he does cop to this: since last March, his life has changed.
OVER THE LAST eight or so months, while working on a book about Davidson basketball, I've spent more time thinking about and talking about Stephen Curry than I probably should admit. I've talked to Stephen, his parents, his high school coaches, his college coaches, his high school teammates, his college teammates, local media folks, national media folks—shoot, I've talked to the kid's freshman-year hall counselors—and so I feel comfortable stating the following: he is in fact what he seems to be.
His apparent humility?
It's not an act.
He's practically bashful.
When he was on Conan, he walked out onto that stage, everybody was clapping, he sat down, crossed his legs, uncrossed them. He seemed jittery. Nervous. People at Davidson noticed it, and loved it. Nobody, not even off to the side, not even in disappointed hush-hush, has suggested to me that Stephen's getting a big head.
It makes some sense when you know that Dell Curry grew up in tiny, rural Grottoes, Virginia, helping his dad, a day-shift machinist for the General Electric factory in nearby Waynesboro, keep the rows of the family's large garden meticulously weedless and straight. Also, this: when Dell Curry came home after his first season in the NBA, he told his dad he wanted to buy him a new pickup truck, and so they went down to the local Chevy lot, and his dad picked out the one he wanted, a nice blue and white one. Used. Stephen might have grown up with the kind of material privilege associated with a father who for sixteen years made NBA money, but he comes just as much from Grottoes, that garden, that pickup. You, son, Sonya Curry often tells her first born, are blue collar.
Barr has lived with Stephen his freshman year, his sophomore year, and lives with him now.
He found out his teammate and good friend was a Wooden Award finalist by reading it on ESPN.com.
"Why didn't you tell me?" he asked.
Shoulder shrug.
Before his freshman season, before any of this, McKillop, the cerebral, silver-haired Davidson coach, told people Stephen was special. He told reporters, told alums, told friends, and he did that because (1) he believed it, and (2) he thought the freshman, eighteen at the time, could handle it.
***
NOW COMES THIS season. It feels different. Expectations are higher than they've been since the late 1960s, when Davidson was a national power, but back then, of course, there was no ESPN.com poll asking America if Davidson can make the Final Four. Heading into this season, for the first time ever, Davidson could be not underrated, but overrated. Stephen is the person most associated with that hype, not because he wants to be, not because his school wants him to be, but because ESPN and CBS want him to be. Because we want him to be.
The people who know Stephen the best say he's ready for all this.
"Remarkably poised," McKillop told me in September. "Remarkably prepared."
But back to the most compelling question.
Can he stay that way?
Can Stephen stay Stephen?
Last spring, in the aftermath of the tournament spotlight, he didn't take the instantaneous hype and turn it into immediate cash by going pro. We find that reassuring. But it also scares us. We wanted him to make the "right" decision. We now want for him to not get punished for it.
***
WHY ARE WE drawn to him?
He scores a lot of points. We like the guys who pass the ball or rebound the ball or dive on the floor, but we love the guys who score, and Stephen has a chance, if he stays for his senior year, to become the NCAA's second-best scorer of all time, behind only Louisiana State legend "Pistol" Pete Maravich.
People say Stephen looks like the water boy, like the kid next door, like the kid who cuts your grass, he looks twelve, he looks fourteen, he looks like he's just been bar mitzvahed. Meg Kimmel, the editor of the Davidson Journal, the alumni magazine, puts it like this: "He's still pupating."
How he looks adds to the allure of what he does.
We look at LeBron and say he's strong. We look at Shaq and say he's huge. We look at Kobe and say he's quick. We look at Stephen and say…
How?
Those who know Stephen and know the game talk about how he uses screens, his quick feet, his quick release, his high fatigue threshold, his unusual ability to stop and then start again. Gym jargon. That, or vague discourse on nature and nurture: exposure to the game at a high level at an early age, shot form somehow bequeathed through bloodlines, the notion of some sort of organic, ongoing basketball osmosis thanks to his NBA dad.
When Dell Curry was with the Hornets, and Stephen was a boy, Sonya Curry would sit next to her son at games and ask him: "See your dad?"
Stephen watched those games as a boy in a way that in retrospect was highly unusual. He didn't watch the ball. He watched his dad. What that meant was that he grew up watching the movements of a man who for a decade and a half was one of the world's very best shooters and users of screens. Stephen, of course, didn't think of it that way at the time. He was just a kid who wanted to watch his dad. But still.
When Stephen got to Davidson, the fall of his freshman year, he was bigger, stronger, faster, and taller than he had been at Charlotte Christian. All of that, though, was not what struck the Davidson coaches the most.
Stephen was able to take the information given to him and correct mistakes almost immediately. It wasn't that he never made mistakes. He made a lot of them. He just usually didn't make any of them a second time. McKillop has been coaching for three and a half decades, and he says he has never had a player like that. It was as if Stephen listened to what he was told, painted a picture of the movements in his head, then channeled those movements onto the court, at full speed, the very next play.
ESPN college basketball analyst and Charlottean Jay Bilas said a few months ago on the phone that Stephen is one of the smartest players he's ever seen.
"Not just in college," he said. "Period."
Stephen, he said, has a brain for basketball that is "Einstein quality."
PEOPLE WATCHIN HIM play don't think about that. They see shots going in. But here's what else they saw last March. Stephen was so attractive, even to strangers to Davidson, because it was clear that he was part of his community. Somehow this came though: what he does and how he does it jive with the ethos of his place.
The former Davidson president John Kuykendall once ran a capital campaign called "A Quiet Resolve." That's Davidson. Kuykendall is an ordained academic who speaks in an avuncular Southern accent, and I met with him one afternoon last summer at the student union.
"I marvel at Stephen Curry," he told me. "He has so much grace in what he does."
Grace?
"There has been, at least to date, and I hope it continues for four years, a kind of innocence, a kind of delight, to what he does," Kuykendall said. "He plays basketball like he's playing pickup baseball in the summertime. There's joy in that act, and that's a mark of grace. His jump shots go in from Cornelius and Huntersville, and he doesn't hang around and say, 'Golly, wasn't I good?'
"I think that's lovely," he said.
Stephen writes scripture on his sneakers. "I can do all things…" Philippians 4:13. Black Sharpie. He has one tattoo. It's new and small and on the inside of his left wrist and reads "TCC" and "30." The letters stand for "trust, commitment, care"—the team motto—and the number is his jersey number. All that is to say: he uses ink differently than a lot of athletes. That's why the interesting words "uncorrupted" and "nonthreatening" come up in conversation about him. But this is not a conversation Stephen wants to have. He does not proselytize, and this, too, fits the institution he represents.
Last March, Kyle Whelliston, who covers mid-major-conference basketball for ESPN.com, wrote on his Web site, mid majority.com, a passage that was particularly keen: "He sees himself as a conduit, not a battery. He doesn't store up God credits for explosive performances later. … He stays grounded because he believes that the divine flows through him, not into him."
Stephen points when he's on the court. He points at his teammates when they pass him the ball and it leads to a score, he points to fans in the stands, he even pointed at his parents after he hit an important three-pointer late in the Gonzaga game in the tournament. What he says with the pointing on the court is something he actually told me on the phone one evening many months later.
"It's not just me."
People saw that in March, they felt that, and not just Davidson people. He was a part of his team, and his team was a part of his school, and his school was a part of the town. He wasn't one-year-and-out on his way to the NBA. He wasn't a mercenary.
There was "of"-ness.
He was a star, and everybody knows a star when they see one, and yet he was very clearly "one of," not "the one." TV picked up on that and went to it like a magnet to metal. TV commodifies by beaming images up and out. But it also quite literally puts a screen between the watcher and the watched. On the Davidson games in March, though, the relationship between the people in the stands and the kid wearing the No. 30 jersey was not one of wanton, arm's-length idolatry. There was not the typical, expected separation.
But here's the twist: what people saw last March that sucked them in—that innocence, that intimacy—is now, ironically and almost inevitably, what might be at risk heading into this season.
Last April, at the postseason celebration at Belk Arena, the college had two men from campus security shadow Stephen.
Over the summer, and into the fall, the basketball office got requests for Stephen's time unprecedented in number and nature.
Can he come to a birthday party?
Can he speak to a church group?
Can he visit an elementary school class?
"The thing we'll have to remind people," school sports information director Marc Gignac told me, "is that he's also a college student."
Will people understand that?
Early one morning this fall I got up to work on this story and in the process of procrastinating I ended up reading a story online from Details magazine about Terrelle Pryor and then a story in The New York Times on Andy Katzenmoyer. Pryor is a freshman quarterback at Ohio State right now who in high school in Pennsylvania rushed and passed for 4,000 yards and might have been the most recruited athlete in history. Katzenmoyer is the former Ohio State linebacker who was an All-American and was asked for autographs while taking tests but then had two ineffective seasons in the NFL before retiring. Both stories made me think of a recent Rolling Stone piece called "The Tragedy of Britney Spears." It contained this insight: "She is intelligent enough to understand what the world wanted of her: that she was created as a virgin to be deflowered before us, for our amusement and titillation. She is not ashamed of her new persona—she wants us to know what we did to her."
I'm not saying the Stephen story is a Pryor or Katzenmoyer situation. And I'm not saying Stephen is going to turn into Britney Spears. I'm definitely not saying that. But all the stories in their own more modern ways conjure some age-old story lines.
Success spoils.
What goes up must come down.
Too much too soon?
We don't know how the Stephen story ends. Not yet. What is known, though, is that Stephen is about as prepared as any twenty-year-old could be to handle what's coming his way. His dad's been there, done that, and he has smart people around him.
So can Stephen stay Stephen?
Maybe the question is more for us.
Will we let him?
***
OVER THE SUMMER, talking to hundreds of people about the shot last March that would have put Davidson in the Final Four had it gone in, I heard from more than just a few people an idea that was isolated and self-consciously contrarian, until I kept hearing it—at which point it became fascinating. What these people told me was that in a weird way, and for reasons they couldn't quite figure out, they were kind of glad the shot didn't go in.
The source of the sentiment, I think, has to do with the idea behind that line from the Britney story.
What we did to her.
Last April, at that celebration in Belk Arena where Stephen had the two security guys with him, McKillop stood on the stage and in his speech he referenced the Bible, Micah 6:8.
"Act justly," he said.
"Love tenderly.
"Walk humbly with your God."
The thousands of people at Belk that night clapped and clapped, and then they stopped, and it was silent again, and McKillop said this:
"That's the challenge we now face. We are an elite team. We are on a pedestal. We are on the Broadway stage. … We need you to hold us accountable as we continue to chase our dreams."
Lots of people heard pretty words that night, and I heard them, too. But it's not all I heard. I heard a preemptive strike. McKillop's no rookie. He knows what's coming.
THE NATIONAL MEDIA are going to do what they do. In July, Grant Wahl, the college basketball writer for Sports Illustrated, came to town. He talked with some of the guys. He met with McKillop. He had beers at the Brick House. The story ran in the magazine in September. That was just the beginning.
Stephen is now 6-foot-3 and change. He's not done growing.
Davidson opens the season with the preseason NIT in Oklahoma in November. The team plays Purdue in Indianapolis and West Virginia in Madison Square Garden in December. Duke in Cameron Indoor Stadium in January. Then March.
That's a lot of TV time for Davidson.
Stephen in last year's tournament was an exceptional example of an unexceptional thing: one of the most reliable (and recyclable) characters in our sports culture, the previously unknown March Madness star. Those guys pop up, just about every year, and then they're gone. We chew 'em up. We spit 'em out. Two things are different about Stephen: (1) he wasn't just a one-game or even one-weekend curiosity, and (2) he's still here.
So what now?
What do we do with him?
Davidson doesn't want to promote him at the expense of the team. McKillop preaches team, always has, and his guys believe it. That includes Stephen. The team, after all, finished last season ranked ninth in the nation, which, when you think about it, for a school with 1,700 students, is pretty much absurd. This past July, though, associate head coach Matt Matheny was at a recruiting event in South Carolina, and a woman sitting next to him looked at his shirt—DAVIDSON, it said on the chest—and she looked at him, and said, "Oh, Stephen Curry."
Davidson can't control that.
The school had a full-page ad for season tickets in the Observer in September: "30 Reasons to Experience Davidson." Most of the reasons weren't specifically about Stephen. But the biggest image in the ad was of him.
Still, the institutional inclination is to protect him more than promote him, and I think Stephen appreciates that. He sees campus as a haven.
At least most of the time.
In late August a thread popped up on the fan forum at DavidsonCats.com. It was called "Read this—It will make you proud" and was by a poster known as "JerseyLaywer," who in real life is Steven Suflas, class of '73. He's an attorney outside Philadelphia.
"Last Wednesday night," he wrote, "we arrived to move in my youngest daughter as a member of the Class of 2012. As with every year, a group of upper class volunteers were present to help with the actual 'heavy lifting' of freshman gear. After we dropped her stuff outside the basement of Belk, I moved the car to a remote parking area.
"As I was walking back up past Little, I passed the Most Outstanding Player of the NCAA Midwest Regional, heroically trying to carry an incoming freshman's refrigerator up the hill all by himself. I grabbed half of the refrigerator to help and told him how proud he made us all, since at any other school, five kids would be carrying his stuff, instead of him carrying a stranger's stuff. Steph was as humble and polite as you would expect."
I called Stephen to ask him if that's how it happened. He said it was more or less. He said he and Steve Rossiter, his teammate and roommate, had signed up to help on what's known as the orientation team. That's what students on the orientation team do: they cart TVs and dorm fridges and bookshelves into new students' rooms. There were hundreds of students on the orientation team. Stephen was one of them. What he was doing was by definition ordinary.
And yet the reaction on DavidsonCats.com included the following posts.
"We are witness to something very special."
"Amen."
"!!!!!!!"
This needs to be said out loud: the only thing that was out of the ordinary about that act was who was doing it. That was the perception. Implicit in that perception is the tacit belief that he is different. Separate. Even if he doesn't want to be. This is when that "of"-ness starts to change, not because of anything he's doing, but because of something we are doing.
Rossiter watched the faces of the freshmen whose cars they approached, and even the faces of the parents of the freshmen, and there often was a moment of surprise, he said, when they realized they were being helped by Stephen Curry. "Like he wasn't human," Rossiter told me. Rossiter saw something important. In a way, for those freshmen and their parents, and unlike most of the rest of the people on campus, he wasn't human.
They had "met" Stephen already, last March, on CBS.
That screen was there.
Not long ago, Stephen told me he had noticed some of the freshmen, at least earlier this fall, taking pictures of him with their cell phones. Weird, he thought. I asked him what he does when those kinds of things happen on campus.
His answer?
He introduces himself.
Michael Kruse is a staff writer for the St. Petersburg Times. His book about the 2008 Davidson tournament run, Taking The Shot, will be published later this year by Butler Books.