The Green Setback
With the departure of one of the city's biggest environmental advocates, Charlotte's green movement faces a murky future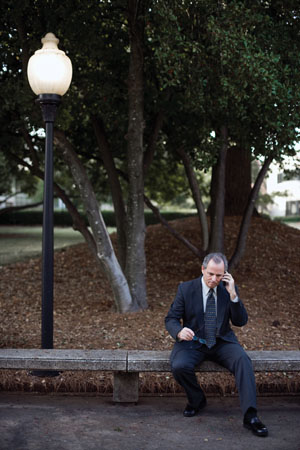 THIS PAST SPRING, the news that Central Piedmont Community College wouldn't be renewing Ernie McLaney's annual contract knocked the breath out of Charlotte's small but passionate environmental community. "Shocking," says the Charlotte Sierra Club's Erica Geppi. The decision "saddens and baffles me," Catawba Riverkeeper David Merryman said at the time.
In a few short years, McLaney and the small but vital institution he built and directed, CPCC's Center for Sustainability, positioned themselves at the hub of Charlotte's nascent environmental movement through public programs, seminars, a new degree program in sustainability, and outreach to organizations throughout the region. "Anytime something came up that we wanted to go big with," Geppi says, "Ernie was always the one, through CFS, who convened all the stakeholders."
"When we started, nothing existed, and Ernie took that over and did a fantastic job bringing it up from nothing,"
But McLaney's focus on outreach cost him his job. (His last day was June 30.) Chad Ray, the college division dean who oversees CFS, says the partnerships McLaney forged with such groups as the Sierra Club and National Wildlife Federation, and the center's strong support of the annual Earth Day festival Charlotte Clean and Green at CPCC, are generally helpful but fail to emphasize the college's primary mission of workforce development. McLaney, Ray says, also didn't bring in enough grant money to suit him and other college officials.
"When we started, nothing existed, and Ernie took that over and did a fantastic job bringing it up from nothing," Ray says. "But what's next? We felt we needed a fresh set of eyes."
McLaney doesn't dispute the outreach-versus-instruction basis of his dismissal but otherwise declines to go into detail about the split. "It was one of those things," he says, "where you just have a parting of ways." At fifty-eight, he says he wants to stay in Charlotte, his hometown, and keep doing environmental work.
The future of CFS—and, by extension, the environmental movement in Charlotte —is far murkier. McLaney was its only full-time staffer from its founding in late 2008, and he set the agenda. Ray says the college and the center's advisory board will reassess its direction and eventually hire a new director, possibly by the end of 2011.
That's a long time and a big hole Charlotte environmentalists worry won't get filled —and at a time when, with CFS's help, they were just beginning to build momentum.
"It's just bad timing all around," Merryman says. "The center was starting not only to increase its credibility but its profile in the community, and it's discouraging that CPCC has decided to remove Ernie and stop that progress right in its tracks."