The Road Not Taken
Charlotte's streetcar squabble masks deeper questions about race and class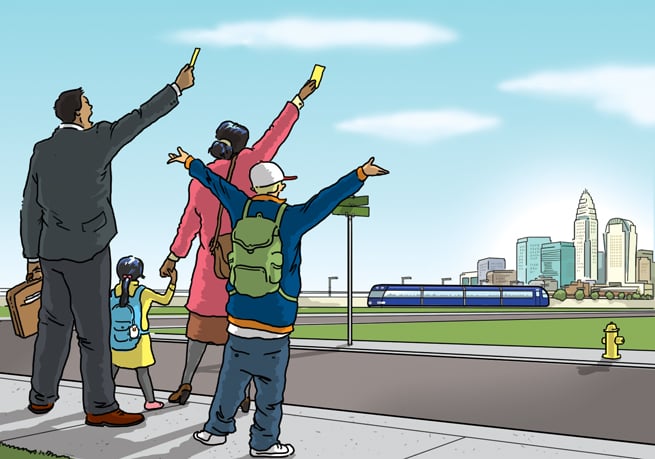 Maybe Charlotte's streetcar project is a good idea, maybe not. But it's become the city's most contentious political issue because it's a stand-in for the land-mine subjects nobody, especially public officials, wants to discuss: race and class.
The streetcar would run 10 miles, starting near the Beatties Ford Road/I-85 intersection on the west side and running through uptown to Eastland Mall, essentially extending two transit arms from the city's economic center to its poorest and most neglected areas at a total cost of $457 million. But there's not enough money in the transit fund, and although Mayor Anthony Foxx has been a devoted cheerleader for the project, a majority of City Council has declined to raise property taxes to pay for the route's first leg.
Community leaders and residents on the east and west sides think a city that's spent millions on other parts of Charlotte, especially uptown, is dragging its feet in those areas because poor and minority voters lack sufficient clout. Whether that's true, or intentional, or racially motivated—or motivated at all—is moot. There's still little public investment on the east and west sides of town, while the rest of Charlotte gleams with new development—much of it boosted by taxpayer-funded improvements.
"I don't think it's a conscious thing. I'm not calling anybody racist. I just think they're oblivious," says state Senator Malcolm Graham, referring to opponents of the streetcar. Graham, who is black, is an outspoken advocate of the project and works at Johnson C. Smith University, which is backing the streetcar as a way to connect its campus to uptown. "For a lot of people, it's more than just another project. It's the symbolism of the city not supporting each and every side of town in equal measure."
Uptown is nothing like what it was in the 1980s. NoDa, Plaza Midwood, and University City are growing by the minute, boosted by public investment of one kind or another, and the LYNX Blue Line is fertilizing the South Boulevard corridor as city planners had expected. Meanwhile, west and east Charlotte look more or less the same as they did 30 years ago.
So it's hard to blame Foxx for pointing out the obvious during his State of the City address in February. He suggested that opposition to the streetcar project was based on "where it goes": "There are people who live on Central Avenue and Beatties Ford Road who have as much ambition as someone in south Charlotte," he said. Meaning: That ambition could blossom into reality if economic growth could meet it halfway.
It's here that we wade into treacherous waters. Charlotte has become New South Inc. by electing several African Americans to public office and embracing some minority-owned businesses, such as the Walter B. Davis Company, a general contractor that helped manage construction of the NASCAR Hall of Fame, and Mert's Heart and Soul, a soul-food restaurant that's a fixture uptown. So questionable accusations of racism tend to elicit at least as much pushback as racism itself. But that doesn't mean the perception of neglect in minority neighborhoods is invalid, and it's no excuse for city leaders to avoid a difficult discussion about an inconvenient subject.
Of course there are budgetary concerns about the streetcar project, legitimate questions about the effective use of public money and whether it represents smart development or a white elephant. There always are.
But the people who control the money need to understand that two big parts of Charlotte have largely missed out on the civic upgrade. Until city leaders are willing to talk about the streetcar project openly and in good faith, it will continue to substitute for the real conversation they need to have about what Charlotte is willing to invest in, and whom, and where, and how much—and if not, why not.
Greg Lacour, a frequent contributor to this magazine, also blogs on politics at Poking the Hornet's Nest