These Restaurants That Opened in 2020 Are Offering Takeout Right Now
Options around the city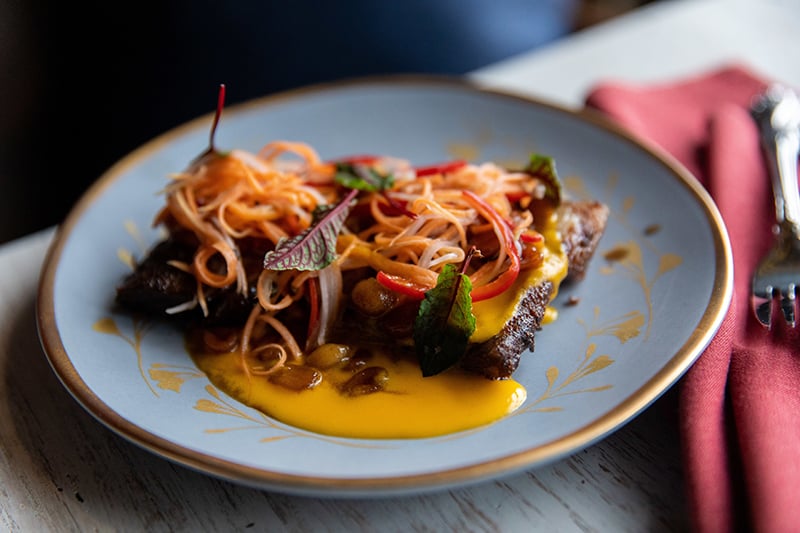 Maybe you didn't get around to trying that new Charlotte restaurant yet. Thankfully, several of the newcomers are offering takeout and/or delivery.

Leah & Louise
301 Camp Rd. (Camp North End)
Currently offering pick-up
Greg Collier, the James Beard-nominated chef and Soul Food Sessions co-founder, serves dishes inspired by the Lower Mississippi River Valley soul food he grew up with. Select items from its menu are currently available. Read Taylor Bowler's "Fresh Take" on the spot here.

What You Have to Try: Bird Is The Word (smoke fried chicken breast with comeback sauce, "b&b pickles," and butter lettuce on brioche, $12).
---
Osteria LuCa
4127 Park Rd. (Park Road Shopping Center)
Currently offering pick-up
Brendan Treyball, executive chef at TRUE Crafted Pizza, developed the menu with Chris McDade, who owns Popina, a popular Italian restaurant in Brooklyn. Osteria LuCa's wood-fired pizzas are the main attraction—rightly so—but if you come with a group, order a few other dishes to get the full experience. Read Taylor Bowler's "Fresh Take" on the spot here.

What You Have to Try: If you've come for the pizza, the classic cheese ($12) gets everything right, with crispy edges, bubbling cheese, and smoky flavor. For something a little more complex, try the Prosciutto di Parma ($15, if they have it) with arugula, shaved Parmesan, fig spread, and balsamic glaze.
---
The Goodyear House
3032 North Davidson St. (NoDa)
Currently offering pickup and delivery
Leading the kitchen is Chris Coleman, former executive chef at Stoke and recent Chopped winner. Early favorites at the spot have included marinated shrimp ($10), served with mignonette butter on a saltine cracker, and smoked cashew mac and cheese ($10). Read Taylor Bowler's "Fresh Take" on the spot here.

What You Have to Try: The Smoked Cashew Mac, which you'd never guess is vegan.

---
Charlotte Beer Garden
1300 S Tryon St. (South End)
Currently offering curbside takeout
Like the beer selection, the food menu here is broad, with wings and pizzas served alongside German Bangers & Mash, Smoked Salmon Flatbread, and various poutine options. They offer a truncated version of the menu for curbside right now. They're also offering half-gallon jugs from their enormous selection. (You can read more about the concept in the July issue of our magazine.)

What You Have to Try: Esquites Corn Dogs ($9), which are inspired by Mexican street corn.
---
Felix's Handmade Empanadas
1115 N Brevard St. (Optimist Hall)
Currently offering curbside takeout
This one barely counts, because Felix's has been a successful food truck prior this year. Alongside all of the other Optimist Hall spots, you can order some of their coveted empanadas and park outside the building. You can order empanadas as singles, trios, a half-dozen, and a dozen. (You can read more about the new brick-and-mortar for Felix's in the July issue of our magazine.)

What You Have to Try: The Shepard's Pie ($3.50 for one)