Along the Way: Renovated Spaces
After a year of big changes, this writer says goodbye. And thank you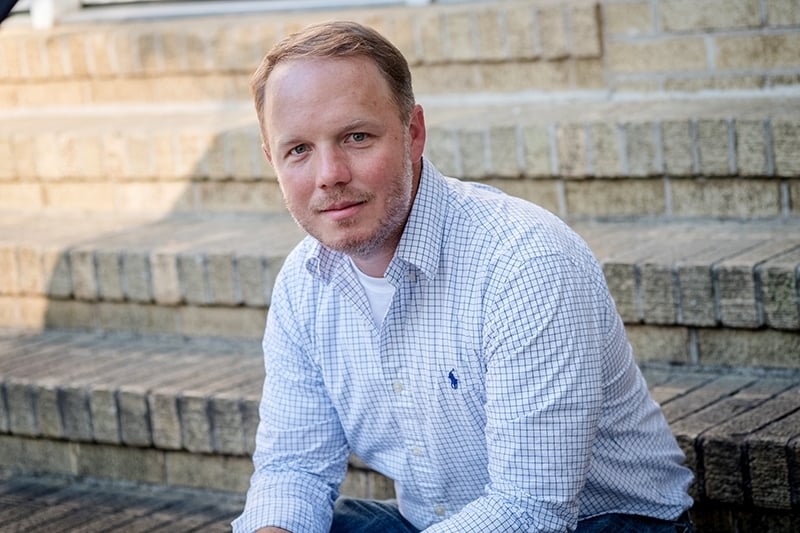 FOR HALF OF 2019, we've had a portable toilet in our front yard. That's church-speak for port-a-john, which is a little higher-class than port-a-potty. One evening this summer, a mean thunderstorm came through, and a big gust of God's humor tipped the pot on its side. The next day, people in the neighborhood stopped by to take a picture.
Home renovations are a delight if you're into that sort of fun.
The outhouse is for the construction crew that's renovating our home in east Charlotte. They tore out the walls and floors just before Memorial Day. For the next three months, we carried on with a black plastic sheet cutting off a good 15 percent of our 1,200-square-foot home. We set up a makeshift kitchen in what was left of our dining room. A toaster oven became our main oven, which wasn't all bad; it gave me an excuse to cook up English muffin pizzas like my mother used to make.
Sometime during the kitchen renovation, we decided we should add a bathroom, too. Keep the party going and all.
It's hard to predict when we'll overhaul our lives, but in 2019, we've done it. When the year started, Laura and I were freelancers who worked from home. Gizmo the dog settled into a routine of sitting next to Laura in the mornings, then curling up on the chair in my office after lunch.
Eleven days into the year, though, my father died. We'd been preparing for it for seven years, but it still changed the world. A few months later, we hired the contractor and tore up the 1940s kitchen. I bought a new truck and wrote a book proposal that, I'm happy and terrified to say, sold. And we each took new full-time jobs.
I have to write a difficult sentence here: This is, for the foreseeable future, my last column for Charlotte magazine.
Charlotte Agenda hired me to help build out the framework for a local news and journalism operation. It's an exciting challenge, one with outsized potential rewards, but I have a difficult time talking about it because of the magazine you're holding.
I've published a column in these pages for 78 consecutive months, back to July 2013. I was the editor for the first 51, and the most recent 27 ran back here on the last page.
I recently read one of the columns out loud in front of a group of writer friends in Georgia. It's from June 2015, on a man named Cole Waddell. Cole spent his entire career in advertising but always wanted to be a writer. He was in his 70s when he submitted an unsolicited story to Charlotte. It was an essay about two old downtown department stores, Jack Wood and Tate-Brown. We decided to publish it, which thrilled Cole. But in the short span of weeks between our last editing exchange and the publish date, Cole died unexpectedly. He didn't see the final version.
Cole taught me to never take for granted that I have a place to write, or that any of you want to read it.
Being part of Charlotte magazine has been an honor. It's given me a key to the city, the ability to call anyone in town and ask any question. It's introduced me to some of my closest friends. The people I worked with here were the first to call after my father died and the last to leave his memorial service.
And good news—the magazine's only getting better, thanks to people like Emma and Greg and Taylor and Allison and Jane and Melissa and, yeah, even you, Andy.
My point is, renew your subscription now.
Local media is going through a transition, and what's happening reminds me of a quote I included in a recent column, from a 1967 Observer editorial: "We're reaching the point here where concrete can cover just about anything. But it's doubtful that we'll ever have enough rose gardens."
There's a lot of sludge content out there, and it'll harden your insides. But a good story feels like soft dirt falling between your fingers. It reconnects us with reality and humanity, and it introduces us to characters that help us imagine worlds we don't know.
This magazine is a garden for all of that. I hope you've enjoyed the characters I've written about here as much as I did.
There's the crazy-in-love couple that got married on the patio of the old South End Common Market, and their 99-year-old guest named Edna, who drank out of a glass that said, "Craft Be Cherished; Rules Be Damned." There's Djordje and Branko, the Serbian brothers who own Intermezzo; a terrible softball team made up of concrete workers; a complicated high school football team made up of rich kids and poor kids; Cheryl Stearns, the greatest woman skydiver who's ever lived; and perhaps the greatest living Charlotteans, Hugh McColl and Dot Counts-Scoggins.
Of course there were the recurring characters: my dad and mom and my brother, Kenny. And Gizmo.
And in the lead role, Laura, the Charlotte native who let me marry her and her family and her hometown, who's made and remade a home with me, and who, by the way, is due with our first child in March.
If you ask me, Charlotte is the richest dirt on earth.