Charlotte and Its Police Department: In Recent Years, a Rough Road
These stories offer context for this tense moment in our history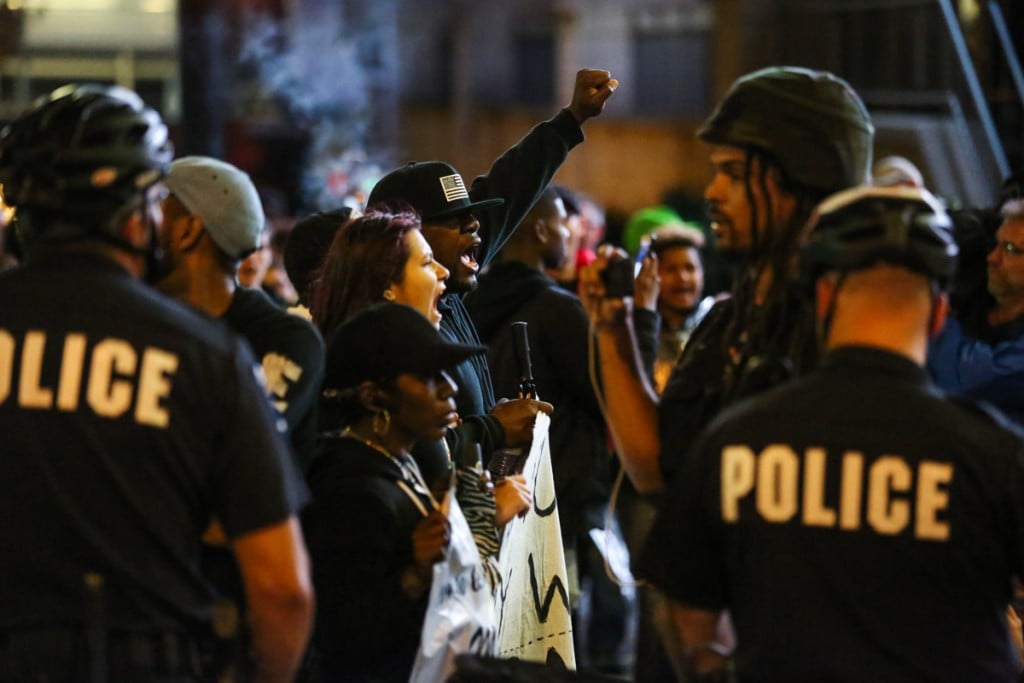 On June 2, in the midst of nationwide protests over the police killing of George Floyd in Minneapolis, Charlotte-Mecklenburg Police deployed tear gas against a group of about 200 people marching up Fourth Street uptown. Police had blocked off Tryon and College streets, which contained demonstrators within that block of Fourth and forced them to scramble for shelter. More than 50 complaints to police alleged that officers had used a tactic called "kettling" to restrict the protesters' ability to move away from the gas, but a state State Bureau of Investigation review concluded that demonstrators did have avenues of escape.
From the start, CMPD maintained that officers at the scene had not planned the maneuver to ambush the demonstration. But in late August, the department released body camera video in which at least one officer outlines the tactic, telling other officers to wait until the group had passed before deploying gas to "hammer their ass" and later observing, "Hey, wave goodbye. They're all about to get gassed." A month later, new Police Chief Johnny Jennings, who replaced the now-retired Kerr Putney on July 1, told City Council members that the department would no longer use tear gas during protests.
It's been nearly four years since a CMPD officer shot and killed Keith Lamont Scott in the parking lot of a University City apartment complex, which touched off some of the most intense—and, at times, violent—protests in this city's history. Since then, activists, organizations, and the department itself have taken steps to try to establish trust between CMPD and the communities, especially Black ones, it serves. With a new chief, it's worth examining whether any of those measures have taken root or if CMPD has permanently damaged its relationship with those communities.
We've written a lot about those struggles since 2016. Here are some pieces that may provide context to anyone trying to grasp the complicated and troubling backstory that's led to this moment in our history. —Greg Lacour
Why Police 'Get Away With It': An examination of Graham v. Connor, the case from Charlotte that, through a 1989 U.S. Supreme Court ruling, established the standard for police use of force in the United States.
Two Stories, Two Protests, and One Restless City: From September 2016, Keith Lamont Scott protests uptown, and the shooting death of Justin Carr.
How Can We Bridge the Community-Police Divide? A year after the Scott killing, CMPD and Charlotte's Black community stare at each other across a gulf of suspicion.
Stepping Back To Assess the Danquirs Franklin Case: In March 2019, a CMPD officer shot and killed Danquirs Franklin at a Burger King on Beatties Ford Road. District Attorney Spencer Merriweather eventually concluded that the officer, Wende Kerl, did not commit a crime when she shot Franklin, who was armed.
CMPD, Activists Mark 'a Significant Step Forward': From November 2019, CMPD updates its use-of-force policy to emphasize de-escalation and specify that use of force is allowed only when "reasonably necessary."
Charlottean of the Year Robert Dawkins: Our story about Robert Dawkins of the police accountability organization SAFE Coalition NC, which has worked with CMPD on the use-of-force update and other reforms.
GALLERY: Mayor Vi Lyles, Council Members Join Protesters on a Walk in Uptown:  A look at a public form hosted by Mayor Vi Lyles and Charlotte City Council, during the fifth night of protests in reaction to the death of George Floyd.
City Council Bans Purchase of Chemical Agents Used by CMPD: In June, at-large council member Braxton Winston submitted the proposal as a substitute motion on the council's adoption of the proposed $2.55 billion city budget.