2021 Charlotteans of the Year: Dr. Stephanie Murphy
The medical director of Atrium Health's Hospital at Home program steers one of the country's largest hospital systems toward a more comfortable model of care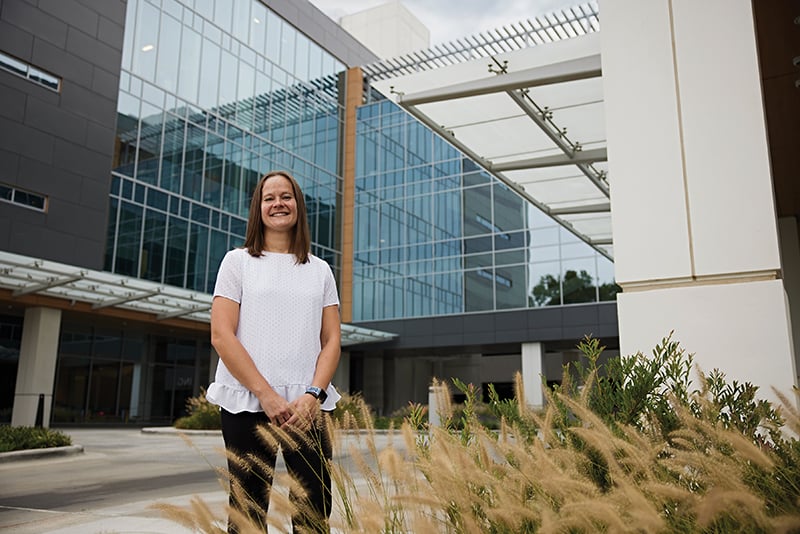 Before COVID, Atrium Health's hospitalist group devised a plan to offer hospital-level care at patients' homes. The team researched similar programs and discovered that Atrium already had a strong foundation: Carolinas Medical Center's robust Transition Clinic prioritized proactive care and used a virtual platform, while the Mobile Integrated Health program had a workforce trained to provide advanced therapies at home. But the health care system still faced a gargantuan task to get the program up and running, and the need was never quite desperate enough.
Until March 2020. Stephanie Murphy, a hospitalist, doctor of internal medicine, and the director of the Transition Clinic, led the effort to put the idea into practice in record time. Patients in the program monitor their vitals with home kits and interact with their care teams anytime through an app. Physicians make virtual rounds, while paramedics visit patients in person daily to check labs and provide oxygen and IV medicines.
Murphy had to train and coordinate providers, paramedics, and nurses and adapt the hospital's infrastructure to an unfamiliar model of patient care—all amid unprecedented demands on the health care system and a climate of fear and uncertainty. She did it in less than a week.
"It was a massive leap for a very large corporation," Murphy says. She credits Atrium's leadership for putting their faith in the hospitalist group, which consists of physicians who provide care exclusively in a hospital setting. Nearly two years after COVID took hold, Murphy's schedule is still a whirlwind. ("I feel like the Tasmanian Devil," she says.) She builds partnerships with a growing range of providers and analyzes the program, always on the lookout for operational details to improve. Plus, she still sees patients through both Hospital at Home and the Transition Clinic.
"It still hasn't occurred to me that we're in 2021," she says. "That said, I would say that 2021 has been, believe it or not, even more tiring than 2020." The pandemic's duration has battered morale. Fatigue has set in. "There's a lot of emotion in it," Murphy says. "We've actually gotten a lot more, in my eyes, respectful and understanding of the need for rest." (She escapes by spending time with her partner and three rescue dogs at Lake Norman, near her home.)
Perpetually short on time and resources, Hospital at Home has nevertheless had a profound effect. "Being in an unfamiliar place when you're sick is very difficult for patients, particularly our older patients," Murphy explains. "As much as we try to make the hospital a comfortable location for our patients, you and I both know there's no bed like your own." By early September, the virtual hospital had treated almost 59,000 patients.
Murphy, 41, who has worked at Atrium since 2011, co-authored a study this year that found "we were delivering safe, quick, high-quality care to an appropriate patient population," and future research will compare the outcomes to inpatient care. But what stands out to the veteran doctor are individual cases. "We took care of an elderly gentleman whose wife was on hospice, and he would not have been able to be with her because of the level of care he was requiring," she recalls. "He was able to be in his home with his wife and his daughter, who was their caretaker, during her last days."
Murphy never expected her career to include a pandemic, but the unfamiliar terrain didn't shake her characteristic approach. "I've always thought of myself as somebody who likes to think about things differently. Somebody who isn't afraid to to make a change for the betterment of patient care, of the health system, of the community at large," Murphy says. "So this gave me an opportunity to really do that in a way that I never thought I could."
THE 2021 CHARLOTTEANS OF THE YEAR