2021 Charlotteans of the Year: Joe Bruno
Spring brought the COVID vaccines and a mad scramble to find doses wherever they were. Through his ever-active Twitter account, Charlotte's most visible TV reporter called the shots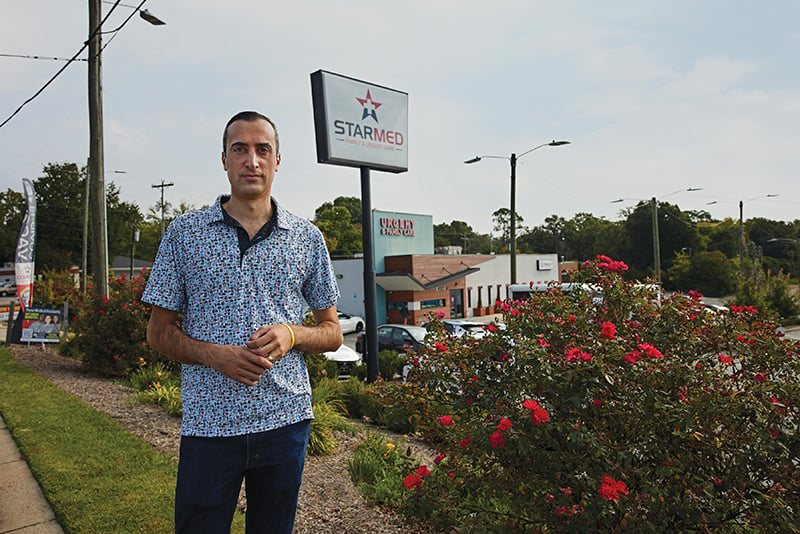 Joe Bruno, a 29-year-old reporter for WSOC-TV and something of a local celebrity, struggled to sleep in the first hour of Sunday, March 21. He picked up his iPhone and did what he'd done increasingly for the previous couple of weeks: check pharmacy websites to see if they had doses of the COVID vaccines and available appointments.
He found what he was after and—as he does many, many times every day—opened Twitter. "CHARLOTTE: If you are awake, numerous appointments are available at Walgreens this week." Bruno pasted the URL and hit send at 1:03 a.m.
The message reached other insomniacs. "Got one, many thanks! Know which vaccine the local Walgreens have?"
@SmokeRing41 replied at 1:09.
"It is def a two dose- has been Pfizer but confirm with them," Bruno tweeted back at 1:12.
At 1:18, @SmokeRing41 responded: "#thanksJoe."
Matt Comer, the communications director for the LGBTQ advocacy organization Charlotte Pride, was awake, too. "We saw the tweet and immediately that night got online and got vaccine appointments scheduled after frantically looking to find some in the days prior. Everywhere we had looked or attempted to book had nothing open," Comer tells me months later via DM. "Honestly, if it hadn't been for Joe's tweet that night, we probably wouldn't have gotten vaccinated as quickly as we were. Joe really did a great service to the local community by keeping tabs on open appointments. Countless people have probably avoided COVID infections because of Joe."
Comer thanked him—via Twitter, of course—that afternoon. Bruno replied five minutes later: "Yay! Glad to help."
***
He just wanted to help, Bruno tells me in September. Simple as that.
"This was a time when everyone was really stressed out, there was a lot of interest in the vaccines, and people were really having a hard time finding them," he says. "The way I explained to someone else was, 'I have plenty of time. I don't have a life. I will use my time to help people get a shot, even if it is extra time on the weekends or when I'm not technically on the clock searching for appointments.'
"My wife is the real trouper on this. She already hates that I'm on my phone all the time anyway, so I was even more on it then." He chuckles. "But she loved it as well."
So did his station, and so did a lot of people in Charlotte during those clenched-teeth days in spring when Pfizer, Moderna, and Johnson & Johnson parceled out doses, and providers collected and set up appointments as quickly as they could. Novant and Atrium Health, along with area pharmacies and retailers, tried to get the word out about vaccine availability via news releases and social media.
But, especially in March, events and doses moved too quickly. When you found out Walgreens or CVS had them, you had to check their sites to find out which locations had how many. Often, by the time you logged on, they were gone. It was a real-time crisis that demanded specific, real-time information. Late in the afternoon of March 12, Bruno tweeted: "Just got a DM from someone who just got off the phone with the Walgreens in Indian Trail. They have some extra COVID-19 vaccines available today for people who are eligible. Give them a call: 704-821-1589."
Reporters typically don't do things like that. They'll pass on information from health departments and pharmaceutical companies, but they tend not to practically set up the appointment for you. But over the next six weeks or so—on and off the clock, in Charlotte and on his way to or from family visits in his native Pennsylvania, day or night, at home or office or elsewhere—Bruno checked to see who in the Charlotte area had how many vaccine doses and how to set up appointments, and then he told us. (That's how I got mine, too.)
***
Bruno already was well known in town as a dogged and seemingly tireless reporter, and he earned national acclaim for his door-to-door work in Bladen County during the Ninth Congressional District scandal in 2018 and 2019. But this was something else: to serve as a primary source of literally vital information to an entire city, many of whose anxious residents lay awake in the dark.
He might have kept it going for months. But finally, as more people were vaccinated, demand eased. "There was a moment in April—I was at the beach at the time, and I was posting about vaccines being available all day, and I remember the spots were still available by the end of the day," he says. "That's when I started to slowly phase out because, within a week or two, it got to the point where you could get a shot anywhere."
Bruno's back to a life that approaches normal, even though COVID remains with us and may never leave. He and his wife, Liz, married in November 2020 and live in Plaza Midwood. He still bird-dogs local institutions like the Charlotte City Council and Mecklenburg County commissioners; the day we meet for lunch, he mentions that his workday won't start until 2:30 p.m. because he has a commissioners' meeting to cover that evening. He's committed to the city he adopted in 2014, though, having signed a five-year deal with WSOC in August that will keep him in Charlotte until at least 2026.
"There's something about Charlotte that just draws you in," he says. "It's a wonderful place to grow up as an adult in, and it's a brand-new city. People are from everywhere, and we're all kind of learning the city together. It feels like there's something for everyone."
More good news. Thanks, Joe.
Greg Lacour is the editor of this magazine.
THE 2021 CHARLOTTEANS OF THE YEAR