2021 Charlotteans of the Year: Greg Jackson
He and his organization, Heal Charlotte, tackle homelessness by raising money to buy land and a building, and by getting to work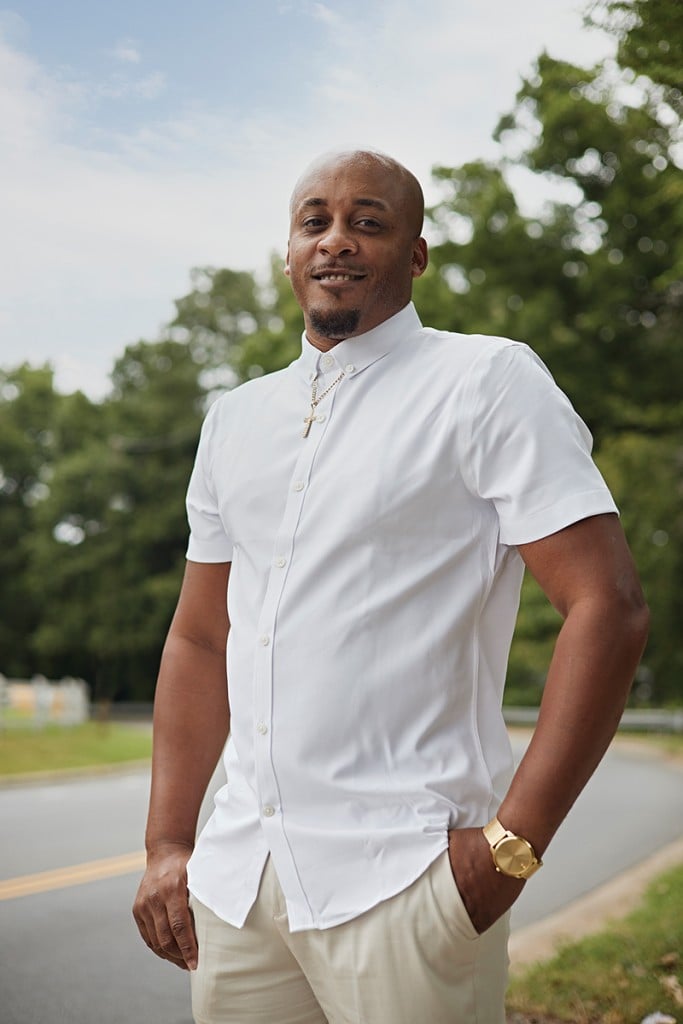 "Equity," in social terms, means "fairness." We hear the word a lot these days, especially in discussions of race and economic justice—it's the heart of the diversity, equity, and inclusion formula. It has another meaning: essentially, ownership. You buy a house and begin to pay off a 30-year mortgage. Your down payment and monthly principal payments add up to your home equity, which grows with time.
Greg Jackson moved to Charlotte in 2010 to be close to family after a rough upbringing in Baltimore and New York. In 2017, inspired by tense but fruitful talks with police during and after the 2016 Keith Lamont Scott protests, he and Antuan Smith founded a nonprofit called Heal Charlotte. Since then, Heal Charlotte has launched youth, housing, and anti-violence programs throughout the city and built partnerships with not only community groups but institutions like Wells Fargo, Lowe's, and UNC Charlotte. Last year, he began to raise money for a project that aims to transform one of the city's most violent and impoverished corners—and embraces both meanings of "equity."
Jackson, 38, wants to raise $10 million to buy a 137-room Baymont by Wyndham hotel, near the historically high-crime intersection of Interstate 85 and West Sugar Creek Road, and use it as transitional housing and services for people who need them. COVID has both aggravated the problem and delayed the solution. But Heal Charlotte is close to its first million, and Jackson will keep trying because, he says, "it's a program that's for longevity and legacy.
"Police officers have a saying: 'We're not going to arrest our way out of this situation.' What I've learned as a nonprofit person is, 'We're not going to program our way out of this situation,'" he says in September. "I no longer just want to do programs. I want to own the building that we do the programs in, so we can control when we can serve and open the doors and close the doors. … (We) need a key to be able to say, 'I'm serving today, and there's nothing you can do about it.'"
This is unusual talk for someone who plies social justice terrain. Jackson is an unusual guy. He spent a year in jail in New York after he was caught trying to sell drugs to an undercover cop. Later, in Charlotte, he joined the throngs that howled for justice after an officer shot and killed Scott not far from where Jackson lived, and he turned initial, touchy conversations with police into a continuing relationship with officers and department brass. He's caught grief for it, too, from anti-police activists and friends.
It's common, especially after shocking incidents of violence or injustice or both, for passionate and well-meaning citizens to at least try to start community nonprofits to help young people and poor neighborhoods. Few last. Civic-minded people who yearn for lasting, meaningful change can try to summon the revolution, or they can get to work. Guess which path Jackson's taken.
"Sustainability is what people always talk about when it comes to running programs and rebuilding and revitalizing a community in a neighborhood," he says. "Ownership and equity—owning a building and owning the land—is just simply the way America operates." Don't blame the fish for the dirty pond water they swim in, he says; better to clean the pond. "Buying this hotel—that is how we clean the pond. … I love all of the people that are … doing the work on the ground. But we need some things that happen in higher places."
Since April 2020, when COVID-related layoffs led to mass evictions, Heal Charlotte has paid for 20 units at the hotel, which Jackson sees as a kind of pilot program for the full campus. As of June 2021, 85 people in 21 families had stayed there. The average stay was seven months. With help from Heal Charlotte's partner agencies, 43% of the families managed to leave the hotel for permanent housing, the organization says.
That's part of what compelled Harris Hospitality, which owns the hotel, to work with Jackson and offer him a chance to buy if he raises enough money. (It's almost unheard of for a hotel conglomerate to sell to anyone but another hotel conglomerate.) Sharjeel "Shawn" Ahmad, the company's operations director, met Jackson through a CMPD community liaison last year. Ahmad, a 29-year-old Pakistani immigrant, was impressed that Jackson didn't just want to provide temporary housing but help people find permanent homes—along the lines of one of Ahmad's favorite sayings, the old axiom about giving a man a fish versus teaching him to fish.
"These were people who had lost their jobs because of COVID and wanted to make something of themselves," Ahmad says. "That's what Greg was doing. He was teaching them how to fish."
Greg Lacour is the editor of this magazine.
THE 2021 CHARLOTTEANS OF THE YEAR