2021 Charlotteans of the Year: Pat's Place
Charlotte's child advocacy center found new ways to help abuse victims, even during the storm of COVID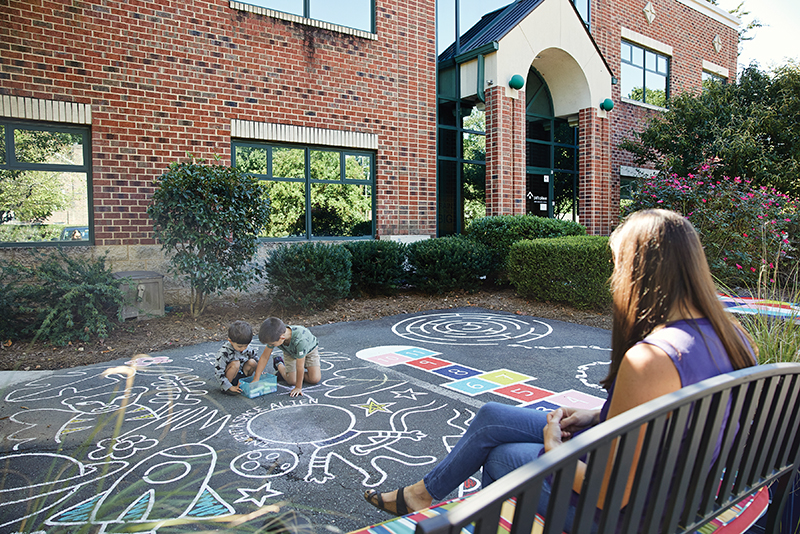 COVID forced schools, businesses, and other public venues to lock down. Pat's Place didn't have that luxury. Charlotte's only child advocacy center has to get children into its offices on East Boulevard for forensic interviews. Those are the sensitive conversations between children and social workers that lay the foundation for the nonprofit to rescue children from abusive, often dangerous home situations and place them into better ones.
"So much of our model involves face-to-face interaction with kids and their parents and helping them feel safe and comfortable," says Executive Director Andrew Oliver. "So how do you do that behind a mask or over Zoom? We would make plans for how we would do that safely and then get new CDC guidance, and we would revise those plans. It's been a constant effort to do things the right way and safely."
Nearly two years after COVID forced everyone to adjust, the 17-year-old organization has discovered that those revisions not only worked but led them to devise other tools—in fundraising and programs—that will help sustain Pat's Place for years to come and, ultimately, help even more children who suffer from physical and sexual abuse in their homes.
In March, Pat's Place launched a program called "Child Safety Matters" in Charlotte-Mecklenburg Schools. Nearly 2,000 children from kindergarten through fifth grade learned how to assert and protect themselves from potential harm at home. It also produced a 30-minute educational video, now a fixture on its website.
In April, Pat's Place launched a three-month public awareness campaign, "Everyday Heroes," that targeted media outlets and digital billboards throughout the city. Its goals were to heighten public awareness of child abuse and human trafficking, and to raise money. Everyday Heroes raised $94,000, nearly as much as Pat's Place usually raises in a quarter, at a time when the organization had to cancel or modify its three annual fundraising events.
"I'm grateful for the opportunity to make the impact that we're making on children and their families in the community," says Kelli Wood, who oversees the social workers who conduct forensic interviews. "It's not us alone. It's a partnership. It's a coordinated response with our community. The more that people know that abuse happens everywhere, hopefully the more likely they are to feel empowered to either make a report or to ask questions."
The initiatives helped the staff at Pat's Place as they continued to figure out how to conduct interviews with children as COVID circumstances changed. They'd already confronted an unsettling consequence of lockdown: a drop in referrals from Charlotte-Mecklenburg police and Mecklenburg County Social Services, from 60 to 70 per month before COVID to 40 to 50 for the first four months or so after lockdown began.
"That's not because child abuse stopped," Oliver says. "Children were actually more at risk. And when we did see cases, the cases were more severe—children that had been exposed on a prolonged basis to their abuser and didn't have access to safe people in their lives that they could turn to for help."
Pat's Place responded to the crisis by changing their interview methods. At the height of lockdown, social workers placed the child in one room and the interviewer in another as police and social services representatives watched a remote video feed. Once enough adults were vaccinated, the child, family member, and interviewer could be in the same room if the adults wore masks and distanced themselves.
The practices allowed Pat's Place to maintain its pre-pandemic disclosure rate—the percentage of children who confirm cases of abuse—of 80%. "I think children had become accustomed to utilizing a virtual platform," says Wood, the director of response services. Lockdowns placed even more pressure on social workers because remote learning kept teachers from direct access to students, often the way they detect signs of abuse. Just as important, no one at Pat's Place contracted COVID.
Even before the pandemic, Pat's Place worked to help establish the CharMeck Family Justice Center, or "Umbrella Center," a community resource for victims of human trafficking and child, domestic, and elder abuse expected to open in late 2023. A similar center that Guilford County opened in Greensboro in 2015 contributed to an 88% reduction in domestic violence homicides from 2016 through mid-2019, Oliver says.
"For 10,000 victims of violence and abuse a year, it will ensure that they have an easier path to get the help that they need to survive," he says. "It is a reimagining of public safety. And it's a resource not only for victims; it's for all of those who serve them, because we are going to surround detectives with advocates who can help those families navigate the process. And it will make medical providers' jobs so much easier and more efficient."
THE 2021 CHARLOTTEANS OF THE YEAR